Best Kids telescopes 2023: Jump Menu
1. The list in brief ↴
2. Best tabletop telescope
3. Best quality for beginners
4. Best for younger users
5. Best for viewing planets
6. Best for exclusively lunar viewing
7. Best for teens
8. What to look for
9. How we test
When selecting a telescope for a child, keep in mind that the best telescopes for kids are not the lightweight plastic versions commonly found in toy stores. Opt for quality instruments that serve as valuable tools for learning about the night sky and astronomy more broadly. In contrast, toy telescopes often lack proper optical capabilities and can be impractical to use. The goal is to ensure that a child's first experiences with telescopes and skywatching are enjoyable rather than frustrating.
When looking to purchase your child's first telescope, it's advisable to choose a reliable and affordable option from reputable astronomy brands. These telescopes are sturdy enough to withstand a few accidental bumps, easy to operate and equipped with decent optics for observing celestial targets. The good news is that you don't have to break the bank, usually, to provide your child with an amazing view of the cosmos.
As we mentioned earlier, it's important to recognize that 'proper' telescopes are not toys, despite their durability. Careful handling is crucial because the delicate optics inside can be easily damaged if the telescope is mishandled. Teaching your child the proper care and maintenance of their telescope is a good practice to ensure its longevity, and supervising the telescope's use can minimize the risk of accidental damage and extend the lifespan of the scope.
We've chosen and outlined the best kids' telescopes and put them through their paces. But be sure to keep an eye on the prices listed here as although Black Friday has finished, we are still seeing Cyber Monday telescope discounts. You might make a decent saving on the scope you're interested in, as it pays to do your research.
We also have a guide for the best telescopes under $500 if you can spend a little more money on scopes more suited for older or more experienced family members. We also have the general best telescopes guide, which features the best models for all experience levels and budgets.
Telescopes are just one of the options for stargazing and for viewing things in the distance more generally. You could also consider a pair of the best binoculars for kids as they are sometimes a favorable portable option, and again, we have a general guide on what we think are the best binoculars on the market right now.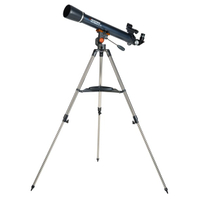 Celestron AstroMaster 70AZ: was $110 now $89 at Walmart.
Save $29 on this great starter scope for beginners and younger users — we love it for viewing planets and the moon, plus it includes a smartphone adapter and Bluetooth remote to capture images of the night sky.
The quick list
Best telescopes for kids 2023
Best tabletop telescope
Buy it if
✅ You want low investment: For casual viewing, this telescope is a great option with a low price point.

✅ You don't want to spend ages setting it up: It arrives assembled and ready to go, so no complicated setup process needed.
Don't buy it if:
❌ You want to find objects easily: It doesn't come with a finderscope, so anyone wanting to locate certain celestial objects easily may get frustrated.
The bottom line
🔎 Celestron FirstScope 76 Tabletop Telescope If you have children who have been bugging you for a telescope and you can't quite commit to a moderately-priced instrument, then the FirstScope may be for you — especially if the moon and casual glances at the night sky are of interest. ★★★★
What we love about Celestron's FirstScope is that it's so easy to use and pack away. There's also no complicated setup process — it arrives assembled and ready to go — fantastic for the more impatient youngsters and guardians. It negates the need to assemble and disassemble the telescope between skywatching sessions too which makes the hobby less of a 'chore.'
The Celestron FirstScope stands out as a budget-friendly telescope that provides solid quality at an affordable price. Additionally, it's highly portable, weighing only 4.5 lbs (2.04kg). Unlike many telescopes in its price range, it features non-glossy and durable plastics.
During our Celestron FirstScope 76 Tabletop telescope review, we found that it's ideal for little hands since the tube can easily be pushed to the desired target. It is also fully equipped for good night sky observations with two basic eyepieces — 4mm and 20mm — thrown into the package. Like the other Celestron models we've mentioned, the telescope comes with a basic edition of Starry Night astronomy software as a downloadable resource. This is a great tool for young stargazers and their parents to delve deeper into the wonders of the universe.
Unfortunately, the FirstScope doesn't come with a finderscope. Finderscopes aid in aligning telescopes with celestial targets, providing a broader view for easier object location. To enhance the experience for young astronomers and simplify navigation through the night sky, we suggest considering the addition of a red dot finder, which is a relatively inexpensive accessory.
With an aperture of nearly three inches (76mm) and a fast focal ratio of f/3.95, the Celestron FirstScope telescope is capable of revealing many celestial objects, from the bright planets in our solar system to the faintest deep-sky treasures.
With the supplied eyepieces, which work with the optics to provide magnifications of 75x and 15x, astronomers won't get hugely close-up sights of targets — something we discovered when we turned our attention to the moon. However, we were able to pick out craters and, despite a view that isn't massively pin-sharp due to a fairly loose focuser, young skywatchers will surely be delighted with what they can see compared with the naked eye.
When observing with the telescope we found Jupiter dazzled at magnitude -1.9, views are basic, but the moons of Jupiter can be found comfortably using the FirstScope. Io, Ganymede, Callisto and Europa appear as bright points of light on either side of the gas giant's equator. That said, detecting Jupiter's atmospheric bands and belts is challenging without using planetary filters. Saturn is seen as a small, faint, fuzzy object and we could just about make out the gas giant's rings and yellow coloration.
If you want a problem-free skywatching experience for a casual viewer, then the Celestron FirstScope is ideal. To get the biggest bang for your buck, we'd highly encourage accessorizing with a finderscope and improved eyepieces.
Swipe to scroll horizontally
Celestron FirstScope 76

| Attributes | Notes |
| --- | --- |
| Design | Good quality build for the price. |
| Performance | Provides a 'wow factor' for young observers. |
| Functionality | Optics struggle to pick out detail. |
Best quality for beginners
Buy it if
✅ You want easy setup: We found this telescope to be very easy to set up and use, getting you stargazing in no time.

✅ You'll be traveling with it: As it's so portable and lightweight, it's very easy and convenient to take outside of the home, on camping trips or for long nights of stargazing.
Don't buy it if:
❌ You're on a tight budget: This isn't the cheapest telescope on this list, however, it is better quality than the cheaper ones.

❌ You're not a beginner: This telescope is definitely geared more towards beginners, so we'd recommend going for something more advanced if your skills are further along.
The bottom line
🔎 Celestron Inspire 80AZ An excellent telescope for a beginner — especially given that a complete package is offered, exudes portability and is easy to use and set up. ★★★1/2
The Celestron Inspire 80AZ is a classic-style telescope designed for those who prefer spending hours under the night sky without relying on technology. It's an excellent choice for reducing screen time while exploring the wonders of the night sky and cosmos.
The Inspire 80AZ refractor telescope comes with an alt-azimuth mount and a user-friendly panning handle for precise movements, making it easy to focus on specific celestial targets. Unlike mounts that can cause sudden shifts, this telescope allows for smooth and gradual adjustments to the tube's position. For younger observers, there might be a learning curve in navigating the sky, so adult supervision is recommended, especially during the first few uses, to help them explore the night sky with ease and confidence.
The Celestron Inspire 80AZ is an ideal starting point for children interested in stargazing. It includes a tripod and two eyepieces with varying focal lengths (20mm and 10mm), providing magnifications of 45x and 90x. The package also features a red LED flashlight to preserve night vision, a star diagonal, a StarPointer Pro red-dot finderscope and Celestron's Starry Night Basic Edition Software. The software used to be provided on a CD, but it can now be conveniently downloaded using an access code after you purchase.
A smartphone adapter is included in the bundle which young observers can use to take and share images of their astronomical discoveries with friends or try their hands at basic astrophotography.
In our Celestron Inspire 80AZ review, we found a slight chromatic aberration (color fringing) around bright targets. Still, for the price, it's not too concerning. We were happy with the telescope's clear views of planets and stars. Jupiter looks particularly radiant, with some of its belts visible. The ice giant Uranus is also identifiable as a faint star in the field of view.
The 3.15-inch (80 mm) aperture made short work of picking out Starbirth at the center of the Orion Nebula (Messier 42), while magnified pin-sharp views of the Hyades star cluster in Taurus dazzle through the optical system.
The Inspire range is also available in apertures of 2.76 inches (70mm) and 3.14 inches (100 mm). If you're looking for an instrument that will take a few years to outgrow, the Inspire 80AZ is the ideal choice.
Swipe to scroll horizontally
Celestron Inspire 80AZ

| Attributes | Notes |
| --- | --- |
| Design | Complete observing package. |
| Performance | Clear views, with false color observed. |
| Functionality | Easy-to-use smartphone adapter. |
Best for younger users
Buy it if
✅ The whole family will use it: This telescope is user-friendly and good for users of all abilities.

✅ You want to travel with it: It's incredibly lightweight, so you can take it on camping trips or to dark sky sites as well as using it in your backyard.
Don't buy it if:
❌ You're serious about astronomy: As we found the views are not 100% sharp across the frame, and its general beginner-friendly feel, it's best suited to younger users or anyone who isn't sure if it's a long-term hobby.
The bottom line
🔎 Orion SpaceProbe II 76 Particularly suited to skywatchers younger than ten. It would also work well for beginners who are new to skywatching and unsure if it will be a long-term hobby. ★★★
A reflector is often recommended as a starter telescope since the design facilitates excellent light-gathering power. The Orion SpaceProbe II 76 is no exception, collecting 60% more light than most beginner scopes with apertures of 2.36 -inches (60mm). Despite this, it's on the market for less than $100.
The Orion SpaceProbe II provides an aperture of 2.99 -inches (76mm), which — just like the aforementioned Celestron FirstScope — will reveal the solar system, lunar surface and a selection of bright deep-sky targets.
The SpaceProbe, weighing 7.05 lbs (3.2 kilograms), is a highly portable telescope, ideal for spontaneous stargazing sessions in your backyard or during camping trips. Despite its lightweight construction, the telescope maintains a sturdy steel tube for durability, capable of withstanding occasional bumps and knocks without any problems.
The initial setup of this telescope provides magnifications of 28x and 70x, but it can reach up to 152x with the right accessories. It comes with 10mm and 25mm Kellner eyepieces, a red dot finder and a moon map. There are also bundles available that include extra items like a planisphere (star chart) for guidance, a red flashlight for night vision and a 2x Barlow lens for an enhanced viewing experience if you're willing to invest a bit more.
The SpaceProbe II comes with a red dot finder to simplify star hopping, especially under skies with light pollution. Setting up and aligning the finderscope may require assistance from adults, and attaching the tripod legs to the alt-azimuth mount can be a bit tricky, so it's advisable to do it before dark.
Orion's SpaceProbe II offers wide-field views, making it ideal for more diffuse objects like bright nebulas and star clusters; however, this reflector comes into its own for lunar and planetary viewing.
It's worth mentioning that due to the telescope's spherical mirror, views are not 100% sharp across the entire frame. That said, they are sure to please young skywatchers wanting to get a closer look at craters on the moon and small, fair views of Saturn. Like with many more affordable scopes, we recommend furnishing the telescope with upgraded eyepieces and filters to provide extra detail on chosen solar system targets.
The Orion SpaceProbe II is especially suited to skywatchers younger than ten. Because of the low price point, it would also work well for beginner astronomers who are new to skywatching and unsure if it will be a long-term hobby.
Swipe to scroll horizontally
Orion SpaceProbe II 76

| Attributes | Notes |
| --- | --- |
| Design | Lightweight and portable design. |
| Performance | Red dot finder makes star-hopping easy. |
| Functionality | Offers wide field views for many different objects. |
Best for viewing planets
Buy it if
✅ You have a small budget: This telescope is very affordable, although you do get what you pay for.
Don't buy it if:
❌ You want something that's going to last: We noted in our review that it wouldn't be enough to hold the interest of beginners for a long time.

❌ You want to see deep-sky objects: While you can see some deep-sky objects, we found them to appear quite dull, so we'd recommend looking elsewhere.
The bottom line
🔎 Celestron AstroMaster 70AZ: This lightweight chromatic refractor uses its relatively long length to produce natural-looking views of planets and the moon, but for anything else it's underwhelming. It's also quite difficult to lock onto targets. ★★★
The Celestron AstroMaster 70AZ is a no-frills telescope that makes a good starter instrument for skywatchers aged seven years and up — particularly those who prefer not to physically stoop to use a tabletop telescope.
Similar to other beginner telescopes, the AstroMaster 70AZ doesn't require any additional tools for setup. It comes with all the necessary components to start a fulfilling hobby of skywatching. These include 10mm and 20mm eyepieces, an erect star diagonal (which helps with comfortable viewing) and a battery-operated red dot finderscope (to assist in locating objects in the sky).
A download of Starry Night Basic software is also included and features a database of 36,000 targets to explore, including printable sky maps and three-dimensional renderings of galaxies, exoplanets and stars. Whichever way skywatching pans out for your young astronomer — whether it's a passing phase or a lifelong passion — this refractor is a great option that won't break the bank.
During our Celestron AstroMaster 70AZ review, we found more plastic features on it than we'd like (the star diagonal feels inferior quality). Still, given the low cost and good overall build, the telescope will last for many observation sessions — provided it's treated with care. It'll be able to withstand a few knocks but be wary of giving this instrument to youngsters who are unlikely to respect the delicate optics.

The steel tripod can be adjusted to the desired height for a comfortable viewing experience. The optical tube assembly provides high-quality magnified views of the solar system, star clusters and bright naked-eye nebulas, such as the Orion Nebula (Messier 42).
In our review, we found that the alt-azimuth control moves smoothly without any stiffness. When it was time to focus on a specific target, the panhandle tightened enough to prevent the tube from sagging. This feature ensures that young skywatchers can enjoy the views without constantly readjusting the scope.
The telescope's multi-coated optics enabled us to view clear and vibrant images of the moon, Jupiter and Venus. With careful adjustment of the focuser, we could observe moon craters, Jupiter's moons and even catch a glimpse of Jupiter's cloud bands and the changing phases of Venus. Similar to many entry-level refractor telescopes, there is a slight amount of color fringing, appearing as purple-blue tints around the brightest objects. However, given the price, this minor issue doesn't diminish the overall enjoyment of observing celestial objects in the night sky.
Because of the telescope's 2.76-inch (70mm) aperture and useful magnifications of 10x and 165x, the optics can be pushed a touch further without compromising on image quality. We recommend investing in some of the best eyepieces to show your young skywatcher more dazzling sights of the universe.
Swipe to scroll horizontally
Celestron AstroMaster 70AZ

| Attributes | Notes |
| --- | --- |
| Design | Lightweight design. |
| Performance | No 'false color', but dull deep-sky objects. |
| Functionality | Difficult to lock on to targets. |
Best for exclusively lunar viewing
Buy it if
✅ You don't want to spend a lot: This telescope is incredibly affordable, particularly if you're unsure whether it'll be a hobby your child continues with.

✅ You want to see the moon: This telescope provides good lunar views, though not much else.
Don't buy it if:
❌ You're serious about astronomy: While great for lunar viewing, this telescope isn't suited for much else, nor is it that powerful.
The bottom line
🔎 Encalife SVBONY 501P 70: If you want a small and affordable telescope for a child to primarily look at the moon and not much else, the SVBONY 501P 70 just about fulfills that brief. ★★★
If you have a child who has shown interest in looking at the Moon, and perhaps Jupiter and its moons, this is a good telescope that won't need to break the bank. However, as with other Encalife products, the price can fluctuate dramatically for no apparent reason. We wouldn't pay more than $100 for this telescope. Keep an eye on Amazon, especially around Black Friday/Cyber Monday, as Encalife is a brand that tends to drop the price of its products quite significantly around these sales events.
This telescope is one of the most straightforward and basic options in this guide. It includes a 2.75-inch refractor telescope mounted on a compact, portable, and lightweight tripod, primarily designed for enjoyable moon viewing. The telescope and its accessories fit conveniently into a supplied lightweight travel bag, and the setup and takedown process is easy. However, it's worth remembering that this telescope lacks the power and capability to effectively view other celestial objects.
As we concluded in our Encalife SVBONY 501 70 telescope review, your child will get good views of the moon thanks to the 400mm focal length, but if they are serious about astronomy and want to develop their knowledge and interest over time, this model's potential is pretty limited and they'll likely outgrow it fairly quickly.
Swipe to scroll horizontally
Encalife SVBONY 501P 70

| Attributes | Notes |
| --- | --- |
| Design | Very lightweight, but not great quality. |
| Performance | Decent views of the lunar surface, but struggles with everything else. |
| Functionality | Lots of droop and overreach, lacks fine controls. |
---
Best for teens
Buy it if
✅ You want alignment technology: The SkyAlign technology makes aligning your telescope a breeze, all at the touch of a button.

✅ You want something portable: This telescope is lightweight and easy to transport, making it a great option to take on camping trips to dark sky sites.
Don't buy it if:
❌ You don't want technology: This telescope requires the use of its app in order to function, so users looking for a more traditional approach should look elsewhere.
The bottom line
🔎 Celestron AstroFi 102 A basic telescope best suited to lunar and planetary observation. The motorized mount can initially be tricky to set up for beginners, but it comes at a reasonable price for a decent night sky view ★★★½
We think the Celestron Astro Fi is a telescope that offers great value for money. It combines advanced technology with exceptional support, making it an excellent choice for both beginner and tech-savvy skywatchers.
Supplied with everything a beginner needs for great tours of the night sky, including 10mm and 25mm eyepieces (for magnifications of 132x and 53x), a smartphone adapter to dabble in astrophotography for beginners, and a red dot finder, the Astro Fi is an excellent piece of kit for a reasonable price. Although some quality compromises have been made to keep the scope lightweight and affordable, particularly with the external plastic casing, this shouldn't be an issue for you as long as you take care of the delicate optics and don't take it outside in bad weather.
During our Celestron Astro Fi 102 review, we confirmed that the optics provide good moon views and can easily pick out the planets. Pleasing views of Venus, Mars, Jupiter and Saturn are possible through the four-inch aperture and the breathtaking sights of our moon's rugged, chalky terrain. The Andromeda Galaxy (Messier 31) is also a pleasing sight, with its disk coming into view when playing with the magnification. Beginners and the entire family will love what the Astro Fi 102 offers.
One of the notable features of the Astro Fi 102 is its easy-to-use SkyAlign technology for alignment. Alignment is crucial before you begin your observations because it helps the telescope know its position in the night sky. With this information, the Astro Fi 102 can automatically point to your desired target when you press a button.
To initiate the alignment process, you use your smartphone as the button. Simply download the Celestron SkyPortal app from the Apple App Store or Google Play to get started.
Swipe to scroll horizontally
Celestron AstroFi 102

| Attributes | Notes |
| --- | --- |
| Design | Basic plastic casing, tripod needs weighing down. |
| Performance | Seamless syncing with the SkyPortal App. |
| Functionality | Quiet operation and reliable integrated Wi-Fi. |
---
What to look for
What is the best telescope for kids?
We think the Celestron Inspire 80AZ is the best telescope for kids. It is very simple to set up, offers easy operation, and offers more in the way of accessories over most bundles, even allowing for basic smartphone photography. The best tabletop scope is the Celestron FirstScope 76.
This has replaced the Sky-Watcher Explorer 130 EQ2 in this guide as it became increasingly difficult to source and was often out of stock. If you can find it, it's a great telescope for kids, especially for those who want more sophisticated tracking ability in the German Equatorial mount at a reasonable price.
What makes a telescope good for children?
When searching for the best telescope for kids, you first need to establish what kind of objects your budding young astronomers want to observe. This will help you determine what type of telescope to purchase, whether it be a refractor, reflector, or catadioptric telescope.
A refractor is a great option for observing high-magnification targets such as the moon or planets. Small, lightweight and generally inexpensive, they are also simple to operate.
A reflector is better for observing fainter objects, like nebulas or distant galaxies, which require more light-gathering capabilities.
Catadioptrics (a hybrid between refractor and reflector telescopes) come in two forms: Schmidt-Cassegrain and Maksutov-Cassegrain. They can often be more user-friendly, are more modern and usually computerized and are great for viewing a wide range of objects.
Are catadioptric telescopes expensive?
They are often more expensive, and if your young astronomer is starting out, this extra cost may be a little too much to ask. But you can find some in our best beginner telescopes guide. Some children don't always take to astronomy as we would hope, so our recommendation would be to stick to cheaper (but still reliable) models, just in case!
What's the best telescope for the whole family?
Of course, if you want to spend a little more money or a little more time looking at other telescopes that the whole family can enjoy, you can always check out our best telescopes guide. Don't forget about checking out some of the best binoculars too; they are a cheaper alternative and still offer great views of the night sky.
How do I choose a telescope for my child?
It's important to avoid novelty telescopes or especially cheap models. By picking one of the best telescopes for children as noted in our guide and ensuring good quality optics are in place, children are more likely to enjoy stargazing and may even lead to longer astronomy sessions in the future.
How old should a child be to use a telescope?
Children can use a telescope at any age as long as they have good enough eyesight and motor skills to look through a telescope eyepiece. However, younger children, especially under the age of six or seven will need an adult supervising to allow them to stargaze. Over this age, adult supervision is still recommended to keep both child and the telescope safe whilst in use.
How we test
Here at Space.com, we review each telescope to ensure that our recommendations for the best telescopes to buy are honest and current. Our reviews are based on various criteria, including construction and design, optical function, and field performance.
Telescope glossary
Aperture: The diameter of the primary mirror or lens that allows a telescope to gather light.
Field of view: Area of sky visible through the eyepiece.
Focal length: A telescope's tube length. Short focal lengths offer a wide field of view and a small image.
Focal ratio: Also known as the telescope's speed. Small focal ratios provide lower magnifications, a wide field of view and a brighter image.
Magnification: Relationship between the telescope's optical system and the eyepiece.
Each telescope is carefully tested by our expert staff or knowledgeable freelance contributors who know their subject areas in depth. This ensures fair reviewing is backed by personal, hands-on experience with each telescope and is judged based on its price point, class and destined use. For example, comparing a 10-inch Dobsonian to a 2.76-inch refractor wouldn't be appropriate though each telescope might be the best pick in their own class.
We look at how easy it is to set up, whether computerized or motorized mounts are reliable and quiet, and if the telescope comes with appropriate eyepieces and a functional tripod. We also suggest wether a particular telescope would benefit from any additional kit to give you the best experience possible.
With complete editorial independence, Space.com are here to ensure you get the best buying advice on telescopes, whether you should purchase an instrument or not, making our buying guides and reviews reliable and transparent.