Sierra Nevada Protests NASA Commercial Crew Award, Lays Off Staff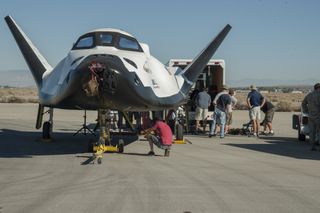 (Image credit: NASA / Ken Ulbrich)
WASHINGTON — Two days after laying off about 100 employees who had been working on its Dream Chaser vehicle, Sierra Nevada Corp. (SNC) on Sept. 26 filed a protest with the U.S. Government Accountability Office of a commercial crew contract it lost earlier in September.
Mark Sirangelo, corporate vice president and head of SNC's Space Systems unit, confirmed Friday (Sept. 26) that the company had filed a protest of NASA's Sept. 16 award of two Commercial Crew Transportation Capability (CCtCap) contracts to Boeing and Space Exploration Technologies Corp.
SNC maintains that its Dream Chaser system would offer substantial cost savings over the combination NASA selected with a similar level of technical capability. In a statement released late Sept. 26, the company said that one of the two companies selected "would result in a substantial increased cost to the public despite near equivalent technical and past performance scores." The statement did not identify that company, but Boeing received a significantly larger CCtCap award than SpaceX: $4.2 billion versus $2.6 billion. [SNC's Dream Chaser Space Plane in Pictures]
"With the current awards, the U.S. government would spend up to $900 million more at the publicly announced contracted level for a space program equivalent to the program that SNC proposed," the company claimed in the statement. "Given those facts, we believe that a thorough review must be conducted of the award decision."
SNC, in its statement, also suggested there were irregularities with how NASA selected Boeing and SpaceX. "NASA's own Source Selection Statement and debrief indicate that there are serious questions and inconsistencies in the source selection process," the company stated.
"SNC, therefore, feels that there is no alternative but to institute a legal challenge." The statement added this was the first time in SNC's 51-year history the company had protested a government contract award.
Under government procurement regulations, NASA has 30 days to file a response to the protest. GAO is required to rule on the protest no later than 100 days after filing, or Jan. 5, 2015.
SNC's announcement of a protest comes two days after the company laid off about 9 percent of the Colorado-based workforce at the Space Systems business unit, which had grown from 200 people in 2009 to more than 1,100 prior to the layoffs. Company spokeswoman Krystal Scordo said the layoffs affected only those working on Dream Chaser.
"As a result of not being selected by NASA, SNC needed to conduct a limited staff reduction of our Dream Chaser team of the personnel that have come on board in anticipation of the growth a win would have provided," Scordo said in a Sept. 24 email.
"We spent considerable time exploring every avenue and doing all that we could think of to keep the impact as minimal as possible," Scordo said. "We have retained as many people as we were able."
In the months leading up to the CCtCap announcement, SNC executives said they were exploring alternative uses of Dream Chaser in addition to, or in place of, international space station crew transportation. The company announced a number of partnerships with other space agencies and organizations, and will continue those efforts.
"We are aggressively pursuing commercial and international paths for our program," Scordo said. "SNC has made the decision to continue the development of the Dream Chaser to flight."
SNC will continue to work with NASA on the company's remaining milestones for its existing Commercial Crew Integrated Capability award it received from the agency in August 2012. The company is working on the final two milestones in that agreement, including a glide flight of a Dream Chaser test vehicle.
Scordo said SNC plans to pursue additional NASA business with Dream Chaser, such as a recompete of the Commercial Resupply Services contracts for ISS cargo transportation. NASA released the request for proposals for the second Commercial Resupply Services contract Sept. 26, with proposals due Nov. 14.
Follow Jeff on Twitter: @jeff_foust.SpaceNews staff writer Dan Leone (@Leone_SN) contributed to this story from Washington. This story was provided by SpaceNews, dedicated to covering all aspects of the space industry.
Get the Space.com Newsletter
Breaking space news, the latest updates on rocket launches, skywatching events and more!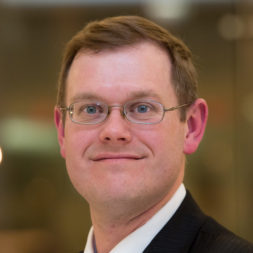 SpaceNews Senior Staff Writer
Jeff Foust is a Senior Staff Writer at SpaceNews, a space industry news magazine and website, where he writes about space policy, commercial spaceflight and other aerospace industry topics. Jeff has a Ph.D. in planetary sciences from the Massachusetts Institute of Technology and earned a bachelor's degree in geophysics and planetary science from the California Institute of Technology. You can see Jeff's latest projects by following him on Twitter.