US Air Force Museum to Restore Retired Titan Rocket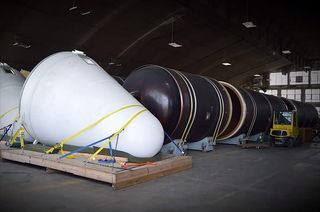 (Image credit: NMUSAF)
A massive retired military rocket is about to undergo a museum restoration and its curators are now seeking help to ensure it is displayed correctly.
The National Museum of the U.S. Air Force in Dayton, Ohio announced Tuesday (Aug. 26) plans to begin restoring the 18-story-tall Titan 4Bspace launch vehicle that it's had in its collection since 2005. The towering rocket, which has been stored in gigantic pieces in a World War II era hangar at Wright-Patterson Air Force Base, will be exhibited on its side when placed in the museum's new fourth building, set to open in 2016.
"This is the largest artifact we have ever restored," Greg Hassler, a supervisor in the museum's restoration division, said in a statement. "We've moved all the pieces into our restoration hangars, and now our staff is cataloging parts and planning the best way to tackle this massive project." [The World's Tallest Rockets]
Between 1997 and 2005, seventeen Titan 4B rockets were launched from Cape Canaveral Air Force Base in Florida and Vandenberg Air Force Base in California. All but two succeeded in placing their payloads into orbit. Other than NASA's Saturn-bound Cassini probe, which was launched in October 1997, the Titan 4B missions were satellites for the Department of Defense and National Reconnaissance Office.
"The Titan and the exhibit space around it will be crucial for telling the USAF space story," Doug Lantry, the project manager for the Air Force museum's new space gallery to be housed in the fourth building, said. "These exhibits are important because they illustrate what the USAF has done in space to defend our nation."
The Titan 4B rocket consisted of a liquid-fueled core and two large solid-fuel boosters. It was launched on the solids with its liquid engine igniting about two minutes into flight. At more than 200 feet long (61 m), the Titan 4B is almost twice as tall as the similar other vehicles in the museum's collection.
"The Titan 4B is just a giant," Hassler stated. "Just one of its solid rocket motor units weighs 75,000 pounds [34,000 kilograms] with a diameter of 10.5 feet [3.2 m]. One of the biggest challenges for our staff is going to be figuring out how to assemble and display it horizontally because it is too tall to stand up inside the gallery."
The museum's research division will assist the restoration staff with ensuring that the rocket is displayed accurately. However, they are looking for help from those who worked in the Titan 4B program.
"If you or someone you know can offer expert assistance with the project, please contact the research division," the museum's officials said.
The complete Titan rocket family, including two models of intercontinental ballistic missiles and variously configured types of space launch vehicles, formed a critical part of the United States' access to space for almost 50 years. More than 350 Titan rockets were launched overall, with the first in 1959 and the last in 2005.
An earlier version of the rocket, the Titan II, was used to boost NASA's two-man Gemini capsules into space in the early 1960s.
"Titan-derived [rockets] boosted many important defense and civilian satellites and upper stage vehicles into orbit," Lantry said. "The final exhibit is going to provide a great opportunity to talk about U.S. military space efforts and the story of USAF space launch."
In addition to the Titan 4B, the Air Force Museum's space gallery will include Mercury, Gemini and Apollo spacecraft, an X-15 rocket plane and the museum's latest addition, a mockup of the space shuttle used to train astronauts. The museum also displays Titan I and Titan II rockets as part of its missile gallery.
Click through to collectSPACE to watch a conceptual fly-through of the National Museum of the U.S. Air Force's new fourth building.
Follow collectSPACE.com on Facebook and on Twitter at @collectSPACE. Copyright 2014 collectSPACE.com. All rights reserved.
Get the Space.com Newsletter
Breaking space news, the latest updates on rocket launches, skywatching events and more!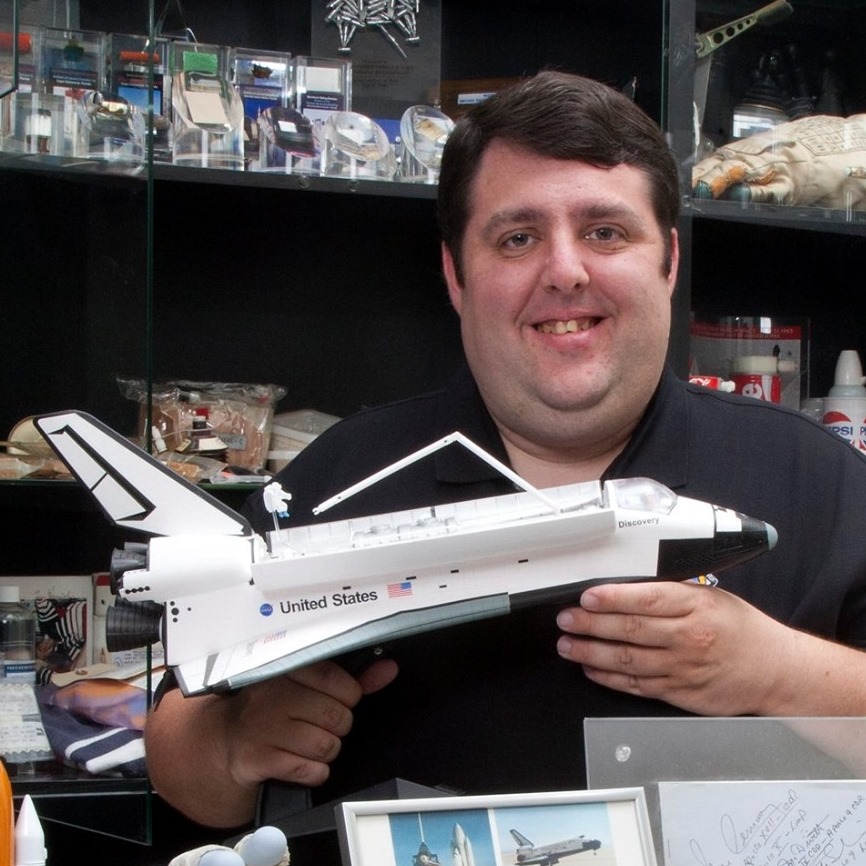 collectSPACE.com Editor, Space.com Contributor
Robert Pearlman is a space historian, journalist and the founder and editor of collectSPACE.com, an online publication and community devoted to space history with a particular focus on how and where space exploration intersects with pop culture. Pearlman is also a contributing writer for Space.com and co-author of "Space Stations: The Art, Science, and Reality of Working in Space" published by Smithsonian Books in 2018. He previously developed online content for the National Space Society and Apollo 11 moonwalker Buzz Aldrin, helped establish the space tourism company Space Adventures and currently serves on the History Committee of the American Astronautical Society, the advisory committee for The Mars Generation and leadership board of For All Moonkind. In 2009, he was inducted into the U.S. Space Camp Hall of Fame in Huntsville, Alabama. In 2021, he was honored by the American Astronautical Society with the Ordway Award for Sustained Excellence in Spaceflight History.