Hurricane Katia Spotted from Space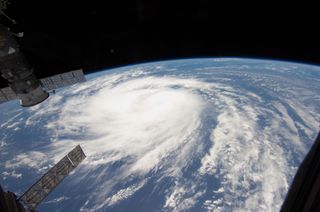 (Image credit: NASA)
Hurricane Katia can't seem to decide what it wants to be — after becoming a hurricane on Wednesday night (Aug. 31) it then dropped back down to tropical storm strength, but has since climbed back up to Category 1 hurricane status.
The Expedition 28 crew aboard the International Space Station took this photo of Katia when it was still a burgeoning tropical storm earlier in the week as it churned over the Atlantic Ocean. [Astronaut's space photo of Katia]
Astronauts aboard the orbiting laboratory caught several glimpses of Hurricane Irene from space and remarked on its awesome size.
Katia has winds of 75 mph (120 kph), just above the threshold for hurricane status. The storm is expected to strengthen in the next 48 hours and could become a major hurricane (Category 3 or higher on the Saffir-Simpson scale of hurricane strength) by the middle of next week.
Katia is still far out at sea -- some 705 miles (1,135 kilometers) east of the northern Leeward Islands -- so it is too early to tell yet whether it will pose a threat the U.S. East Coast, which is still recovering from the damage wrought by Irene.
Another space snapshot from the GOES 13 satellite revealed a stunning view of Katia and much of the Earth in a stunning view from orbit. That image was also taken while Katia was a tropical storm. [See the amazing GOES 13 view of Katia]
Hurricane Katia is the second hurricane to form during the 2011 hurricane season, which has been predicted to spawn an above-average 14 to 19 named storms (which include tropical storms and hurricanes), seven to 10 hurricanes and three to five major hurricanes. An average Atlantic hurricane season will see 11 named storms, six hurricanes and two major hurricanes.
August through October are the peak months of the Atlantic hurricane season.
Forecasters and Gulf Coast residents are also keeping an eye on Tropical Depression 13, which is poised to dump up to 20 inches (50 centimeters) of rain in some areas along the drought-plagued southern states.
This story was provided by OurAmazingPlanet, a sister site to SPACE.com.
Get the Space.com Newsletter
Breaking space news, the latest updates on rocket launches, skywatching events and more!
For the science geek in everyone, Live Science breaks down the stories behind the most interesting news and photos on the Internet, while also digging up fascinating discoveries that hit on a broad range of fields, from dinosaurs and archaeology to wacky physics and astronomy to health and human behavior. If you want to learn something interesting every day, Live Science is the place for you.