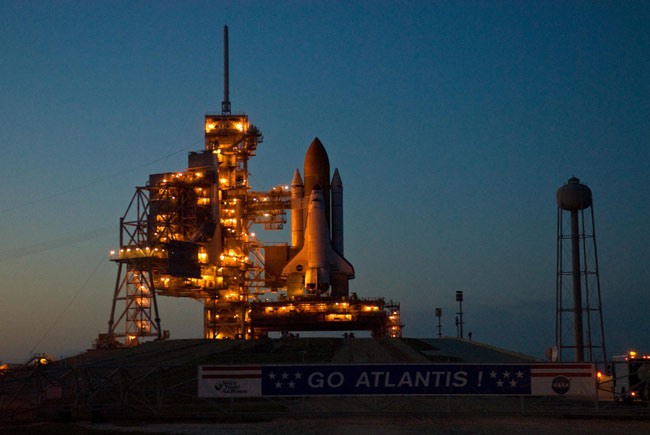 CAPE CANAVERAL, Fla. - NASA?s chances to launch the space shuttle Atlantis to the Hubble Space Telescope on Monday just got better.
Atlantis and its crew of seven astronauts should have pristine weather conditions Monday afternoon when they blast off for Hubble at 2:01 p.m. EDT (1801 GMT) from a seaside launch pad here at NASA?s Kennedy Space Center. The chances of good weather on launch day jumped slightly to 90 percent, mission managers said Sunday.
?Atlantis is ready to fly,? said Charlie Blackwell-Thompson, NASA?s launch test director.
Commanded by veteran shuttle astronaut Scott Altman, Atlantis is poised to fly an 11-day mission to Hubble to perform the fifth and final service call on the 19-year-old space telescope. NASA has also primed the shuttle Endeavour to serve as a rescue ship if Atlantis is damaged beyond repair and its crew needs to be rescued in space.
The astronauts plan to perform a five-spacewalk marathon to install two new cameras and repair two ailing instruments that were never built to be fixed in space. They will also give Hubble a much-needed maintenance overhaul to replace old batteries, broken gyroscopes and other gear.
If all goes well, the mission will extend Hubble?s life through at least 2014. The flight has been delayed since last fall when a part broke unexpectedly aboard Hubble. Altman and his crew will replace that faulty part during their mission.
About the only concerns on launch day are the slight chance of thick clouds nearby, which could trigger lighting during liftoff, and possible rain showers at an emergency landing strip in Spain. The landing strip is the only overseas runway available if Atlantis has to make an emergency descent just after liftoff.
But NASA shuttle weather officer Kathy Winters said Monday?s outlook offers Atlantis the best chance to fly. Thunderstorms are expected to hover around Atlantis? launch site here on Tuesday and Wednesday.
?Right now, day one does look good,? Winters said.
Atlantis has a 62-minute launch opportunity on Monday, longer than the typical 10-minute windows for flights to the International Space Station because it is headed for Hubble, NASA said.
NASA has three tries to launch Atlantis, one each day through Wednesday, before standing down due to a previously scheduled military operation at the nearby Cape Canaveral Air Force Station. If Atlantis does not launch by May 13, NASA would wait out the military operation and recharge the new batteries for Hubble before trying again on May 22.
Today, shuttle technicians are installing a pair of experiments in Atlantis? middeck and plan to retract the shroud-like Rotating Service Structure that has protected the spacecraft from weather at the launch pad.
?Things are going extremely well,? Blackwell-Thompson said.
SPACE.com is providing continuous coverage of NASA's last mission to the Hubble Space Telescope with senior editor Tariq Malik at Cape Canaveral and reporter Clara Moskowitz in New York. Click here for mission updates and SPACE.com's live NASA TV video feed.
New Show - Hubble's Universe: The Final Shuttle Service Call

New Video - In Their Own Words: The Last Hubble Huggers

Image Gallery - The Hubble Repair Missions: Part 1, Part 2