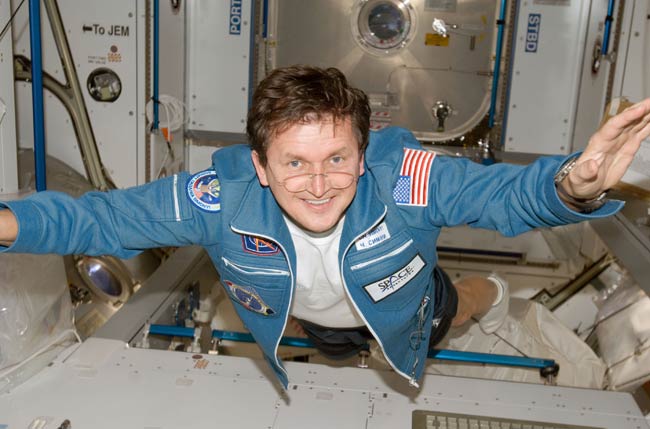 The next space tourist bound for the International Space Station could launch as early as September despite the lack of available seats aboard Russian spacecraft, the private firm arranging the multimillion-dollar joyrides announced Friday.
Eric Anderson, president and CEO of the Vienna, Va.-based space tourism company Space Adventures, said there is a chance that a paying customer could ride a Russian-built Soyuz spacecraft to the station in a seat that is currently reserved for a professional cosmonaut from Kazakhstan.
?In fact, there is a possibility that one of Space Adventures? clients could launch on Soyuz TMA-16, which is currently scheduled for launch this Sept. 30,? Anderson told reporters in a teleconference. ?
Anderson said that the possibility is still unconfirmed, but his announcement comes after recent reports by Russian and NASA officials claiming that space tourist seats will be unavailable on Soyuz spacecraft for the next few years once the International Space Station doubles its crew size up to six people in late May.
Who could fly?
Should the September Soyuz seat become available, Space Adventures has alerted its potential customers to the opportunity, Anderson added. The company has at least two customers already trained for spaceflight: entrepreneur Esther Dyson - the backup for space tourist Charles Simonyi, who is in space today - and Australian businessman Nik Halik, who served as the back up for the launch of American computer game developer Richard Garriott last year.
Space Adventures is currently the only firm offering tickets to orbital space for paying customers. The company began arranging seats aboard Russia?s three-seat Soyuz spacecraft for private spaceflyers bound for the International Space Station in 2001. Once the space station shifts to a six-person crew, Russia will have to launch two separate, but fully crewed, Soyuz spacecraft to ferry astronauts and cosmonauts to and from the orbiting laboratory.
Anderson said that aside from the September Soyuz launch, there is also a remote possibility that other seats will be available for purchase on future Russian spacecraft flying to the station before 2012, when Space Adventures plans to launch the first all-private Soyuz mission to the orbiting lab.
?We have reason to believe that from time to time, there may be sets of circumstances that allow for a private citizen to be a spaceflight participant on one of those flights,? Anderson said. ?It?s too early to tell, but we do believe that will be possible in the future.?
Anderson said the first all-private Soyuz mission, which would include two space tourists and one professional cosmonaut commander, is on track for a 2012 launch. It would require Russia?s Federal Space Agency to build an additional Soyuz vehicle beyond the four per year it must provide to support six-person station crews.
The repeat space tourist
Space Adventures? seventh private spaceflight is currently in mid-flight, with American billionaire Charles Simonyi aboard the space station on what is his second orbital trek arranged by the company. Simonyi, 60, is paying about $35 million for a 13-day spaceflight to the station.
The Hungary-born computer software developer first flew to the station in April 2007, paying more than $20 million for that flight, which set a record for the world?s longest space tourist flight. The cost of private spaceflights has been increasing in recent years due to inflation, and Anderson said he believes that trend will continue for the foreseeable future.
?The costs of the trip are definitely going up,? Anderson said, attributing the rise to increased demand and inflation. ?I think that the cost will only get more expensive for the Soyuz over time.?
NASA and Russia?s Federal Space Agency announced today that the Soyuz ferrying Simonyi and two professional astronauts back to Earth from the space station has been delayed one day to April 8, extending his private spaceflight by one day and tying his previous record-setting flight.
Russian space agency officials have said that Simonyi?s flight will likely be the last orbital space tourist flight for several years due to the planned shift to larger, six-person crews later this year.
The space station has had a maximum permanent crew of three since 2000, when the first astronauts and cosmonauts took up residence aboard the outpost. The station?s current three-man Expedition 19 crew - which launched last week with Simonyi aboard - is expected to double in size in late May, when a second Soyuz spacecraft is due to arrive with another three spaceflyers.
Anderson said that Space Adventures customers are extremely dedicated and patient, and willing to set aside funds to experience spaceflight even in the current economic crisis.
?Someone who?s had a life dream is not going to let an economic downturn, even if it?s a longer one than we would have hoped, change their long-term objective,? Anderson said, adding that Space Adventures is not immune to the current economic climate. ?Certainly the interest is still there, despite all the hardship.?
Space tourist Charles Simonyi is chronicling his second spaceflight on his website: www.charlesinspace.com.
New Video - Space Tourist Tours the ISS

New Video - Charles Simonyi: World's 1st Repeat Space Tourist

Image Gallery - Charles in Space!