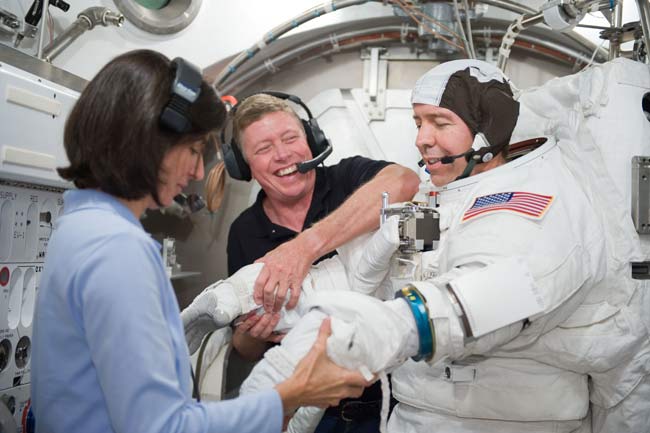 WASHINGTON - The first wave of an astronaut team set to double the International Space Station?s population later this year is gearing up for what promises to be a busy mission aboard the orbiting laboratory.
Commanded by veteran Russian cosmonaut Gennady Padalka, the space station?s three-man Expedition 19 crew is training for a planned March 25 launch that will ultimate be followed by another three-astronaut team to bring the orbital lab up to a six-person crew in May.
?Doubling your crew size means a lot,? said NASA astronaut Michael Barratt, who forms the core of the joint Expedition 19/20 crew with Padalka, in a Friday briefing. ?Certainly, onboard it means there?ll be a lot of people in line for a small number of bathrooms, for the exercise equipment, for the galley table. Everything that, essentially, provides support for the crew, we?re going to stretch those resources quite a bit.?
Last year, NASA and its international partners attached new European and Japanese laboratories to the space station, then delivered vital new life support equipment - including a second toilet, extra kitchen, astronaut exercise gear and new sleeping berths - to prime the orbital outpost for the shift to six-person crews in 2009.
A new recycling system, which converts astronaut urine back into fresh drinking water, has been experiencing some hiccups since its activation last November. A spare part is due to be delivered to the space station next month during NASA?s planned February flight of the shuttle Discovery in hopes of fixing the glitch, mission managers have said.
Padalka and Barratt expect to join a third member of their crew, Japanese astronaut Koichi Wakata, when they arrive at the station in March. Wakata is part of the shuttle Discovery?s STS-119 crew and is training for a Feb. 12 launch from NASA?s Kennedy Space Center in Florida. He will join the station?s current Expeditoin 18 crew until Padalka and Barratt arrive.
Together, the three spaceflyers will prepare the station for the May arrival of three more astronauts, which will mark the start of a new joint Expedition 20 mission and the beginning of a series of crew changes that ends with October landing of Padalka and Barratt.
The new station crew expects to host two visiting space shuttles, one of which will ferry NASA astronaut Tim Kopra to replace Wakata, and Japan?s first H-2 Transfer Vehicle, a new unmanned cargo ship slated for make its debut launch this summer. At least two spacewalks are planned to help install a new Russian module and docking port, the station astronauts said.
Padalka, a veteran commander of the International Space Station, said he will take great care to preserve the health and psychological well-being of the double-sized crew during the busy mission.
When Padalka and Barratt launch toward the space station in March they will be accompanied by space tourist Charles Simonyi, an American billionaire who is paying about $35 million for his second trip to the orbiting laboratory. The trio will blast off aboard a Russian-built Soyuz spacecraft from a launch pad at the Central Asian spaceport of Baikonur Cosmodrome in Kazakhstan.
Simonyi last flew to the space station in April 2007. Both treks stem from deals brokered with Russia?s Federal Space Agency by the U.S. space tourism firm Space Adventures. He paid a reported $25 million for his first 13-day flight to the space station.
Video - Space Station Acrobatics

Quiz - The Reality of Life in Orbit

Video - Bloopers in Space