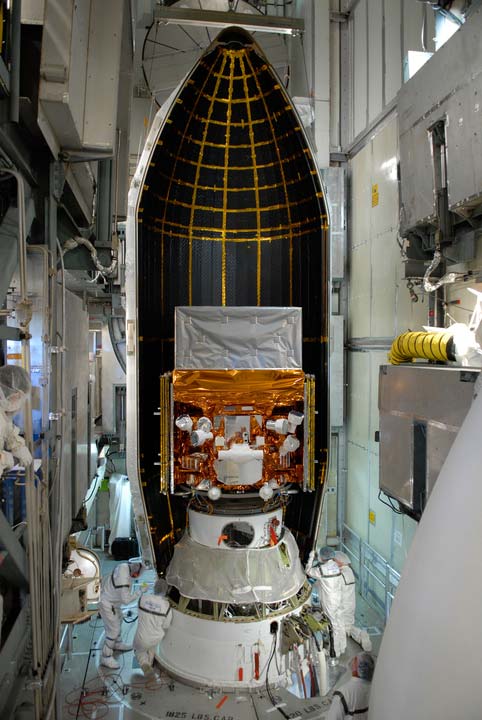 NASA's latest space telescope, the Gamma-ray Large Area Telescope (GLAST), is finally "go" for launch after many delays.
The telescope is slated to lift off June 11 at 11:45 a.m. EDT (1545 GMT) atop a Delta 2 rocket from Florida's Cape Canaveral Air Force Station.
GLAST aims to glimpse the universe in high-energy, short-wavelength gamma ray light and probe mysteries such as dark matter, black holes and spinning pulsars. And scientists hope the $690 million telescope will shed light on some of the most powerful explosions ever seen: gamma ray bursts.
"It's about to open up the universe to us in new and exciting ways," said Steven Ritz, a GLAST project scientist and astrophysicist at NASA's Goddard Space Flight Center in Greenbelt, Md, at a GLAST preflight briefing Monday. "There's a broad science community that's anxiously awaiting this launch."
Originally scheduled to liftoff May 16, GLAST's debut has been pushed back a number of times due to delays in completing the telescope as well as problems with the spacecraft that is slated to carry it into orbit.
As of Monday, the weather looks somewhat favorable for the planned launch on Wednesday.
"There's a 40 percent chance of one of our weather rules being violated," said Joel Tumbiolo, NASA launch weather officer. "Overall we're looking good."
The mains concerns posing a threat to launch are clouds and thunderstorms, Tumbiolo said. If the satellite is unable to launch Wednesday, further attempts can be made Thursday and Friday, though the planned landing of NASA's space shuttle Discovery on Saturday morning could prevent a GLAST launch attempt that day. The weather outlook for the rest of the week is similar to Wednesday's, Tumbiolo said.
The GLAST project is a broad collaboration between multiple U.S. institutions as well as scientists and engineers in Italy, France, Japan and Sweden. After decades of planning, GLAST's managers hope the 9,486-pound (4,303-kilogram) telescope will finally reach its destination this week.
"A lot of folks have put a lot of work into this," said NASA launch director Omar Baez. "We want to do it right."
Once in space, GLAST is due to embark on a mission of at least five-years. The satellite plans to use its wide-field-of-view telescopes to scan the entire sky every three hours, hunting for light in the gamma ray range, beyond the spectrum visible to the human eye.
"GLAST will open up one of the last unexplored regions of the electromagnetic spectrum," Ritz said.
Video: GLAST Cast ? Part 1
Video: GLAST Cast ? Part 2
The Strangest Things in Space