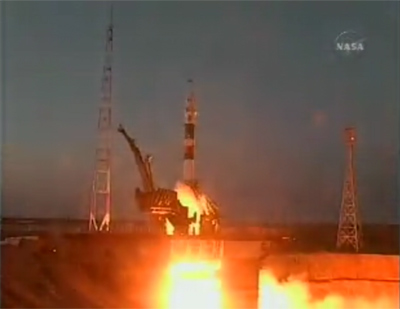 A Russian-built spacecraft is bearing down on the International Space Station (ISS) to ferry two veteran astronauts and Malaysia's first spaceflyer to the orbital laboratory later today.
Tucked aboard the Soyuz TMA-11 spacecraft are Expedition 16 commander Peggy Whitson, flight engineer Yuri Malenchenko and Malaysian astronaut Sheikh Muszaphar Shukor. The three spaceflyers are due to arrive at the ISS at about 10:52 a.m. EDT (1452 GMT) to complete a two-day trek that began with a flawless Wednesday launch.
"I think that's going to be a very impressive view as we're approaching in the Soyuz," said Whitson, the space station's first female commander, in a preflight interview.
Whitson and Malenchenko are each making their own return to the ISS as they begin busy six-month mission aboard the orbital laboratory.
A veteran NASA astronaut, Whitson served as the station's Expedition 5 flight engineer during a 185-day spaceflight in 2002. Malenchenko, a Russian Federal Space Agency cosmonaut, spent a similar amount of time aboard the as its Expedition 7 commander in 2003. But since the two astronauts visited the ISS, the station has received new wing-like solar arrays and massive truss segments.
"I look forward to this flight very much," Malenchenko told reporters before flight. "I very much want to see the space station again."
Shukor, meanwhile, is flying as a short-term visitor to the ISS under a commercial agreement between the Malaysian government and Russia to purchase Russian-built military jets. Selected from 11,000 initial applicants, Shukor is an orthopedic surgeon by training and a devout Muslim who plans to observe the end of the holy month of Ramadan while in orbit.
He will return to Earth on Oct. 21 with Expedition 15 commander Fyodor Yurchikhin and flight engineer Oleg Kotov, who have lived aboard the space station since last April. The Russian cosmonauts are leaving behind fellow Expedition 15 flight engineer Clayton Anderson, who will stay aboard the space station as part of its Expedition 16 crew.
The space station's crew swap sets the stage for a planned NASA shuttle mission slated to launch Oct. 23. That mission, STS-120 commanded by veteran shuttle flyer Pamela Melroy, will relocate an old ISS solar power segment and deliver a vital connecting node that will serve as a foundation for future international laboratories.
The European Space Agency's Columbus laboratory and first unmanned cargo ship Jules Verne, as well as a robotic arm addition and the first segment of Japan's three-part Kibo module, are also slated to be installed at the ISS during the Expedition 16 mission.
NASA will provide live video coverage of the Expedition 16 crew's ISS rendezvous, docking and hatch opening activities on NASA TV beginning at 10:00 a.m. EDT (1400 GMT). Click here for SPACE.com's NASA TV feed and ISS mission coverage.
VIDEO: NASA Astronaut Peggy Whitson

Complete ISS Expedition Coverage