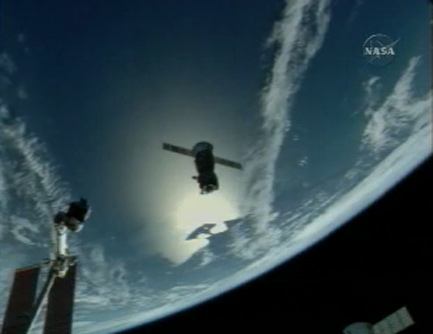 Three astronauts living aboard the International Space Station (ISS) took a short trip Thursday to move their Russian-built lifeboat to a new parking spot.
ISS Expedition 15 commander Fyodor Yurchikhin and flight engineers Oleg Kotov and Clayton Anderson spent only 20 minutes flying their Soyuz TMA-10 spacecraft between docking ports, but the successful move primed the station for the October arrival of its next crew.
"Nice work," Anderson told Kotov, who commanded the brief Soyuz flight, after the orbital hop.
The short Soyuz spaceflight clears the space station's Earth-facing Zarya docking port to receive a new Russian spaceship on Oct. 12. That spacecraft, Soyuz TMA-11, will ferry the station's new Expedition 16 crew and Sheikh Muszaphar Shukor -- Malaysia's first astronaut -- to the ISS after an Oct. 10 launch from Baikonur Cosmodrome in Kazakhstan.
Kotov undocked the 24-foot (7.3-meter) long Soyuz TMA-10 from its Zarya berth at 3:27 p.m. EDT (1937 GMT) as the two spacecraft passed high above the southeast Pacific Ocean. He deftly piloted the eight-ton Soyuz along a graceful arc to the station's aft-mounted docking port on the end of the Russian-built Zvezda service module.
The two spacecraft reconnected at 3:47 p.m. EDT (1947 GMT) as they flew 211 miles (339 kilometers) above western Africa.
"Congratulations," radioed Russia's Mission Control Center, located just outside Moscow, after the successful docking.
Long hours ahead
But the Expedition 15 astronauts still have a long way to go before completing what will ultimately be a 21-hour work day.
The spaceflyers are expected to reenter the station at about 6:55 p.m. EDT (2255 GMT) tonight, then reopen hatches between the outpost's modules and power up its space toilet, life support and other systems. The Expedition 15 astronauts closed the hatches and powered down some systems as a precaution against the chance that their Soyuz spacecraft would not be able redock with the ISS, forcing the crew to return to Earth early, NASA said.
Yurchikhin and his crew are not expected to completely reactivate the space station until about 8:55 p.m. EDT (0055 Sept. 28 GMT). After taking time out for dinner and other activities, the Expedition 15 crew will go to sleep at 2:00 a.m. EDT (0600 GMT) early Friday, NASA said.
Space station mission managers have given the crew some time off Friday and a relaxed weekend schedule to allow time for rest, NASA said.
Yurchikhin and Kotov are nearing the end of a six-month tour aboard the ISS. They will hand over control of the station to Expedition 16 commander Peggy Whitson, of NASA, and flight engineer Yuri Malenchenko, of Russia, before returning to Earth with Shukor on Oct. 21. Anderson will stay aboard to join the Expedition 16 crew for the first few weeks of its six-month mission.
As the ISS astronauts complete their Soyuz relocation tasks in Earth orbit, Russian flight controllers are preparing for the Friday morning retraction of two older solar arrays reaching out from the station's Zarya module.
Retracting the solar arrays will provide clearance for a set of ISS radiators that will be unfurled later this year, mission managers have said.
NEW GALLERY: NASA's STS-118 Mission in Pictures

Complete Space Station Mission Coverage