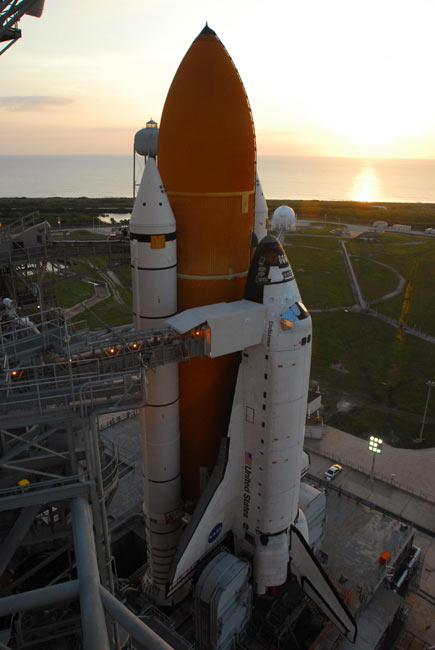 CAPE CANAVERAL, FL – A successful valve replacement aboard NASA's shuttle Endeavour at Kennedy Space Center (KSC) has cleared the spacecraft of any air leaks, space agency officials said Friday.
"The test went great," said George Diller, a NASA spokesperson here at KSC. "Endeavour's cabin is now leak-free."
With the fix in place, engineers are continuing to prepare Endeavour for a planned Aug. 7 launch to carry on construction of the International Space Station (ISS). The shuttle and its seven-astronaut STS-118 crew are slated to lift off at about 7:02 p.m. EDT (2302 GMT) Tuesday and rendezvous with the ISS two days later.
Endeavour's faulty valve was one of two in the orbiter's crew cabin, and is designed to relieve excess air to prevent over-pressurization of the shuttle.
The successful check came after a faulty positive pressure release valve was discovered during an earlier inspection, and was replaced yesterday with one of shuttle Atlantis' working valves. Diller explained that engineers made the switch because getting a brand new valve would have taken too much time and pushed back the launch date.
Diller noted that the leak "was considerably greater" than NASA allows.
"Over time, the kind of leak we found would not have been a safe situation," he said. Diller added that the length of the current mission made fixing the leak a top priority, as reserves of air could have run dangerously low.
With the repair a success, Endeavour's STS-118 crew is expected to arrive today at KSC in preparation for next week's launch.
Commanded by veteran astronaut Scott Kelly, Endeavour's crew will deliver a fresh load of cargo, spare parts and a new starboard-side piece of the ISS during an 11-to-14-day mission. The flight also marks the first launch for teacher-turned-astronaut Barbara Morgan, who first joined NASA's ranks in 1985 as the backup for Teacher in Space Christa McAuliffe. McAuliffe and six NASA astronauts died in January 1986 when their space shuttle Challenger broke apart just after launch.
Morgan and her STS-118 crewmates are due to arrive at KSC in T-38 supersonic jet trainers at about 5:00 p.m. ET (2100 GMT).
VIDEO: Teaching the Future: Teacher-Astronaut Barbara Morgan

Complete Space Shuttle Mission Coverage

IMAGES: NASA's STS-117 Shuttle Mission in Pictures