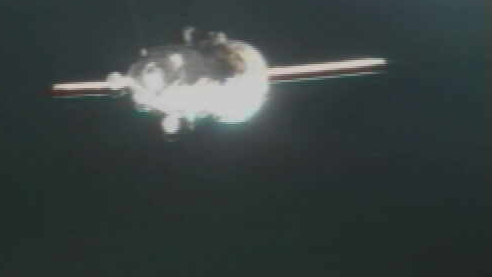 The two-astronaut crew of the International Space Station (ISS) discarded a trash-filled Russian cargo ship Monday to make way for a new supply craft arriving later this month.
ISS Expedition 13 commander Pavel Vinogradov and flight engineer Jeffrey Williams jettisoned the unmanned Progress 20 spacecraft from its berth at the space station's Russian-built Pirs docking compartment at 11:08 a.m. EDT (1508 GMT). The spacecraft delivered about 2.5 tons of fresh food, clothing, tools and other vital equipment to the station in late December 2005.
After departing the ISS with a load of trash and unneeded items, Progress 20 was programmed to destroy itself by burning up in the Earth's atmosphere, which the spacecraft should have encountered at about 1:43 p.m. EDT (1743 GMT), NASA officials said.
With Progress 20's departure, the station's Pirs docking port is now free for a new Russian spacecraft - Progress 22 - scheduled to launch toward the ISS from Baikonur Cosmodrome, Kazakhstan on June 24. The new cargo ship will dock at the ISS at 12:30 p.m. EDT (1630 GMT) on June 26, NASA said.
Two other Russian spacecraft are currently docked at the ISS. The unmanned cargo ship Progress 21 sits at the aft end of the station's Zvezda module, while the Soyuz vehicle that ferried the Expedition 13 crew to the ISS in late March-early April is berthed at a port on the Zarya control module.
Awaiting Discovery
In addition to preparing themselves for Progress 22's arrival, Vinogradov and Williams are also readying the ISS for the space shuttle Discovery and its STS-121 crew. The shuttle - NASA's second orbiter to fly since the 2003 Columbia accident - is scheduled to launch toward the ISS on July 1 from Kennedy Space Center in Florida.
"I'm ready, I hope it's July 1," Williams told ISS flight controllers this weekend when NASA set the STS-121 launch date. "We'll be watching."
Commanded by veteran shuttle astronaut Steven Lindsey, the STS-121 crew is expected to dock at the ISS on July 3 during a 12-day mission to the orbital laboratory. The test flight will not only check shuttle repair and inspection techniques, but also deliver vital supplies and one new crewmember to the space station.
German astronaut Thomas Reiter, of the European Space Agency (ESA), will ride to the ISS aboard Discovery and join the Expedition 13 crew for the remainder of their six-month mission, NASA said. Reiter will stay aboard the ISS and join the Expedition 14 crew until his replacement, NASA astronaut Sunita Williams, arrives in December during the planned STS-116 shuttle mission, the space agency said.
Complete Coverage: ISS Expedition 13