The Sony A7 III mirrorless camera is $500 off ahead of Amazon Prime Day and now the lowest price offered by the retailer. It's a mirrorless camera, so it features a lighter and sleeker design than it's DSLR counterparts, without sacrificing quality or lowering the specs.
You can get $500 off the Sony A7 III mirrorless camera with 28-70mm lens, or just the camera body from Amazon, ahead of Prime Day.
We really do recommend checking this deal out. We reviewed the Sony A7 III mirrorless camera and consequently, it features in our best cameras and best cameras for astrophotography. We've laid out the key specs for you to check out below, but this is a top deal on a top product from a top manufacturer. In short, though, it is great in low-light conditions, has amazing autofocus and is well-suited for tough conditions too. Now that it's Amazon's lowest-ever price ahead of Prime Day, this is a deal worth considering.
---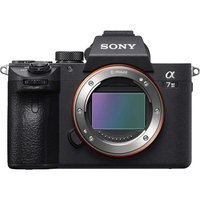 Sony A7 III Mirrorless Camera With 28-70mm Lens was $2198 now $1698 on Amazon.
Save $500 on an excellent mirrorless camera that offers a 24.2MP full-frame sensor, an ISO range of 50-204,800 and 4K video capabilities. It's Amazon's lowest-ever price and we rate this camera as one of the best cameras and best cameras for astrophotography on the market.
---
This deal allows you the choice of having the 28-70mm lens or just the camera body. Choosing just the camera body means you still save $500 and get Amazon's lowest price but the camera lens allows you to take images with an optical zoom of 2x and a higher maximum focal length. Having the extra lens can help enhance your photography experience with extra zoom and image quality, so this is worth considering too.
We've got round-ups of the best camera deals and Amazon Prime Day deals ahead of the annual sales event itself. We cover all kinds of deals including drones, telescopes, binoculars, star projectors, Lego and more, not just cameras.
Key Specs: 24.2MP, full-frame image sensor, 50-204,800 ISO range for stills, 4K UHD video capabilities, 93% image coverage auto-focus and 693 phase-detection. It also only weighs 650g.
Consensus: We really like this camera, we rated this as the best low-light and best-value mirrorless camera.
Buy if: You like to shoot outdoors or in dark conditions, you want a mirrorless camera and/or you're looking for value.
Don't buy if: It bothers you that this isn't the latest model or you want the very, very best specs.
Alternative models: If you like the look of this deal but it's not quite for you, you can always take a look at the Sony A7R IV or the Sony Alpha A6600.