If you're looking for a fantastic all-rounder mirrorless camera that can handle stills and video with excellent performance and high-quality images, then look no further.
For Black Friday, you can save $200 on this Sony A7 IV bundle at Adorama — making it now $2298.
The successor to the fan-favorite Sony A7III (which we reviewed), the Sony A7 IV produces beautiful 33MP images with an ISO sensitivity of 100 - 51,200 (extendable to 50 - 204,800) and can record 4K 60p video footage. It can focus down to EV -4 which is decent, shoots at up to 10FPS for RAW images and has two memory card slots for added peace of mind while out on a shoot. Plus, in this Adorama Black Friday deal you'll get a camera backpack, a 128GB memory card and an extra battery thrown in to sweeten the deal.
We haven't reviewed the A7 IV yet, but looking at its specs compared to the models we have reviewed, we think it would be a fantastic hybrid camera for many types of photographers. It's suitable for beginners with a healthy budget up to professionals.
We love Sony cameras and we think they have some of the best mirrorless cameras on the market today, including the best cameras for low-light photography and we also think they do some of the best beginner cameras.
---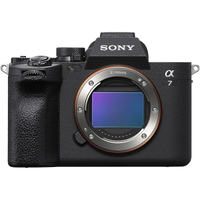 Sony A7 IV: was $2498 now $2298 at Adorama.
Save $200 on a fantastic hybrid camera bundle that gives a strong performance for both stills and video. We think it's a solid choice for most photographic styles and would suit a lot of different skill levels. You'll also get a camera backpack, a 128GB memory card and an extra battery.
---
We've found the Sony A7 IV for the same price on a number of different retailers, which is great news if you have a specific retailer you trust and prefer to shop with. We've found it for $2298 on Amazon and $2298 at B&H Photo, although it's worth noting that they don't come with any of the extra accessories in those deals.
There are third-party sellers selling bundles for the same price on Amazon, but there aren't many reviews and many of them say there were parts missing and the camera didn't work, so if you do go down that route — proceed with caution.
So why is the Adorama Sony A7 IV bundle deal worth buying over the other retailers? Purely for the accessories that come with it. Alongside the camera itself, you'll get the Slinger Alpine 200 Lightweight Compact Camera Backpack (worth $50) which can be configured with 3 large dividers or 6 small dividers, depending on the size of your gear. It also has two tripod straps, can house up to an 8-inch tablet and comes with a rain cover to protect it against the elements, and overall the reviews are very good. It's not the best camera backpack in the world, but we think it looks pretty decent considering it's free. You'll also get a Lexar SILVER Series Professional 1667x 128GB UHS-II SDXC memory card and an extra battery.
Key Specs: 33MP back-illuminated CMOS sensor, burst shooting of up to 10FPS RAW images, ISO range of 100 - 51,200 (extendable to 50 - 204,800) and autofocus range down to EV -4. It can shoot up to 4K 60p video and has real-time eye autofocus for humans, animals and birds for photos and videos.
Consensus: It's not the newest Sony camera in terms of technology, but it's a great camera for its price and definitely worth considering no matter your skill level. Plus the extra accessories sweeten the deal.
Buy if: You don't want the latest tech but shoot a range of styles at any skill level.
Don't buy if: You shoot fast action, as 10FPS will likely not be a fast enough burst rate.
Alternative models: If you can stretch your budget further and want the latest tech, we loved the Sony A7R V when we reviewed it and cannot recommend it enough. We think it's the best Sony camera available, and it's also 10% off in Amazon's Black Friday deal. If you want Sony's latest AI-powered autofocus but can't stretch your budget further, the Sony A7C II, which we've also reviewed is definitely worth a look — although as it's so new, it's not in any of the deals. Or, if you're looking for something under $1000, we'd recommend this Sony A6600 Black Friday deal — we were impressed by its performance in our full Sony A6600 review.
Check out our Black Friday 2023 deals page for a roundup of the best discounts and deals on telescopes, binoculars, cameras, star projectors, drones, lego and much more.