Virtual reality is more accessible than ever and if you're looking for a reason to get a VR headset, then a free strap worth $60 when you purchase the Meta Quest 2 could be what you're looking for.
Grab a free ergonomic Elite strap worth $60 when you grab the Meta Quest 2 VR headset from Meta's website. Just because the holidays are over doesn't mean you can't pick up a fantastic deal and that's what we have here. If you're looking to step into the world of virtual reality with a bargain, you can always check out our VR headset deals page.
The Meta Quest 2 is actually one of the best VR headsets on the market so getting a free strap to enhance stability and comfort is definitely worth checking out. There's a lot to like about the headset itself as it's one of the more affordable models out there and it performs very well. But, you'll have to hurry as this deal ends January 19.
---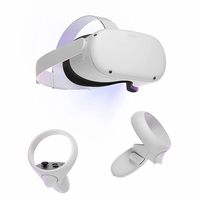 Meta Quest 2 VR Headset with free ergonomic strap worth $60.
The Meta Quest 2 offers both an excellent wireless VR experience and can be hooked up to a PC too. It's rated for it's compact design, it's excellent motion tracking and it's affordability on top of that. There's a $60 strap thrown in for free too and that's worth checking out, the added stability and comfort means you can use the headset for longer with more security and ease.
Note: This deal ends January 19.
---
The Meta Quest 2 is a VR headset worth getting in its own right for a number of reasons. It's compact and lightweight, comes with built in 3D audio, has excellent motion tracking and there's a very broad range of games and experiences available on the headset. It's very reasonably priced for what you get and is more affordable than a lot of the competition.
But, what sweetens the deal is an ergonomic strap worth $60, that you get for free. The strap allows for added security and comfort when using the headset and can be adjusted with the twist of a fit wheel. It's flexible and helps distribute weight better so you can play or workout for longer with ease and to top it all off, it comes at no extra cost.
You'll have to hurry as this deal ends soon, January 19 to be exact and this is a very useful freebee for a VR headset that has helped make virtual reality more affordable and accessible. The Meta Quest 2 is hard to beat at this price point, so it's hard to pass it up when there's a $60 accessory thrown in for free.
Follow Alexander Cox on Twitter @Coxy_97Official. Follow us on Twitter @Spacedotcom and on Facebook.