If you're looking to try your hand at stargazing this new year, or know someone who does, saving 25% on the Celestron Inspire 100AZ telescope could be exactly what you need.
The 25% discount is a saving of $118, which is pretty sizable, especially at a time when a lot of people are trying to save where they can. This telescope is ideally suited to those without much stargazing experience and we rate it so highly that it features on our best telescopes for beginners guide.
There's a lot to like about this telescope, aside from the price, and if you want a more detailed look, you can see how it stacked up in our Celestron Inspire 100AZ review. It has a lightweight frame, provides clear views of planets and the moon and even comes with a smartphone adaptor. If you want to check out other top telescopes, be sure to read our best telescopes and telescope deals guides.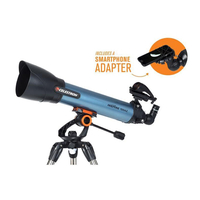 Celestron Inspire 100AZ telescope: was $468.95, now $349.99 at Adorama.
Save over $118 on a refractor telescope that's well suited to those without much previous experience. It features a 100mm aperture, so plenty of light passes through and a focal length of 660mm. For your money, you also get a tripod, two eyepieces, a finderscope, a smartphone adaptor and the use of the SkyPortal app. It's an Alt-azimuth mount type and features a pan handle for easier viewing.
Note: If stock runs out, you can find it at B&H Photo Video for the same price.
So what is it exactly that makes this telescope worth buying? Well, if you're starting off in the world of astronomy and taking your first steps into stargazing, this is ideal as it has all you want and need from an entry-level telescope.
What sets it apart from the other cut-price options on the market is the quality of the build, its sturdy tripod and the smartphone adaptor, which opens it up to astrophotography. It features a 100mm aperture which allows plenty of light to pass through making objects appear brighter.
It also features a 660mm focal length and it's at its most effective when viewing planets and moons. You also get a finder scope and eyepieces for your money. If you're looking for something above the absolute basic models and you're wanting to save money (a saving of $118.96 to be exact) this is an ideal entry-level telescope for you.
Follow Alexander Cox on Twitter @Coxy_97Official. Follow us on Twitter @Spacedotcom and on Facebook.