NASA Chief Offers Senators Reassurances on Space Agency Programs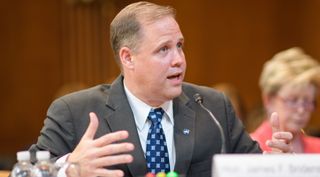 (Image credit: Joel Kowsky/NASA)
ARCADIA, Calif. — In his first congressional testimony since becoming NASA administrator a month ago, Jim Bridenstine sought to reassure Senate appropriators about the status of several agency programs threatened with cancellation, as well as his own views on climate change.
Appearing before the Senate Appropriations Committee's commerce, justice and science subcommittee May 23, Bridenstine said he would seek a balance among the agency's priorities in science and exploration, including committing to developing a number of missions that had been targeted for cancellation.
"We're going to the moon and we're going to Mars, but we're not taking our eyes off the so many other critical, important missions of NASA," he said, "to include Earth science, heliophysics, astrophysics and planetary science."
Asked by Sen. Chris Van Hollen (D-Md.) about the status of Earth science missions proposed for cancellation in the 2019 budget request, Bridenstine said NASA was reconsidering the fate of two of them, the Climate Absolute Radiance and Refractivity Observatory (CLARREO) Pathfinder instrument for the International Space Station and the Plankton, Aerosol, Cloud, ocean Ecosystem (PACE) spacecraft, based on the findings of the latest Earth science decadal survey published in January.
"That decadal survey indicated that CLARREO and, as you mentioned, PACE, are high priorities for the National Academy of Sciences," he said. "What we're doing right now with the Earth science division of the Science Mission Directorate is that we are evaluating that decadal survey, trying to make sure we're covering all the science that they have called for us to cover."
Bridenstine reiterated comments he made at a NASA town hall meeting May 17 where he said NASA would go ahead with the launch of the Orbiting Carbon Observatory 3 instrument to the ISS next January, even though that project was also slated for cancellation in the proposed budget.
He said that, despite the lack of funding for a grant program called Carbon Monitoring System in the final 2018 spending bill, NASA was committed to doing research in climate change topics. "Your NASA is 100 percent committed to understanding the carbon cycle, which is an extremely high priority that comes from the decadal surveys," he said.
In a rapid-fire, but not contentious, exchange with Sen. Brian Schatz (D-Hawaii), Bridenstine said he believed that humans were the leading contributor to global climate change, a view he acknowledged was an "evolution" from past statements.
"The National Climate Assessment that includes NASA and the Department of Energy and NOAA has clearly stated that it is extremely likely that human activity is the dominant cause of global warming, and I have no reason to doubt the science that comes from that," he said.
In astrophysics, Bridenstine said that an independent review panel was still working on its assessment of the James Webb Space Telescope, including whether its latest delays will push the mission over a cost cap of $8 billion set by Congress several years ago. He noted that any financial impact of those delays should be minimal in 2019, as NASA will transfer money budgeted for spacecraft operations to its development instead.
He emphasized he was committed to completing and launching JWST even if it does exceed that cost cap, which would require formal congressional reauthorization for the mission. "We have spent so much money and we have come so far and we are so close, that it's important that we do that," he said. Asked by Van Hollen if he was "100 percent committed" to completing JWST, Bridenstine responded, "Without question."
Bridenstine said that he wants to avoid similar problems with the next astrophysics flagship mission, the Wide-Field Infrared Survey Telescope (WFIRST), which the administration proposed cancelling in its 2019 budget request. Bridenstine said last week at the NASA town hall meeting that he felt it was likely the mission would continue.
"We are looking at what the costs are going to be going forward for WFIRST, and we're committed to not have the same thing happen to WFIRST that happened to James Webb," he said.
Bridenstine suggested that, in the future, NASA should shift its focus from those flagship-class missions to smaller spacecraft. "When we think about decadal surveys in the future, we might want to consider maybe distributing the risk among more smaller projects rather than one massive project that can clobber an entire division within the NASA budget," he said.
The only area where Bridenstine faced criticism from senators was the proposal in the 2019 budget to close NASA's education office. The 2018 request tried to do the same, only to be broadly rejected by Congress. Senators objected to the move because of the key role they see NASA playing in science, technology, engineering and mathematics (STEM) education.
"It eliminates a significant portion of that STEM education role for NASA, something that I indicated to you that I find objectionable," said Sen. Jerry Moran (R-Kan.), chairman of the subcommittee, referring to a previous conversation he had with Bridenstine about the budget proposal.
"I continue to be frustrated that the administration continues to call for the elimination of NASA's Office of Education," said Sen. Shelley Moore Capito (R-W.V.)
Bridenstine responded that NASA has been considering renaming that office the "Office of STEM Engagement" to avoid perceptions that it might duplicate work done by agencies like the Department of Education. "We are committed to education, we are committed to inspiration. I believe in it 100 percent," he said. "NASA will do that regardless of that particular budget line."
The hearing, which lasted less than an hour, did not bring up many agency programs that have been hot-button topics in the past, like the Space Launch System, Orion or commercial crew. Senators also did not discuss NASA's lunar exploration plans in the 2019 budget request, like development of the Lunar Orbital Platform-Gateway, or the future of the ISS after 2025.
Bridenstine won praise from Schatz and Van Hollen, the two Democrats who participated at the hearing, despite the fact that they and other Senate Democrats all voted against his nomination last month.
"I just want to recognize your evolution on this issue," Schatz said of Bridenstine's comments on climate change. "I have come to the conclusion that this is a true evolution, that you respect the people with whom you work, you respect the science."
Moran said his subcommittee would mark up an appropriations bill that funds NASA and other agencies under its jurisdiction on June 12. The full committee will take up the bill June 14.
This story was provided by SpaceNews, dedicated to covering all aspects of the space industry.
Get the Space.com Newsletter
Breaking space news, the latest updates on rocket launches, skywatching events and more!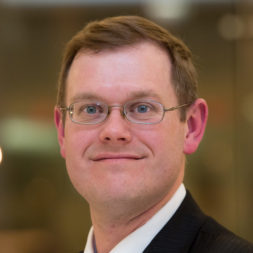 SpaceNews Senior Staff Writer
Jeff Foust is a Senior Staff Writer at SpaceNews, a space industry news magazine and website, where he writes about space policy, commercial spaceflight and other aerospace industry topics. Jeff has a Ph.D. in planetary sciences from the Massachusetts Institute of Technology and earned a bachelor's degree in geophysics and planetary science from the California Institute of Technology. You can see Jeff's latest projects by following him on Twitter.