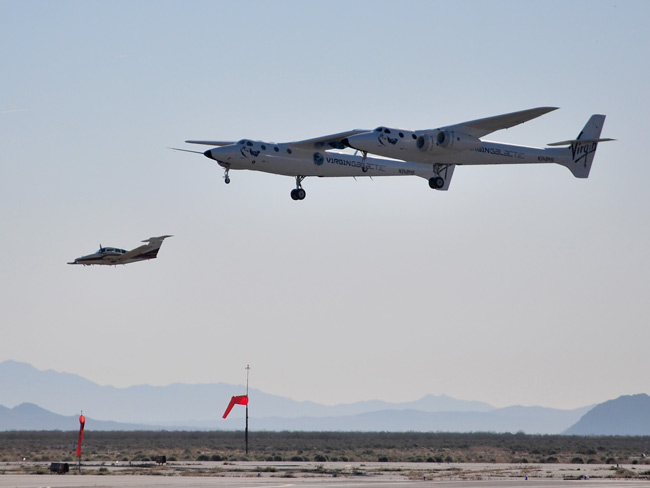 The mother ship for a commercial suborbital spaceliner fleet made its longest flight yet Monday in a test apparently marred only by some slight damage to the vehicle?s tail.
The large WhiteKnightTwo carrier aircraft ?Eve? took off from the Mojave Air and Space Port in California, flying to some 20,000 feet on a successful four-hour flight ? the longest so far and a good initial endurance test, noted Will Whitehorn, President of Virgin Galactic.
While the flight test expanded the flight regime of the WhiteKnightTwo, an incident caused a heart-stopping moment for ground watchers when an apparent crosswind during a landing strip maneuver pitched the vehicle up steeper than expected, causing slight tail damage, according to a SPACE.com source.
Virgin Galactic is the space tourist travel firm backed by U.K. adventurer and billionaire Richard Branson and his Virgin Group. Eve is named after Branson?s mother. The WhiteKnightTwo is the mother ship for SpaceShipTwo ? also built by a workforce at Scaled Composites in Mojave, California.
Whitehorn said that the aircraft?s gear was successfully retracted and extended in flight, with the craft running up in speed in both the gear up and down configuration. Furthermore, the aircraft?s flight envelope was expanded in the areas of gross weight, as well as G-load broached, he said.
?We are delighted with the program so far and are meeting every milestone we are setting,? Whitehorn told SPACE.com. ?Sir Richard Branson is looking forward to flying in Eve this summer and then seeing SpaceShipTwo attached later in the year,? he added.
The WhiteKnightTwo was publicly unveiled at the Mojave Air and Space port on July 28, 2008.
Pucker factor
While details remain a tad murky, the tail damage was apparently caused during a touch-and-go runway approach by WhiteKnightTwo, which created a ?pucker factor? in eyewitnesses watching the flight.
According to a SPACE.com source, during the maneuver, the WhiteKnightTwo appeared to have been caught by a cross wind and pitched up steeper than expected. The result was a tail strike by both rudders of the large craft, according to one observer.
However, the damage appeared to be minimal, with the WhiteKnightTwo later making a smooth touch down on the tarmac.
Following a roster of test evaluations of the WhiteKnightTwo at the Mojave Air and Space Port, the craft will carry the now-under-construction SpaceShipTwo - the two pilot/six passenger suborbital rocket plane.
Virgin Galactic has ordered five SpaceShipTwo rocket planes and two of the carrier craft, with options on more.
The buckle-up price tag per seat for a suborbital trek onboard SpaceShipTwo is $200,000.
Video - Space Tourism: Virgin Galactic Way - Part 1, Part 2

Video - SpaceShipTwo Revealed

Images - SpaceShipTwo Mothership Unveiled
Leonard David has been reporting on the space industry for more than four decades. He is past editor-in-chief of the National Space Society's Ad Astra and Space World magazines and has written for SPACE.com since 1999.