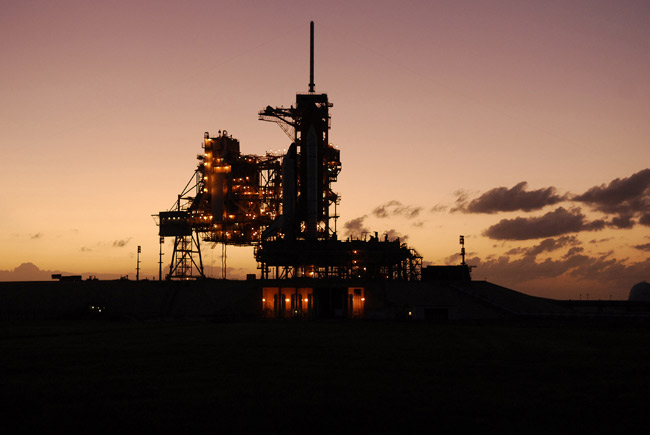 WASHINGTON - The addition of an extra mission to NASA?s space shuttle flight manifest could significantly reduce the chance of retiring the orbiter fleet in 2010 as planned, possibly to as low as 5 percent, the Congressional Budget Office (CBO) said in a report released Monday.
The CBO studied risks associated with delaying the space shuttle?s retirement and how that would affect work on the replacement system - consisting of the Orion Crew Exploration Vehicle and the Ares I launcher - which is expected to debut in 2015.
The report concluded there was a 20 to 60 percent chance NASA would be able to fly all of the 10 scheduled shuttle missions in the next two years. The addition of an 11th mission to transport the Alpha Magnetic Spectrometer to the space station, as Congress has directed, would reduce that probability to between 5 and 30 percent, the CBO report said.
NASA plans to shift space shuttle program money to Orion and Ares after the shuttle retires, and has stated, according to the CBO report, that it might cancel shuttle flights not accomplished by September 2010. Meanwhile, the U.S. space agency continues to study options for speeding up the first Orion and Ares I flights by up to 18 months.
NASA currently is working toward a September 2014 debut for the new system, a target six months sooner than the March 2015 date it has promised the White House and Congress it can meet, budget permitting.
The CBO report notes that until August, NASA had said there was a 30 percent chance Orion and Ares I would be operational by September 2013 if an extra $1 billion was added to the agency?s 2009 and 2010 budgets. NASA now says additional funding ?can no longer significantly change either the estimated date for or NASA?s level of confidence about its achievement of the [initial operating capability] milestone,? the report states.
The gap between the shuttle?s retirement and the first flight of Orion and Ares I could widen if NASA cannot keep Orion?s mass from growing during development. Other issues that could delay Orion and Ares I include a longer-than-expected development of Ares I?s J-2X upper-stage engine, difficulties with the Orion?s heat shields and excessive thrust oscillation in Ares 1?s first stage, the CBO report said.
The report also said a $577 million reduction in NASA?s 2007 funding prompted NASA to forego some robotic lunar surface exploration missions, which could delay plans to return astronauts to the Moon by 2020.
Video - Mock Orion Capsule Crashes to Earth

Video - NASA's Constellation Journey Begins: Part 1, Part 2

Video - Back to the Moon with NASA's Constellation