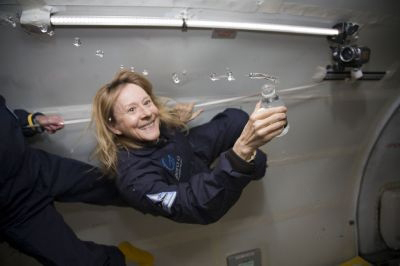 Digital-Age guru and entrepreneur Esther Dyson has bought a $3 million ticket to train as the backup for a billionaire American space tourist set to launch next year.
Dyson, daughter of the eminent physicist Freeman Dyson, signed on as the backup to American software developer Charles Simonyi, who is paying $35 million to launch on his second trip to the International Space Station in March 2009. He will launch aboard a Russian-built Soyuz spacecraft under a deal brokered by the Vienna, Va.-based firm Space Adventures, in which Esther Dyson is an investor.
?I fully expect to follow him all the way up to space sometime in the future,? Dyson said in a statement of Simonyi, who first flew to the space station with Space Adventures in April 2007. ?My father helped design a rocket ship when I was a kid, and I have always assumed I will go into space myself.?
Dyson?s father, a longtime proponent of space travel and colonies, participated in work to develop a massive spacecraft propelled by hydrogen bombs as part of Project Orion in the late 1950s. The effort was chronicled in a book by Dyson?s brother George.
A veteran investor in digital media, Esther Dyson is the chairman of the EDventure Holdings Inc. and founded the Flight School conference for entrepreneurs interested in aviation and spaceflight. She also serves as a director for non-profit groups such as the Sunlight Foundation, Santa Fe Institute and National Endowment for Democracy.
?Not only is Esther a successful investor and philanthropist, but she is also well-known in the blogosphere,? said Space Adventures President and CEO Eric Anderson in a statement. ?She will be sharing her spaceflight training experience and insights with thousands of people and will undoubtedly inspire others to pursue their own dreams.?
Space Adventures is currently the only firm offering private seats aboard orbital spacecraft and has flown five space tourists to the International Space Station since beginning the service in 2001. The sixth space tourist, American computer game developer Richard Garriott, is set to launch toward the space station with two professional astronauts on Oct. 12. Simonyi?s flight will follow in March 2009. Dyson will also train for that flight.
?My chances of going this spring are probably about 5 percent,? Dyson wrote in her blog, where she is chronicling her spaceflight training. ?But my chances of ever going will probably be about 50 percent once I complete the training.?
Dyson is not the first millionaire to lay down cash for a backup space tourist seat.
In 2006, American entrepreneur and Space Adventures investor Anousheh Ansari served as the backup for Japanese businessman Daisuke Enomoto, who was ultimately disqualified for the trip due to medical reasons. Ansari flew in his place as the world?s first female space tourist, though Enomoto recently launched a lawsuit to seek a $21 million refund from Space Adventures over the matter.
Meanwhile, Garriott has not been alone while training to follow in the astronaut footsteps of his father ? retired NASA astronaut Owen Garriott. Australian entrepreneur Nik Halik, a self-described ?thrillionaire? has been training as the backup for that planned 11-day spaceflight. Garriott will become the first American second-generation spaceflyer when he launches spaceward on Sunday.
By the end of her training, Dyson will be certified as a fully trained cosmonaut and assigned to an official space crew as Simonyi?s backup, Anderson said.
?This is a distinction that less than 1,000 people have ever had,? he added. ?We look forward to the day when she launches to space herself.?
Video - Charles Simonyi Launches to Orbit

Images - Charles Simonyi in Space!