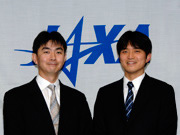 Japan has selected two new astronaut candidates to join their corps of eight spaceflyers preparing for future trips to the International Space Station.
The two new Japanese candidates, Takuya Onishi and Kimiya Yui, must go through two years of NASA astronaut candidate training to be certified as astronauts for the Japan Aerospace Exploration Agency (JAXA). They will then begin mission-specific training for stints onboard the space station of up to six months, where they will work on regular ISS maintenance and experiments in the Japanese Experiment Module "Kibo."
Onishi, 33 years old, is a pilot at All Nippon Airways. Yui, 39 years old, is a lieutenant colonel in the Japan Air Self Defense Force.
Meanwhile, veteran JAXA spaceflyer Koichi Wakata, is set to fly aboard the space shuttle Discovery as soon as next week to join the International Space Station's Expedition 18 as a flight engineer. Wakata is Japan's first long-duration astronaut and will oversee operations aboard the station?s Japanese-built Kibo laboratory.
JAXA is also preparing for the inaugural launch of its first Japanese-built H-2 Transfer Vehicle, an unmanned cargo ship to haul fresh supplies to the International Space Station. That spacecraft is slated to launch in September 2009.
Video - Japan?s Kibo Lab Opens for Business

Video - Fragmentation: The Expanding Danger of Space Debris

Video - Space Shuttle Bloopers