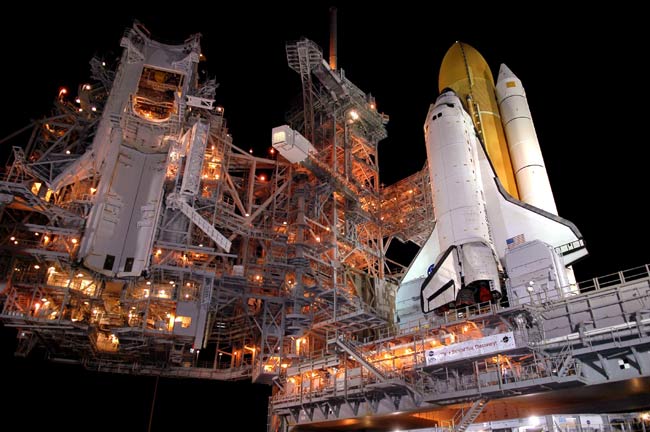 CAPE CANAVERAL, FL - The mock countdown has begun for NASA's first astronaut crew to ride a space shuttle into orbit since the Columbia disaster.
The seven astronauts of NASA's STS-114 mission have begun a multi-day training session here at NASA's Kennedy Space Center (KSC) to rehearse launch operations and emergency procedures.
"Whenever we're ready to go, the crew's going to be ready," said veteran astronaut Eileen Collins, commander of the STS-114 mission, during a press conference at Discovery's Pad 39B launch site.
A dress rehearsal of the final hours of launch, with the crew inside the Discovery orbiter atop its launch pad, is scheduled for Wednesday morning, culminating with a mock-main engine cutoff at about 11:00 a.m. EDT (1500 GMT).
Collins and her crew are now slated to launch aboard Discovery no earlier than July 13. Last week, NASA shuttle program managers delayed the mission past its first launch window, running from May 22 to June 3, to allow additional time to complete debris analysis, external fuel tank modifications and other paperwork. The announcement marked the second time NASA officials delayed the launch in two weeks.
"We cannot fly with what we define as unacceptable risk," Collins said, who said earlier that the decision to delay STS-114's launch was the right call.
NASA's STS-114 mission is the space agency's first attempt to resume space shuttle flights, which have been grounded since the Columbia orbiter broke up during reentry on Feb. 1, 2003, killing its seven-astronaut crew. In addition to delivering vital supplies to the International Space Station (ISS), the mission will also test a modified external fuel tank, as well as new tools and procedures designed to improve shuttle safety.
"We're going to use [this] time for training in order to prepare even better for our mission ... and vacation," Collins told reporters, adding that the additional 10 weeks will allow her crew and other shuttle officials some time off. "Because of the delay, some of these folks will be able to get a well-deserved break."
Training for flight
Collins and her STS-114 crewmates arrived at KSC late Sunday aboard NASA's T-38 jets for their Terminal Countdown Demonstration Test (TCDT), a standard training session that precedes every shuttle launch.
On Monday, Collins, STS-114 pilot Jim Kelly and mission specialist Stephen Robinson, who will serve as flight engineer during the spaceflight, performed a series of training flights aboard NASA's shuttle training aircraft. The entire STS-114 crew also took turns driving the M-113 tank, an armored personnel carrier used by shuttle crews to escape their launch pad during an emergency.
"This is my first TCDT," said STS-114 lead spacewalker and mission specialist Soichi Noguchi, of the Japanese Aerospace Exploration Agency (JAXA). "The highlight is yesterday, when we got to drive the tank, so we are all certified."
Noguchi and Robinson, his partner for the three spacewalks planned for STS-114, plan to conduct additional dives at NASA's Neutral Buoyancy Laboratory pool to rehearse their extravehicular activities.
"We're going to use these two months wisely," he said.
The STS-114 crew will report to their Discovery orbiter atop Launch Pad 39B at 7:45 a.m. EDT (1145 GMT) for the final countdown test Wednesday.
Fixing NASA: Complete Coverage of Space Shuttle Return to Flight