As Chewbacca famously said in "The Empire Strikes Back," "RRRAARRWHHGWWR."
But Chewie has a lot more to reveal in "Star Wars: Secrets of the Wookiees," a new book arriving on Nov. 28, 2023 (just in time for the holidays!) in a handy guide format shining an informative and entertaining light on the exotic world of the Wookiees. The book is written by the Eisner and Harvey Award–nominated writer and editor Marc Sumerak and matched with vivid artwork from illustrator Alberto Buscicchio.
This is the third entry in Insight Editions' series of all-ages "Star Wars" canon reference books, with each comprehensive volume centering on a particular corner of the galaxy far, far away. So far, the roster has included 2022's "Star Wars: The Secrets of the Bounty Hunters," 2021's "Star Wars: The Secrets of the Sith," and 2019's "Star Wars: The Secrets of the Jedi."
Related: 'Star Wars' fan favorite Lando Calrissian is getting his own movie on Disney+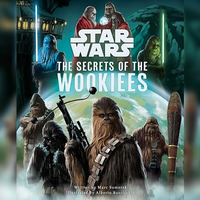 Star Wars: The Secrets of the Wookiees: $27.99 at Amazon
This gorgeously-illustrated guidebook explains all there is to know about Wookiees, the furry alien race from planet Kashyyyk perhaps best known for Chewbacca, Han Solo's faithful co-pilot in the "Star Wars" franchise.
Here's the official synopsis:
"Readers of all ages will discover the untold stories of Wookiees, from Chewbacca to Burryaga, in this interactive, beautifully illustrated guide. Journey to the forests of Kashyyyk and learn the lore of the galaxy's most storied species in 'Star Wars: The Secrets of the Wookiees.'
"Young fans will uncover fascinating stories about famous Wookiees across galactic history, all accompanied by incredible artwork and interactive features, including pop-ups, booklets, and lift-the-flap inserts. You'll delve into Chewbacca's journeys with Han Solo and Rey, Wookiee history and technology, and more.
"'Star Wars: The Secrets of the Wookiees' contains beautiful illustrations that will enthrall both child and adult readers alike. Complete with a frameable 11 x 17 poster of the cover art, this book is the ideal gift for any 'Star Wars' fan."
Since being first introduced to Chewbacca, Han Solo's 200-year-old co-pilot equipped with a lethal crossbow and torso bandolier that Princess Leia referred to as a "walking carpet" in 1977's "Star Wars: A New Hope," these ill-tempered giants have generated endless interest from legions of "Star Wars" faithful regarding the beasts' forest homeworld, customs, habits and culture.
Covering movies, television shows, books, comics and video games, this engaging manual highlights the galaxy's greatest Wookiees—including Chewbacca, Tarfful, Krrsantan, Burryaga, Gungi, and all others who call Kashyyyk their birthplace.
Insight Editions' "Star Wars: The Secrets of the Wookiees" releases on Nov. 28, 2023.