The Celestron NexStar Evolution 9.25-inch telescope is now over $700 off at Amazon right now and stocks are low so it's worth checking out this deal soon if you're interested in investing.
An investment it sure is, at a little over $3550 on its original price the NexStar Evolution 9.25 may not be for the budget-conscious, but those who are looking for a worthy telescope to observe the stars with can get the telescope for $2849 with a saving of 20%.
The reason for this higher price tag is justified by the extensive features and technology Celestron has packed into the telescope. Far from a basic manual telescope, the NexStar Evolution 9.25-inch is a Schmidt-Cassegrain design, a kind of hybrid between refractor and reflector optical technology that affords a long focal length and bright views in a tiny, compact package. With a whopping aperture of 9.25-inches (235mm) and a focal length of 93-inches (2350mm) you're getting a powerful telescope in a small package.
What's more, the telescope can be wirelessly controlled via a smartphone for even more precise viewing opportunities. Simply use the free Celestron app and synchronize the smartphone via the integrated Wi-Fi connectivity to slew the telescope into the right position. Even better, click on one of the pre-programmed celestial objects and have the telescope automatically repositioned for even faster observation.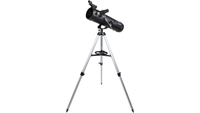 Celestron NexStar Evolution 9.25 Telescope: was $3550.95, now $2849 at Amazon
Save over $700, that's 20% on the computerized Schmidt-Cassegrain Celestron NexStar Evolution 9.25-inch telescope. Connect wirelessly via smartphone and use the app to automatically navigate the telescope to a desired night sky object.
Celestron prides itself in creating this telescope for its customers, stating that its engineers have produced this telescope as a direct result of years of feedback directly from customers. One such benefit is its power source — an in-built Lithium-ion LifePO4 battery that is completely rechargeable and gives up to 10 hours of continuous use from the computerized, motorized telescope. This also helps to reduce waste as many other motorized telescopes that run on batteries utilize AA battery compatibility which need to be recycled after discharge.
It also comes with a sturdy tripod, strong single fork arm motorized mount, two accessory trays to store up to seven eyepieces and several connection ports for use with laptops and even to use it to charge external devices like smartphones.
The Schmidt-Cassegrain design, alongside StarBright XLT optical coatings, help produce a bright, sharp image for viewing even the dimmest stars.
Not sure if the Celestron NexStar Evolution 9.25-inch go-to telescope is right for you? Be sure to check out our guide to the Best telescopes, Best telescopes for beginners or for young astronomers the Best telescopes for kids. Grab a bargain with our hubs covering the best Budget telescopes under $500 and Telescope deals on sale to save even more money on your next telescope.