A very different beast from most camera tripods, the Joby GorillaPod 5K Kit was created specifically with social media content creators and vloggers in mind, as its main selling point is its portability and adaptability. Adorama are currently selling it for just $79.99 — that's a $120 saving off the usual price of $199.99! The deal ends on July 12 though, so you'll have to be quick to grab this bargain while it lasts.
We were a big fan of the Joby GorillaPod 5K when we reviewed it earlier this year, and the kit version has one main advantage over the regular 5K — it has arms! With a total of four flexible legs, this means that as well as attaching your phone or camera to the main mount, you can also add lights and microphones to enhance your recording experience. It also means you can physically grip it and use it as a gimbal while also having the aforementioned bits attached.
---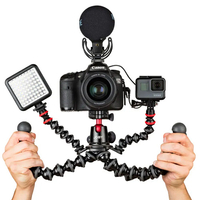 JOBY GorillaPod 5K Kit was $199.99 now $79.99 from Adorama.
Save $120 on this tiny, lightweight and flexible tripod from JOBY — a must-have for content creators, Instagrammers and YouTubers as it can hold multiple devices and accessories to help take your content to the next level.
---
The JOBY GorillaPod 5K Kit can bend, twist and attach itself to quite literally anything — trees, railings and even craggy bits of landscape. You can secure your primary camera plus two additional devices (backup camera or phone for behind-the-scenes shots, etc) and can hold up to 11 lbs (5kg). It has two 6-socket GorillaPod arms with ¼"-20 attachment points plus 2 Cold Shoe mounts and 1 GoPro mount. It also comes with a quick-release carry/mounting strap.
It can be used for traditional photography — we even used it for a light bit of astrophotography in our review — but where the GorillaPod 5K really shines is for content creators, Instagrammers and YouTubers who record themselves on the go and need to get creative about where they have their tripod. Not to mention, it weighs only 1.85 lbs (840g), so it's no bother at all to carry it around with you all day.
Don't forget, if you want to make the most of Amazon Prime Day 2023, check out our Amazon Prime Day hub for a roundup of the best discounts and deals on telescopes, binoculars, cameras, star projectors, drones, lego and much more.
Key Specs: It's able to hold up to 11 lbs (5kg) of weight and measures just 17-inches. Features a 1/4"-20 tripod attachment with Arca-Swiss quick-release clip, GoPro mount and Universal flash shoe.
Consensus: Now that it's on offer, we wouldn't hesitate to purchase it as it offers you flexibility like you don't get with standard tripods, and it's great to have as a 'just-in-case' tripod.
Buy if: You're a content creator looking to up your game, or you travel a lot and need a quick and easy tripod.
Don't buy if: You primarily shoot stills for astrophotography, portraits or wildlife.
Alternative models: If you don't need the extra arms, you can pick up the 3K Kit from Adorama for $45, or if you're looking for a standard tripod, check out our best travel tripods guide for a whole bunch of lightweight, portable options there.