Want to step into the wonderful world of VR or swap your existing headset in for something with a little more power? This HTC Vive Pro 2 headset, which we ranked as one of the best VR headsets, is over $200 off at Amazon, bringing it down to just $1,189.
HTC is one of the leaders in VR and it's hard to go wrong with the HTC Vive Pro 2. It's an absolute powerhouse of a headset, running at 5K resolution. And, in the case of this deal, it comes complete with controllers. We sang its praises in our HTC Vive Pro 2 review, expressing appreciation for its image quality, field of vision and the number of titles on offer.
So, if you're looking for a powerful, PC-based VR headset, you really can't go wrong with the HTC Vive Pro 2 and at thanks to Amazon Prime Day it's an even better deal at $200 off. This deal is for the full system, so it comes with the controllers and base stations too.
---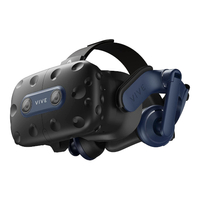 HTC Vive Pro 2 VR Headset (Full System): was $1399 now $1189 from Amazon.
Save $200 on a VR headset that will deliver a superb virtual reality experience.
The HTC Vive Pro 2 VR headset features 5K resolution (providing your PC is powerful enough), a pair of easy use controllers and a 120 degree field of view.
It's one of the most powerful headsets around, making our list of the best vr headsets.
---
The HTC Vive Pro 2 is a PC-based VR headset (see our review) that can be used with a massive range of VR games, applications and experiences. Want to laze around on a desert or take on an invading alien force? It's up to you.
This deal includes a pair of HTC Vive controllers so, provided you have got a PC, you're ready to go. It's one of the most powerful headsets you can get and made our list of best VR headsets. It also compares favorably with the more recent Valve Index.
Don't forget, if you want to make the most of Amazon Prime Day 2023, check out our Amazon Prime Day hub for a roundup of the best discounts and deals on telescopes, binoculars, cameras, star projectors, drones, lego and much more.
Key Specs: It sports a resolution of 2448 × 2448 per eye, a 120 degree field of view and a 120 Hz refresh rate. You'll need a pretty powerful PC to make the most of the headset, and to get games running in 5K.
It comes bundled with two easy-to-use controllers and, while wired, has a cable long enough that you shouldn't find yourself being yanked back to reality.
Consensus: In our review, we noted that "The HTC Vive Pro 2's hi-res screen and speedy refresh rate make it worth your time." We thought its RRP was a little high but this deal takes care of that.
Buy if: You have a top end PC and want a gorgeous high-resolution VR experience. Even compared to the Valve Index, its image quality is top notch.
Don't buy if: Your PC is a little dated or if you want a standalone, PC-free VR headset
Alternative models: If you want VR without wires, consider the Meta Quest 2. Also, the more recent Valve Index is also worth investigating.