Night vision is cool, there's no doubt about it, but it's also incredibly useful for low-light situations. If you're in the market for a pair of night vision binoculars then 54% off these Hexeum binoculars could be exactly what you're after.
The 54% discount is a saving of over $160 and we like these binoculars a lot and not just for their price. In fact, we like them so much that they feature in our best night vision binoculars guide, so you're getting quality as well as value for money with this sale.
There are some impressive specs for the price point which include multi-coated optics and HD image and video recording which can be stored on a 32GB SD card — which is included. It's important to remember that binoculars don't share the same power as the best telescopes but they can be a cost-effective alternative. We also have guides for the best binoculars and binoculars deals that are worth checking out.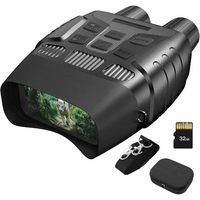 Hexeum Night Vision Binoculars: was $298, now $135.98 on Amazon.
Save over $160 on these Hexeum Night Vision binoculars which offer good value-for-money. They feature multi-coated optics, HD image and video recording, 3x magnification and 4x zoom with a 24mm aperture.
At a time when a lot of people are trying to cut costs where possible, a saving of over $160 is massive and grabbing the lowest price we've seen on these night vision binoculars for a long time is more than welcome. The discount is massive, but it's the specs that are the most impressive aspect of these binoculars, especially at this price point.
For your money, you get a pair of night vision binoculars that feature multi-coated optics, which decrease glare and increase light transmission, an aperture of 24mm, to allow plenty of light to pass through the lenses, a 10-degree field of view, 3x magnification and 4x zoom.
The battery life is just over eight hours and a 32GB SD card is included for you to record and store your HD images and videos. It's water-resistant and tripod mountable, the only downside is it requires six AA batteries which aren't included. If you're looking for something for night-time outdoor viewing, you'll be hard-pressed to find something better at this price point.
Follow Alexander Cox on Twitter @Coxy_97Official. Follow us on Twitter @Spacedotcom and on Facebook.