The Celestron Nexstar 4SE is a fully-automated computerized telescope suitable for beginners and advanced astronomers; now it's $180 off.
The $180 discount means you save 27% and it's the lowest price it's ever been on Amazon, now $499. Even without the discount, there's a lot to like about this telescope and for a more detailed look at it, you can check out our Celestron Nexstar 4SE review. It's a computerized telescope that features a fully-automated GoTo mount, meaning you can find planets and bright night sky objects with ease and get clear views of them too. The uncomplicated setup and sturdy build means you won't go wrong with this telescope.
As telescope deals go, this is more than worth checking out as this telescope features high up on our best telescopes guide. In fact, Celestron's Nexstar 6SE and 8SE telescopes also feature in that guide. This is great value as it comes in under the $500 mark and if that's the top end of your budget, it's always worth checking out the best budget telescopes under $500.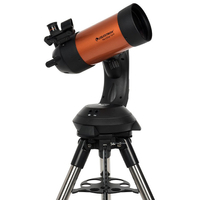 Celestron NexStar 4SE computerized telescope was $679 now $499 on Amazon.
Save $180 on a computerized telescope that gives astronomers an easy-to-use experience and clear views of planets and bright night sky targets. It has a 4-inch aperture so plenty of light passes through and it's fully automated GoTo mount with a database of over 40,000 celestial objects can locate and track for you.
Celestron's Nexstar 4SE is a telescope that will please both beginner and seasoned stargazers alike, but it is ideal for those without much experience. There's no complicated assembly or setup so you can get on with viewing your night sky targets without much hassle. Its fully-automated GoTo mount means it can locate and track targets for you, so there's no frustration in trying to locate celestial objects by scanning the night sky.
It has a four-inch aperture so plenty of light passes through allowing for crisp, bright views of what you're trying to look at. A 40,000+ object database also features here, so you'll never fall short on something to look at through your telescope. You also get the reliable and sturdy build that you would expect for the price you pay, it has a single fork arm design and a sturdy steel tripod that can break down into separate components for ease of transport and assembly.
The only shortcoming we found with this telescope is that it can drain the batteries a bit faster than we would like, so make sure you can get a good deal on batteries - eight AAs are required but are not included. It has a narrower field of view, so it's not perfect for widespread star clusters. With that being said, all that is good here far, far outweighs the bad and getting Amazon's lowest-ever price and saving $180 represents great value on a great telescope.
Follow Alexander Cox on Twitter @Coxy_97Official. Follow us on Twitter @Spacedotcom and on Facebook.