We've tested a lot of star projectors and we can recommend this Astronaut Starry Sky star projector now 54% off at just $27.99.
We've curated a best star projectors guide for those we think are worth the cash, rather than poor-quality novelty items lacking the 'wow' factor. In that guide, you'll find the Astronaut Starry Sky Projector, which earnt its place in there following our hands-on Astronaut Starry Sky star projector review.
A number of sellers distribute it and the best price we've found today is $21.99 ($27.99 + the $5 discount coupon), but we'd recommend spending the extra $6 and purchasing it for $27.99 from a seller with a decent amount of reviews. We think that's a great price.
We have one of these novelty-shaped star projectors, currently residing on our nephew's bedside table, which it has done since our review last year. It gets turned on every night as part of the usual bedtime routine and always receives an audible 'wow' when the lights and lasers flood the room.
We're always dubious of novelty-shaped products, but we couldn't resist reviewing this on-brand astronaut wearing a space-walking suit, and despite the pretty boring packaging, we were pleasantly surprised with the build quality of the star projector inside. The bright, customizable lights and lasers rival some of the more expensive models out there too; in fact, we're pretty sure it uses the same lighting module found in the Encalife Atmosphere Smart Galaxy Projector which costs much more.
---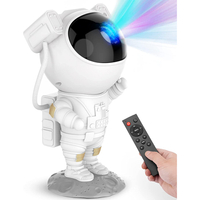 Astronaut Star Projector: was $59.99 now $27.99 at Amazon
While this isn't as big of a discount as Black Friday (at $8 we think that must have been a mistake!), we think this is a quality product that would look the part in any space fan's bedroom or office. Get it now for $27.99.
---
The astronaut's body slots into a stand that resembles the moon's surface with footprints on it. The lights and lasers are cleverly integrated into the astronaut's space helmet. The helmet attaches to the body with a strong magnet, so you can position it in any direction you want, even projecting it onto the floor.
The astronaut's little arms are poseable, and even when it's not being used as a star projector, it still looks the part on a shelf as an ornament in its own right. The build quality is surprisingly really good; it doesn't 'feel' like a toy, which means it would be suitable for teens (and even adults) as well as children.
The operation of the rotating motor (only the nebula-inspired light rotates, not the lasers) is very quiet, near silent unless you press your ear against it, so it's suitable to use as a night light. The sleep timer, which can be set to 45 or 90 minutes, either on the device itself or by using the supplied remote, is also useful for automatically turning the lights and lasers off without having to disturb your sleeping child.
Overall, we think this is a cost-effective way to add immediate ambiance to a room, especially the room of a space lover. If you're looking to buy a gift for a child, the 'cute' novelty astronaut gives it the edge over models which 'do the same job' but have a less child-friendly aesthetic. We can confidently say, they will love it!

Don't forget, if you want to make the most of Amazon Prime Day 2023, check out our Amazon Prime Day hub for a roundup of the best discounts and deals on telescopes, binoculars, cameras, star projectors, drones, lego and much more.
Key Specs: The Astronaut Starry Sky projector is 120 x 113 x 228mm in size. It utilizes LED lights and a Class 1 green laser. The nebula-inspired lights rotate and can be customized into a plethora of patterns. You can also adjust the speed of the rotation. Like many star projectors, there is a sleep timer. All of the functionality is accessed using the supplied remote, and some functionality can be modified using the buttons on the device.
Consensus: Having carried out a hands-on review and continuing to use the star projector on a daily basis since, we are very happy to recommend this as a quality product, well worth the current sub $30 price tag.
Buy if: You're looking for impressive star projector functionality in a novelty body.
Don't buy if: You're looking for something that is app or voice-controlled, or looking for something that you can use to project real space imagery. This is a sensory mood-enhancing ambiance creator rather than anything educational.
Alternative models: If you do want app customization or voice control, consider the BlissLights Sky Lite Evolve. Like the astronaut, the price fluctuates quite a lot; we'd say anything less than $40 is a good buy. For a projector that is capable of projecting real space imagery, the Pococo Galaxy Star Projector is almost as good as the much more expensive Sega Toys Homestar Flux. If it's just something to fill your room with lasers that you're looking for, the BlissLights Starport USB, available in three colors, will do just what you need and it's currently on sale for just $10.49.