From the astrophysical topics to the inspiring tales of women in space, we'll compiled the best space books that are on Amazon and on sale right now — just in time for Prime Day. We'll update this page throughout Amazon Prime Day with more deals for space fans as we see them, so don't forget to check back period to see what we find!
Prime Day officially starts Oct. 13 at 3 a.m. EDT (0700 GMT) — though the early deals have already begun. The deals are only available to people with an Amazon Prime account. Prime costs $119 per year, but users can try it free for 30 days.
Amazon Prime Day 2020: The Best Space Deals to Watch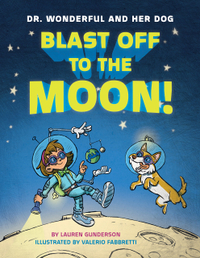 "Dr. Wonderful and Her Dog Blast Off to the Moon!" | Save $4.04 | Now $13.95 on Amazon
This kids book, written by Lauren Gunderson and illustrated by Valerio Fabbretti (Two Lions, 2017), follows the journey of the ever-curious Dr. Wonderful, as she and her canine companion head for the lunar surface.
From Amazon: "Dr. Wonderful loves asking big questions…and using science to answer them. She and her dog, Newton, want to know why the moon changes shape in the sky every night. But how can they study the moon when it's so far away? By blasting off into space, of course! On their amazing journey, this detective duo gathers clues to solve their lunar mystery using the powers of science, curiosity, and teamwork."
The hardcover version is currently $13.95, down from a list price of $17.99 (or free with Kindle Unlimited). The Kindle version is free with a Kindle Unlimited subscription.
Follow us on Twitter @Spacedotcom and on Facebook.