Antennas in space unfolded to pick up signals from the early universe, astronomers find a black hole is boosting star formation in galaxies across vast distances and a spacecraft takes a look at the Martian north pole. These are just some of the top photos this week from Space.com.
Vikram Crash Site
This bright blemish near the moon's south pole is the place where India's Chandrayaan-2 Vikram moon lander crashed following a September 2019 attempted landing. This image combines before and after photographs of the Vikram impact site taken by NASA's Lunar Reconnaissance Orbiter (LRO). The picture does show material splaying out of the crater, but pay no mind to the straight diagonal lines: they are imaging artifacts, not features on the moon.
Full Story: Found! NASA Spots Crash Site and Debris from India's Lost Moon Lander
Listening to the Early Universe
An experiment recently unfurled its antennas to pick up signals from the early universe, about 800 million years after the Big Bang. These three images show one of the antennas of the Netherlands-China Low Frequency Explorer unfolding from atop a Chinese communications satellite. The spacecraft, known as Queqiao, supports China's Chang'e 4 moon mission.
Full Story: Radio Telescope Unfurls 3 Antennas Beyond the Far Side of the Moon
Super Guppy and Orion
The twilight seems to enhance the bulgy appearance of NASA's Super Guppy transport plane in this photo. Taken on Nov. 24, 2019, Super Guppy is seen sitting at Mansfield Lahm Airport in Ohio with the space agency's Orion crew capsule inside it. Orion will undergo a series of tests at NASA's Plum Brook Station.
Full Story: NASA's Orion Capsule Takes a Ride on the 'Super Guppy' (Photos, Video)
Asteroid Bennu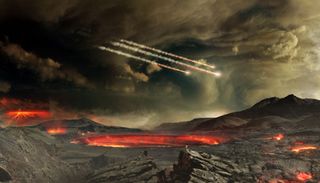 The discovery of extraterrestrial ribose (and other sugars that are key to life) in meteorites supports the hypothesis that chemical reactions in asteroids can make some of life's ingredients. Asteroids are the parent bodies of many meteorites, and one major subject of NASA's scientific study is asteroid Bennu, seen here in a mosaic image taken by the agency's OSIRIS-REx spacecraft.
Liftoff for Ariane 5
An Arianespace rocket launched two communications satellites launched into orbit this week (Nov. 26) in a bid to increase connectivity for mobile, civil and government customers. The Ariane 5 rocket lifted off from the Guiana Space Center in French Guiana at 4:23 p.m. EST (2123 GMT or 6:23 p.m. local time). The two satellites on board successfully separated from the rocket's upper stage about half an hour after liftoff. — Elizabeth Howell
Full Story: Ariane 5 Rocket Launches Satellites into Orbit for Egypt, Inmarsat
Liftoff for 13 U.S. Nanosatellites
An Indian Space Research Organisation Polar Satellite Launch Vehicle launches India's Cartosat-3 satellite and 13 U.S. nanosatellites into orbit from the Satish Dhawan Space Centre in Sriharikota on Nov. 27, 2019. One of the payloads lofted is "Meshbed," a cubesat provided by Massachusetts-based company Analytical Space. The other 12 spacecraft are cubesats from San Francisco-based company Planet are "SuperDoves," the company's latest iteration of tiny Earth-observing spacecraft. — Mike Wall
Full Story: India Launches Advanced Earth-Mapping Satellite and 13 US Cubesats
Two Galactic Neighbors
While it's common for galaxies to coexist peacefully in the same cosmic neighborhood, these two galaxies are a bit too close for comfort. The galaxies NGC 6286 (right) and NGC 6285 (left), collectively known as Arp 293, are tugging at each other with their mutually strong gravitational attraction, dragging wisps of gas and dust out from the galaxies and into interstellar space. This causes the galaxies to appear "smudged" and blurred from our perspective on Earth. The Hubble Space Telescope captured this image of the galactic pair, which are located more than over 250 million light-years from Earth in the constellation Draco. — Hanneke Weitering
Spacewalker Floats Above the Clouds
With his special space camera in hand, NASA astronaut Drew Morgan is seen working outside the International Space Station during his spacewalk with European Space Agency astronaut Luca Parmitano on Nov. 22. This was their second spacewalk together in which they worked to repair an ailing dark matter experiment called the Alpha Magnetic Spectrometer. The spacewalking duo will head out again for their third spacewalk together on Dec. 2. — Hanneke Weitering
Hubble Eyes an Emission Galaxy
Looming some 135 million light-years from Earth in the constellation of Centaurus is the bright emission line galaxy NGC 3749, seen here in an image from the Hubble Space Telescope. Astronomers can learn a lot about a galaxy by studying its spectrum of light, particularly the wavelengths of light that are emitted or absorbed by elements it contains. NGC 3749 displays strong emission lines, which means that it is "bursting with star formation and energetic stellar newborns," the European Space Agency said in a statement. — Hanneke Weitering
Orion Enters the Super Guppy
NASA's Orion spacecraft is loaded inside the belly of the Super Guppy aircraft at the Launch and Landing Facility runway at Kennedy Space Center in Florida, on Nov. 21. The spacecraft, which will fly on the first Artemis mission, was transported to NASA's Plum Brook Station in Sandusky, Ohio, for testing. — Hanneke Weitering