A satellite performs a distant docking with a novel space vehicle, a Caribbean volcano awakens and a musical adaptation of three iconic celestial objects intrigues listeners in a new set of videos. These are some of the top photos this week from Space.com.  
La Soufrière
The volcano La Soufrière, located on the main island of St. Vincent and the Grenadines, began erupting on April 9. Satellite company Maxar Technologies published this image via Twitter, showing a bird's-eye view of April 8's volcanic activity that preceded the eruptions. La Soufrière's awakening caused up to 20,000 people to evacuate the region and has spewed ash across parts of the Caribbean island. The volcano last erupted in 1979. 
Full story: St. Vincent's La Soufrière volcano eruption spotted from space (photos)
Satellite docking and a distant Earth
This is a closeup view of the Intelsat 901 (IS-901) communications satellite as it approached Northrop Grumman's Mission Extension Vehicle-2 (MEV-2) to dock. The marbled sphere in the background is Earth, and the planet looks rather small because the maneuver happened about 22,236 miles (35,786 kilometers) above Earth's equator. MEV-2 is a robotic spacecraft designed to attach itself to aging satellites to extend their operations in orbit. 
Full story: A Northrop Grumman robot successfully docked to a satellite to extend its life
Celestial sounds
These three gorgeous space structures were recently adapted to music. At the top of this image trio is a view of the Chandra Deep Field South. On the bottom left is the Cat's Eye Nebula, and at the bottom right is the Whirlpool Galaxy (Messier 51). A team of collaborators took data from these three celestial bodies and turned them into music in new videos. Observations taken by the NASA/ESA Hubble Space Telescope, NASA's Chandra X-Ray Observatory and other spacecraft contributed to this intriguing data sonification project. 
Full story: Take a deep listen to these celestial-inspired sounds from NASA (Videos)
New shots of a famous supermassive black hole
This triptych offers three different views of a famous black hole's jets. The first-ever high-resolution photo of a black hole, taken by the Event Horizon Telescope project and published on April 10, 2019, imaged the supermassive black hole that's also seen in these three images. These new views show the region around the black hole in radio, visible and X-ray wavelengths, taken by the ALMA telescope array and NASA's Hubble and Chandra space telescopes, respectively. 
Full story: Scientists get more great looks at the 1st black hole ever photographed
A final asteroid flyby
Leilah McCarthy, Flight Navigator from the engineering company KinetX, is seen here processing navigation images to help NASA's OSIRIS-REx spacecraft complete its final flyby of the near-Earth asteroid Bennu. This mission collected asteroid samples last year by touching Bennu's surface for a few seconds and then using a puff of gas to blow material upwards. Researchers wanted to learn what effect this maneuver had on the space rock's surface, so they performed this recent flyby to learn more about it before preparing to return to Earth.
Full story: NASA's OSIRIS-REx spacecraft begins its farewell tour of near-Earth asteroid Bennu
Rolling out for Crew-2
Rolling down the road is a SpaceX Falcon 9 rocket with the company's Crew Dragon spacecraft attached in preparation for the launch of the Crew-2 mission. Crew-2 is expected to launch from NASA's Kennedy Space Center in Florida from Pad 39A on Thursday April 22. — Chelsea Gohd
Hubble spots a spiral
In this breathtaking image captured by the Hubble Space Telescope, the bright heart of the "starburst" galaxy M61 shines, surrounded by outstretched, winding arms. M61 is classified as a starburst galaxy because of its bright, glowing spots of star formation that can be seen as "rubies" of reddish light in this image. — Chelsea Gohd
Keeping time in space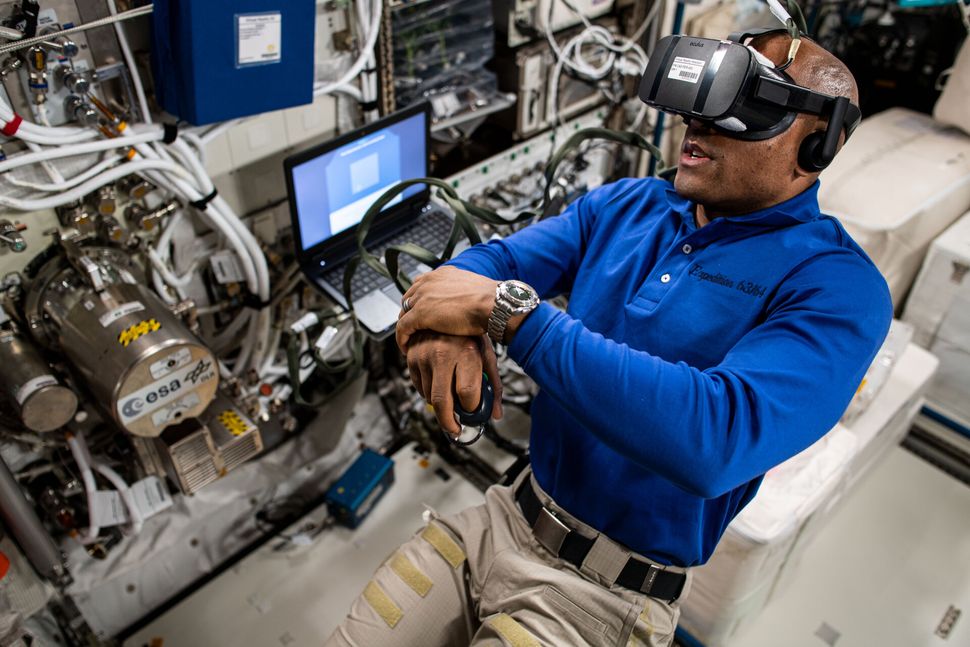 NASA astronaut Victor Glover tests out the European Space Agency's Time experiment in this image, snapped aboard the International Space Station where Glover is currently staying. The experiment uses virtual reality technology to see how being in space changes an astronaut's perception of time. — Chelsea Gohd
60 years in space
Monday (April 12) marked exactly 60 years since cosmonaut and Soviet pilot Yuri Gagarin became the first human being to travel to space, on April 12, 1961. On this day, he was launched into space from Baikonur Cosmodrome, where astronauts are still launched aboard Soyuz capsules today. During the flight, Gagarin orbited Earth a single time and landed back on Earth, parachuting down after ejecting from his capsule. — Chelsea Gohd
A Soyuz launches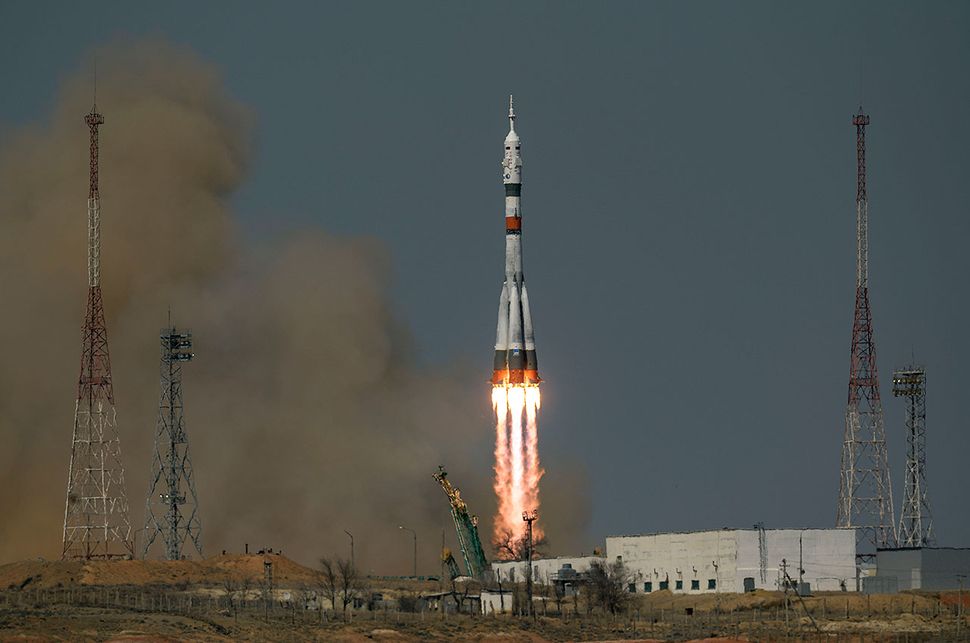 60 years after the first human spaceflight launched cosmonaut Yuri Gagarin off of Earth, Russia launched a Soyuz named after Gagarin to the International Space Station. Today at 3:42 a.m. EDT (0742 GMT or 12:42 local time), Russia's Soyuz MS-18 spacecraft, the "Yu.A. Gagarin," launched from site 31/6 at the Baikonur Cosmodrome in Kazakhstan near where Gagarin made his historic flight April 12, 1961.  -- Chelsea Gohd
Join our Space Forums to keep talking space on the latest missions, night sky and more! And if you have a news tip, correction or comment, let us know at: community@space.com.