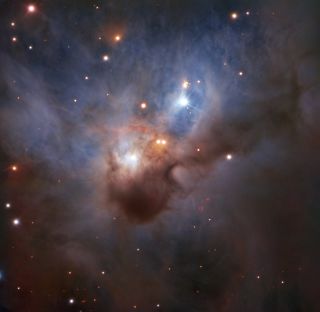 The Cosmic Bat Nebula, formally known as NGC 1788, is a dusty nebula located two thousand light-years from Earth. The European Southern Observatory's Very Large Telescope (VLT) in northern Chile captured this view. NGC 1788 doesn't emit light, but its clouds of gas and dust reflect the light of the young stars at its core, thus illuminating the otherwise dim nebula.
Credit: ESO
[Full Story: Cosmic Bat Nebula Photographed by ESO's Very Large Telescope]
The spider-shaped feature in this color-composite image from the European Space Agency (ESA) and the Russian space agency Roscosmos highlights the paths of hundreds or thousands of tornado-like events across the Martian surface. This Feb. 8 image, taken by the ExoMars Trace Gas Orbiter, actually captured the marks in dark red, but the imaging technique that turned them blue enhances the surface features through contrast, according to a ESA-Roscosmos statement released March 14.
Credit: ESA/Roscosmos/CaSSIS, <a href="http://www.esa.int/spaceinimages/ESA_Multimedia/Copyright_Notice_Images">CC BY-SA 3.0 IGO</a>
The incredible impact event Shoemaker-Levy 9 celebrates its 25th anniversary this year. The weeklong collision of space rocks across Jupiter's atmosphere captured the public's attention in July 1994, and according to one environmental historian, the epic encounter galvanized the young world wide web by going viral. The Hubble Space Telescope took this image on July 18, 1994; it shows Shoemaker-Levy 9 fragment G's impact imprint on Jupiter.
Credit: NASA
[Full Story: How a Viral Comet Crash Into Jupiter Helped Popularize the Internet]
Astrophotographer Miguel Claro captured this ethereal morning sky view featuring Venus, Jupiter and the full moon over Mértola, Portugal during the final moments of the total lunar eclipse on Jan. 21 2019. The moon has almost fully emerged from Earth's shadow as the "Super Blood Wolf Moon" comes to an end.
Credit: Miguel Claro
[Full Story: Venus and Jupiter Shine Over a Dreamy Lunar Eclipse (Photo)]
"Uranus is a difficult target that I have only seen a couple of times in my 35 years of doing astrophotography," said Victor Rogus, an astrophotographer based in Sedona, Arizona. In this annotated photo, Uranus can be seen photobombing this conjunction of the moon and Mars on Feb. 10.
Credit: Victor Rogus
[Full Story: Dim Planet Uranus Makes a Surprise Appearance in This Night Sky Photo]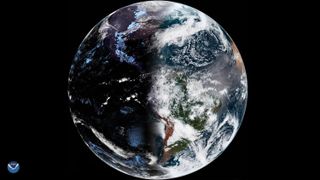 Happy vernal equinox! Here's a satellite view of the sun rising over North America this morning on the first day of spring. In the Southern Hemisphere, today is the first day of autumn. — Hanneke Weitering
Credit: NOAA/GOES-East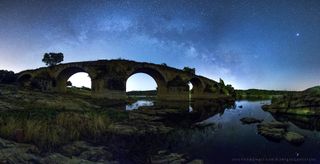 The Milky Way glitters in the predawn sky over Portugal's Guadiana River in this image by astrophotographer Sérgio Conceição. Saturn, Jupiter and the bright star Antares appear embedded in the Milky Way's dusty arc, while the bright star Spica dominates the sky to the right. In the foreground of this photo is the 500-year-old Bridge of Ajuda. — Hanneke Weitering
Credit: <a href="https://www.flickr.com/photos/81971118@N06">Sérgio Conceição</a>
It's a bird! It's a plane! Nope, that's the International Space Station zooming past the moon at an impressive speed of about 5 miles per second (8 km/s). NASA photographer Joel Kowsky captured a sequence of nine images to created this animated view of the transit on Saturday (March 16), two days after three Expedition 59 crewmembers arrived at the orbiting lab. — Hanneke Weitering
Credit: Joel Kowsky/NASA
In this Hubble Space Telescope view of the globular cluster Messier 28, countless multicolored stars stand out as specks in a glittering cosmic sea. But when the astronomer Charles Messier first observed the cluster in the 18th century, he mistook it for a starless nebula, or a cloud of dust and gas. Larger telescopes later revealed that Messier 28 is in fact a rich star cluster. Located nearly 18,000 light-years from Earth in the constellation Sagittarius, this cluster contains at least 50,000 stars. — Hanneke Weitering
Credit: ESA/NASA/Hubble/J. E. Grindlay et al.
The second time was the charm for NASA astronaut Nick Hague and Roscosmos cosmonaut Alexey Ovchinin as they launched into space on a Soyuz MS-12 spacecraft on March 14 Eastern Time (it was early March 15 local time at their Baikonur Cosmodrome launch site in Kazakhstan). The two men launched into space with NASA astronaut Christina Koch to join the Expedition 59 crew on the International Space Station. Hague and Ovchinin initially tried to launch to the station in October 2018, but their rocket failed and they experienced a harrowing emergency abort. "This launch was infinitely more better than the last one," Hague told his wife Katie after reaching the station late yesterday. — Tariq Malik
Credit: Bill Ingalls/NASA