The Wolf Moon enchants people across the world, a comet visits Earth for the first time since the Stone Age and a Snoopy toy exits the NASA Artemis 1 Orion spacecraft. These are some of this week's top photos.
NGC 376
The Hubble Space Telescope peered into the Small Magellanic Cloud, a satellite galaxy of the Milky Way, to view this glittering scene.
These stars are part of NGC 376, a relatively small open cluster where stars are loosely gathered together. It's quite different from globular clusters, where stars are huddled tight within sometimes a single light-year from one another.
Full story: Hubble Space Telescope captures exquisite view of nearby star cluster before it fades away
Stone Age comet
Astrophotographer John Chumack captured this stunning image of the comet C/2022 E3 (ZFT), a brilliant green object that orbits around the sun once roughly every 50,000 years. To put that into perspective, humans were living in the Stone Age the last time this comet paid a visit.
Chumack took this image on Dec. 26, 2022, from Yellow Springs, Ohio. This was weeks before the comet made its closest approach to the sun, on Thursday (Jan. 12). The comet will then make its closest approach to Earth on Feb. 2.
Full story: A dazzling green comet not seen since the Stone Age has stargazers thrilled in these amazing photos
Perseverance spies Ingenuity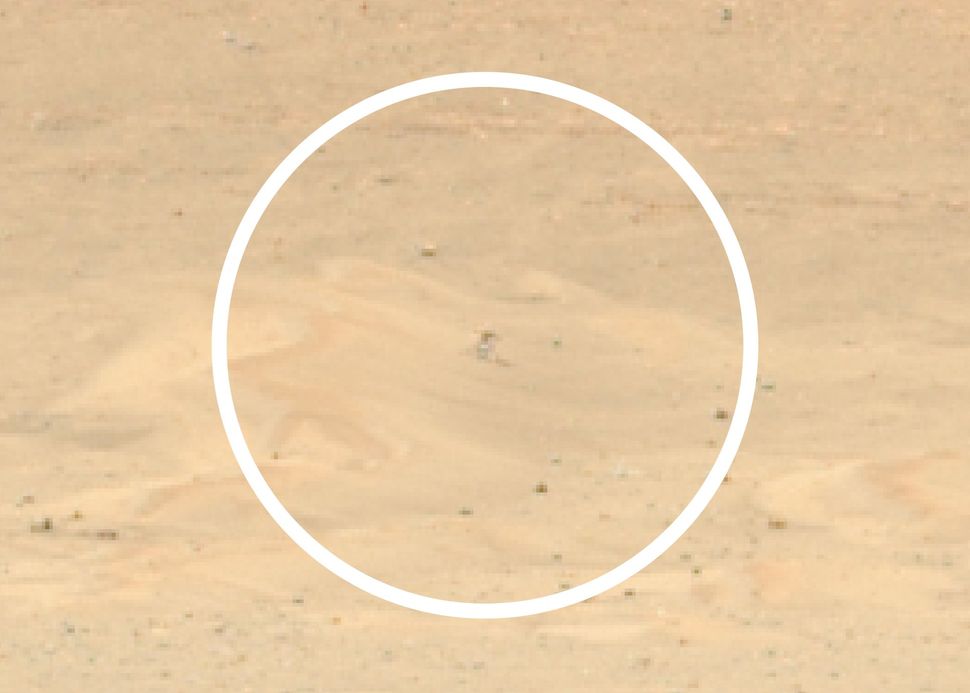 NASA's Perseverance Mars rover took this picture, which the mission team posted to Twitter on Wednesday (Jan. 11).
When the six-wheeled rover reached Mars almost two years ago, it brought along a flight test demonstration called Ingenuity. The small 4-pound (1.8 kilograms) helicopter rests on a Mars sand dune in this scene, indicated by a white circle.
Full story: Mars rover Perseverance spots Ingenuity helicopter resting on sand dune (photo)
Tycho Crater
This crater is found on the moon, and thanks to an incredibly powerful prototype radar system at the Green Bank Telescope (GBO) in West Virginia, this image could be taken from Earth's surface.
GBO belongs to a partnership trying to get the radar system tested and officially online. What you see here is a test image. Ultimately, a next-generation radar system could be a useful tool to study the objects within the solar system, but with less energy than a household appliance.
Full story: These are the most detailed images of the moon ever taken on Earth
Wolf Moon over Turkey
Skygazers around the world marveled at the first full moon of the new year. Here it can be seen rising over a clock tower in the Ipekyolu district of Van in Turkey on Jan. 6, 2023. The January full moon is often called a Wolf Moon, linking the mammal's crepuscular behavior with the brightest lunar phase.
Full gallery: 1st full moon of 2023 was a wonderful Wolf Moon worldwide (photos)
Wolf Moon over China
Here the Wolf Moon shines over the city of Yichang, Hubei province, China, on the evening of Jan. 6, 2023. An optical illusion surrounds the lunar disk, and makes the moon look like the hub of a colorful wheel.
Full gallery: 1st full moon of 2023 was a wonderful Wolf Moon worldwide (photos)
SpaceX's megarocket Starship seen from space
Satellites of European aerospace firm Airbus photographed SpaceX's megarocket Starship after it had been stacked on a launch pad at the company's Boca Chica test site in South Texas.
SpaceX is currently preparing for the debut orbital flight of the 395 feet (120 meters) tall rocket, which is taller than NASA's Space Launch System that launched the Orion spaceship for the Artemis 1 uncrewed test-flight in November.
According to SpaceX CEO Elon Musk, Starship, comprising the Ship 24 upper-stage spacecraft atop the Booster 7 first stage, could blast off for its first-ever space trip as early as late February. – Tereza Pultarova
For more: Pictures from space! Our image of the day
Snoopy finally exits Orion after moon-trip
Snoopy, the zero-gravity indicator toy astronaut, has finally been freed from its transport case after its ground-breaking trip to the moon and back aboard the Artemis 1 mission's Orion spacecraft.
This image, captured on Jan. 5, shows the beagle shortly after it has been unloaded from Orion by ground support teams at NASA's Kennedy Space Center in Florida.
Snoopy wasn't selected for the 25-day test flight, which lifted off on Nov. 16, by accident. The character, first introduced in 1950, has links to Apollo-era spacecraft. The lunar module of the Apollo 10 mission (which served as a rehearsal for the first lunar landing) was named Snoopy after the dog.
During the Artemis 1 mission, the Snoopy toy traveled 1.4 million miles aboard Orion as the spacecraft broke the record for the farthest distance from Earth achieved by a human-rated spaceship. The previous record was held by Apollo 13, which, however, only got that far as part of a rescue operation after an onboard explosion shortly after launch scuppered the mission's original plan to land on the moon. – Tereza Pultarova
For more: Pictures from space! Our image of the day
James Webb Space Telescope reveals unexpected star formation in dwarf galaxy on Milky Way's edge
The James Webb Space Telescope has found evidence of star formation in a tiny galaxy in the Milky Way's outskirts.
Webb pointed its powerful NIRCam instrument at the dwarf galaxy, the so-called Small Magellanic Cloud, which orbits our galactic home 200,000 light-years away from Earth, and found pockets of star formation that have never been seen before. The image reveals new structures that appear to feed the nascent stars. – Tereza Pultarova
For more: Pictures from space! Our image of the day
Virgin Orbit's Boeing 777 Cosmic Girl readies for its first U.K. mission
In this image, Virgin Orbit's Cosmic Girl Boeing 777 readies for its first mission from the U.K. at Spaceport Cornwall.
The company's carrier plane Cosmic Girl lifted off from Spaceport Cornwall on schedule on Monday (Jan. 9) at 5:02 p.m. EST (2202 GMT). However the next crucial stage of the "Start Me Up" mission failed, when its 70-foot-long (21 meters) LauncherOne rocket suffered an anomaly and didn't make it into orbit.
Full gallery: In photos: Virgin Orbit's first UK launch from Spaceport Cornwall
For more: Pictures from space! Our image of the day
Join our Space Forums to keep talking space on the latest missions, night sky and more! And if you have a news tip, correction or comment, let us know at: community@space.com.