A brilliant green comet passing through the inner solar system has captivated astrophotographers and may even become visible to the unaided eye soon.
The comet C/2022 E3 (ZTF) is making its first trip near Earth since the Stone Age in late January and early February. It was last seen 50,000 years ago and won't be seen again for millennia once it's gone. The comet made its closest approach to the sun on Jan. 12 and will make its closest approach to Earth on Feb. 2.
Astrophotographers around the world have been watching the comet as it crosses the northeastern sky. According to NASA, the best time to search for the comet is at dawn. You read our guide to observing comet C/2022 E3 (ZTF) to learn how to spot it in telescopes or binoculars.
Related: How to view and photograph comets in the night sky
More: Amazing photos of Comet C/2022 E3 (ZTF)
TOP TELESCOPE PICK:
Looking for a telescope to see comet C/2022 E3 ZTF? We recommend the Celestron Astro Fi 102 as the top pick in our best beginner's telescope guide.
"Hopefully, this beautiful comet will brighten your New Year," astrophotographer John Chumack of Yellow Springs, Ohio wrote in an email while sharing a stunning photo taken on Dec. 29. "You can see the nucleus, the nice green coma, the (brown) dust tail, and also the faint ion tail going off to the right."
Chumack, who shares his astrophotography at his website GalacticImages.com, used a TPO 12 inch F4 Newtonian telescope, ZWO 294MC cooled cmos camera, L-pro filter, Bisque ME mount and other gear to capture this image, which is made up of a dozen 2-second images combined.
If you're hoping to observe C/2022 E3 (ZTF), we have guides on the best telescopes and best binoculars that can help. Be sure to check out our guide on how to photograph the moon, as well our best cameras for astrophotography and best lenses for astrophotography to get started.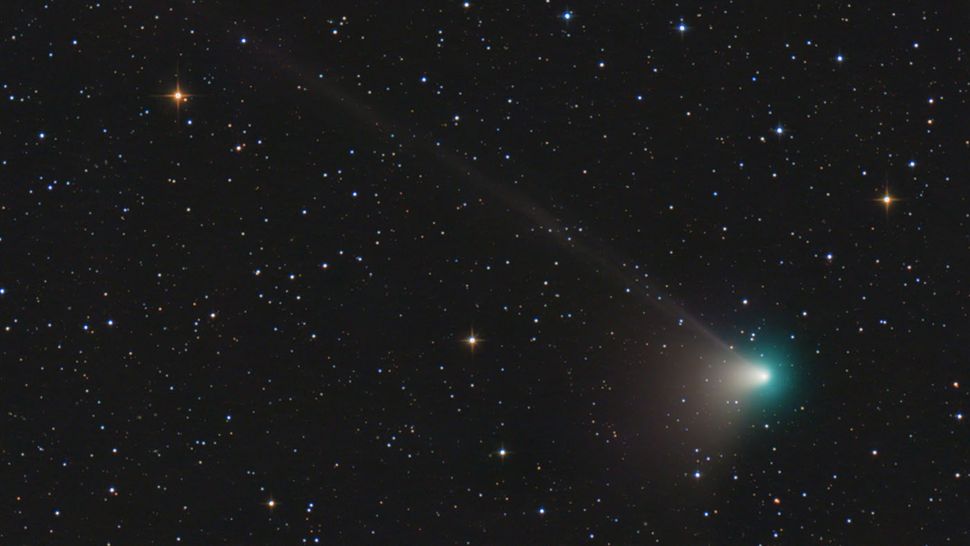 Astrophotographer Chris Schur captured a stunning view of the comet in all its green glory while observing from Payton, Arizona on Dec. 26 in what amounted to a belated cosmic Christmas gift.
"Here is a really deep hour and a half exposure of the comet, showing the colors of the dust tail very well and a long tortured gas tail," Schur said if his image in an email. He used a 10-inch f/3.9 GSO astrograph and ASI OSC CMOS camera to capture the image. You can see more of Schur's astrophotography at his website.
Amateur astronomer Darshna Ladva captured a view of the comet on Jan. 11 from London in the United Kingdom and wrote Space.com to share "my image of the beautiful comet that is passing through our skies."
"I managed to get some clear skies on the morning of the 11th and it's a beautiful comet," Ladva wrote in an email. "Can't wait to image it again."

Ladva used an Altair Astro 60EDF 360mm telescope, Skywatcher EQ6-Pro mount, Nikon D5500camera and other gear to create the image, which is made up of several observations taken at 30-second, 60-second and 120-second exposures over 2.5 hours. You can find more of their astrophotography on Instagram and on Facebook at Darshna Ladva Photography.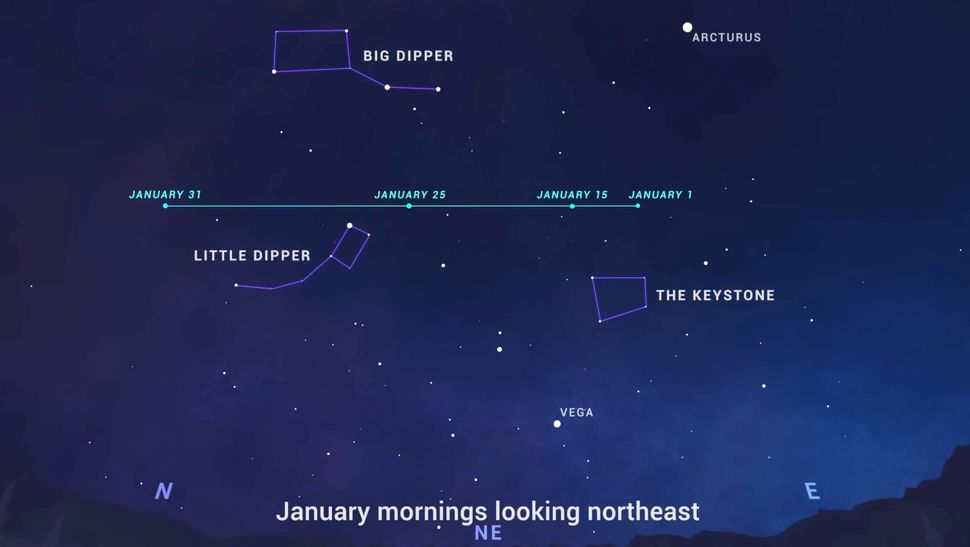 The comet has taken Twitter by storm as well. Even actor Tim Russ, who portrayed the Vulcan Tuvok on "Star Trek: Voyager" amid many other roles, spotted the icy wanderer.
Grabbed an image of Comet E3 ZTF, early in the morning . pic.twitter.com/aF4mJVQy1OJanuary 12, 2023
"Grabbed an image of Comet E3 ZTF, early in the morning," Russ wrote on Twitter Thursday (Jan. 12). He used a Unistellar telescope to capture the image. Read our Unistellar eVscope 2 telescope review to learn more about the scope.
Astrophysicist Gianluca Masi of the Virtual Telescope Project in Ceccano, Italy captured a striking view of the comet, showing its dusty coma and nucleus with its tail swept back.
This is the comet we are talking about these days: C/2022 E3 ZTF. #c2022e3 #ztfWe will show it live, online, on 13 Jan., starting at 04:00 UTC. Join at the link below from the comfort of your home!👉https://t.co/SAK38rFqdL pic.twitter.com/y6sfaZ8zQKJanuary 12, 2023
Masi is hosting free live webcasts of comet C/2022 E3 (ZTF) in January and February to track its progress across the night sky. You can see the webcasts at the Virtual Telescope Project website.
Austrian comet photographer Michael Jäger shared some dazzling images of comet C/2022 E3 (ZTF) on Twitter that must be seen to be believed. You can check them out here and see more on this Twitter page @Komet123Jager.
Two astrograph one image - C/2022 E3 (ZTF) 2023 jan 12 UT 6.15 11" RASA QHY 600 7x90sec and Leica-Apo-Telyt F-280/4 Nikon Z50mod 5x150sec ISO 800 Michael Jäger pic.twitter.com/fbDndYIzqFJanuary 12, 2023
C/2022 E3 (ZTF) 2023 jan 12 4.50 UT 6x90sec 11" RASA QHY600 field 3x2° Michael Jäger pic.twitter.com/isTWEbE0OvJanuary 12, 2023
You can see more amazing photos of comet C/2022 E3 (ZTF) in our gallery and we'll keep tracking the comet's brightness as it makes its closest approach to Earth on Feb. 2.
Editor's Note: If you snap the comet C/2022 E3 (ZTF), and would like to share it with Space.com's readers, send your photo(s), comments, and your name and location to spacephotos@space.com.
Email Tariq Malik at tmalik@space.com or follow him @tariqjmalik. Follow us @Spacedotcom, Facebook and Instagram.