US Air Force Pushes Back Experimental Missile Warning Satellite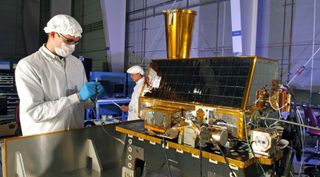 (Image credit: SES)
UPDATED: Jan. 8, 2015 at 7:38 P.M.
WASHINGTON – The U.S. Air Force expects to launch an experimental missile-warning satellite in 2018 or 2019, about two years later than the timeline service officials used last January.
The Air Force said in a 2015 sole-source notice that it had planned to tap commercial satellite manufacturer Space Systems Loral of Palo Alto, California, to carry a wide-field-of-view sensor to near-geosynchronous orbit as a secondary payload in late 2016 or the first half of 2017. But shortly after it was published, the service canceled the notice.
In a new request for information, posted Jan. 6 to the Federal Business Opportunities website, the Air Force said it expects to fly the satellite in 2018 or in the first six months of 2019. [The Most Destructive Space Weapons Concepts]
In a Jan. 8 email to SpaceNews, Lt. Gen. Samuel Greaves, head of the Air Force's Space and Missile Systems Center, said the satellite will help ease new capabilities into the service's future missile warning satellites.
"Due to technical challenges not uncommon in a first-time development effort and budgetary uncertainty, the WFOV program has been delayed with a projected launch in calendar year 2018," he said.
In the Jan. 6 notice, the service said it was looking for commercial satellite companies to submit information on their capability to launch the missile warning satellite. The request suggests the Air Force is leaning toward a new contract to put the satellite on orbit, industry sources said.
"We expect multiple vendors to respond to our request for information, and are looking forward to reviewing their suggestions for innovative approaches to deploying the WFOV Testbed satellite," Greaves said. "This timeframe aligns with the current program schedule and includes sufficient margin to cover potential future delays."
The wide field of view testbed features a sensor that is part of an Air Force effort to explore alternative technologies and approaches to missile warning.
L-3 Communications won a $13 million contract in June 2014 to develop a 6-degree-field-of-view sensor to focus on tactical missile threats. Millennium Space Systems of Torrance, California, is building the space vehicle.
Air Force officials have said experiments with a wide-field-of-view sensor are critical for two reasons. First, they help test and verify architectures for a follow-on program to the service's missile warning satellites, known as the Space Based Infrared System. Second, they help the Air Force develop the algorithms necessary to process the flood of data that would come from improved sensor focal-plane technology.
This story was provided by SpaceNews, dedicated to covering all aspects of the space industry.
Get the Space.com Newsletter
Breaking space news, the latest updates on rocket launches, skywatching events and more!
Editor-in-Chief, Sightline Media
Mike Gruss is a veteran defense reporter and Editor-in-Chief of Sightline Media Group, which includes Army Times, Air Force Times, Dense News, Military Times and Navy Times. From 2013 to 2016, Mike served as a Senior Staff Writer for SpaceNews covering national security space programs and military space policy in the U.S. Congress. Mike earned a bachelor's degree in English and American Studies from Miami University and has previously wrote for the Journal Gazette in Fort Wayne, Indiana and the Virginian-Pilot in Virginia before joining SpaceNews. Prior to joining Sightline in 2017, he was a senior editor of FedTech magazine covering technology in federal government. You can see Mike's latest project on Twitter.