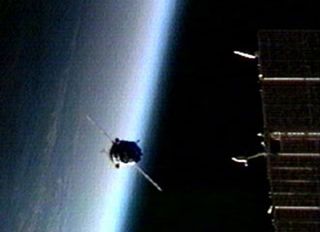 (Image credit: NASA TV)

This story was updated at 4:50 a.m. EDT.

The world's first female space tourist and the next crew of the International Space Station (ISS) ended a two-day flight around the world aboard a Russian rocket today after successfully docking with the orbital laboratory.
The Soyuz TMA-9 spacecraft carrying space tourist Anousheh Ansari and Expedition 14 commander Michael Lopez-Alegria and flight engineer Mikhail Tyurin docked smoothly with the aft port of the space station's Zvezda service module a few minutes before schedule at 1:21 a.m. EDT (0521 GMT).
Docking occurred as both spacecraft passed over Southern Russia near the Caspian Sea. "We have arrived," said Tyurin, who served as Soyuz commander during the flight.
The trio blasted off toward the ISS on Sept. 18 at 12:09 a.m. EDT (0409 GMT) from Baikonur Cosmodrome in Kazakhstan.
At the time of the Soyuz docking, there were a near-record 12 people in space-the second largest contingent of humans in orbit since the days of Mir, when a NASA shuttle flew independently of a handover between two crews aboard the Russian space station and there were 13 people in space.
"This is another event in a series of great events over the past couple of weeks," said NASA associate administrator Rex Geveden at a press conference after the Soyuz docking. "We are happy for the safety of the crew, we look forward to this mission, and I would offer my congratulations to all the specialists who made this a successful event today."
Hatch opening occured about three hours later at 4:34 a.m. EDT (0834 GMT) as a panel consisting of international delegates and the spouses of both Lopez-Alegria and Ansari watched from Korolev, Russia.
Tuyrin was the first through the hatches, followed by Ansari and finally Lopez-Alegria. The three were met by the space station's current inhabitants, Expedition 13 commander Pavel Vinogradov, NASA science officer Jeff Williams and European Space Agency (ESA) astronaut, Thomas Reiter.
"Are you in high spirits?" Williams asked as the hatches were opened.
"Oh yes we are, couldn't be any better," Tuyrin replied.
Ansari reportedly experienced space motion sickness during her Soyuz flight, but she looked well and was all smiles as she entered the space station.
"Michael, Mikhail and Anoushi, congratulations on a beautiful launch and a successful docking...we all need to know how we can get there," said Ansari's husband, Hamid.
"I'm working on it," Ansari said. "It was a smooth ride."
The Expedition 14 crew is relieving Expedition 13 Commander Pavel Vinogradov and NASA Science Officer Jeff Williams, who have been living aboard the space station since late-March.
Ansari, 40, is the world's fourth space tourist and the first woman to pay an estimated $20 million dollars to visit the space station in a deal arranged between the space tourism firm Space Adventures and the Russian Federal Space Agency. She is preceded by Dennis Tito in 2001, Mark Shuttleworth in 2002 and Greg Olsen in 2005.
Ansari will remain on board the space station for nine days, during which time she is scheduled to perform a series of medical experiments for the ESA. She will return to Earth with Vinogradov and Williams on Sept. 29.
Reiter will remain aboard the station with Lopez-Alegria and Tyurin until he is relieved in December by NASA astronaut Sunita Williams, who will arrive aboard Discovery as part of STS-116.
Expedition 14 Complete Coverage
Anousheh Ansari: First Woman Space 'Explorer' Visits ISS
Get the Space.com Newsletter
Breaking space news, the latest updates on rocket launches, skywatching events and more!
Ker Than is a science writer and children's book author who joined Space.com as a Staff Writer from 2005 to 2007. Ker covered astronomy and human spaceflight while at Space.com, including space shuttle launches, and has authored three science books for kids about earthquakes, stars and black holes. Ker's work has also appeared in National Geographic, Nature News, New Scientist and Sky & Telescope, among others. He earned a bachelor's degree in biology from UC Irvine and a master's degree in science journalism from New York University. Ker is currently the Director of Science Communications at Stanford University.