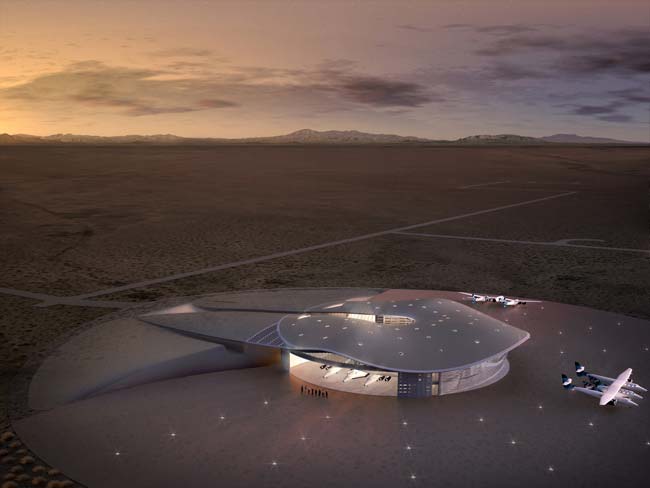 Residents of Otero County in New Mexico have defeated a Spaceport America tax increase to help build an inland spaceport that will serve as the launching ground for commercial spacecraft.
Reports from the field there say Tuesday?s election tally show that 52.3 percent voted against the tax; 47.7 percent voted for the tax.
While not impacting Spaceport America as far as moving forward, the Otero non-support means there will be less money for operations. Officials have said the initial estimate cost to build the spaceport 45 miles (72.4 km) north of Las Cruces, NM, is about $198 million, with a cap set for $225 million.
Earlier, both Dona Ana County and Sierra County approved a tax increase meaning that Spaceport America will proceed. However, the Otero vote for the tax increase would have raised some $2.3 million for the effort, with that county becoming part of a triad of support to build the facility.
British billionaire Sir Richard Branson has tapped Spaceport America to serve as the launching ground for his Virgin Galactic spaceliners, a fleet of privately build suborbital spaceships that will launch passengers on space tourism treks for about $200,000 per seat. Hardware for the air-launched SpaceShipTwo vehicles and their WhiteKnightTwo mothership are under construction at Scaled Composites in Mojave, California.
The spaceport is also expected to be home base for a separate venture to fly passengers aboard a new fleet of reusable vertical take-off and landing craft for about $100,000 per ticket. The first piloted flights of the unique, bubble-like spacecraft are slated to begin in 2010.
The new joint venture between Rocket Racing, Inc., and Armadillo Aerospace of Mesquite, Texas, was announced last month at the Lunar Lander Challenge in Las Cruces, where the Armadillo team won $350,000 in the NASA-sponsored moon lander contest.
While the Otero County vote may have failed to support Spaceport America, the process is still underway to bring it closer to reality. The Federal Aviation Administration (FAA) is currently reviewing Spaceport America's license application.
SPACE.com staff contributed to this report from New York City.
Video - SpaceShipTwo Revealed

Future of Flight: Space Tourism, Investment and Technology