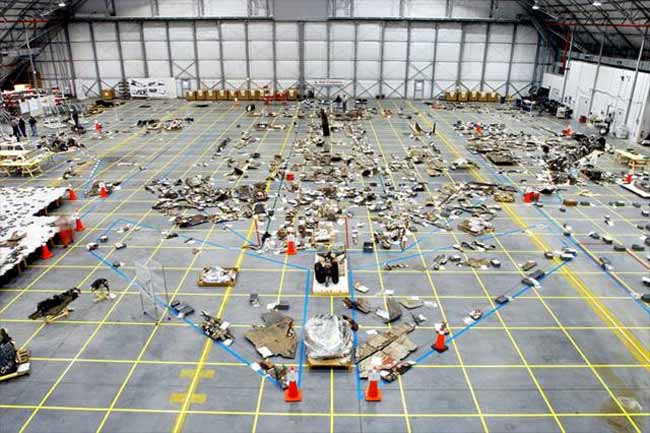 SAN FRANCISCO - Six years after the space shuttle Columbia disaster, a commercial space company is fighting NASA for $8 million in compensation for a biomedical experiment that crash-landed in a Texas parking lot.
Without that compensation the company, Instrumentation Technology Associates (ITA) of Exton, Penn., will be forced to give up promising cancer research, according to John Cassanto, ITA president and chief executive.
ITA's shuttle payload was experimental hardware designed to grow high-quality urokinase crystals. ITA had been studying urokinase, an enzyme that plays a key role in cancer metastasis, for 14 years through ground-based studies and research in space.
After analyzing the results of previous experiments, ITA officials determined that a longer period in microgravity and an extremely pure protein solution were needed to achieve the goal of growing crystals so large that scientists would be able to create a 3-D model of the molecule. Doctors and drug developers who work with ITA say success in mapping the precise structure of urokinase would accelerate the development of drugs to inhibit metastasis.
When Columbia broke up during re-entry Feb. 1, 2003, researchers mourned the loss of life and assumed that all flight hardware was also lost. Within hours, however, newspapers began publishing photos of debris scattered from California to Louisiana. A New York Times photo published Feb. 2, 2003, showed ITA's flight hardware charred but intact in a parking lot in Nacogdoches, Texas. Cassanto immediately began calling NASA officials to request access to ITA's experiments. "We just could not get anybody's attention," Cassanto said.
NASA denied ITA access to its experiments for more than three months while the hardware was stored in a Kennedy Space Center hangar. Before the disaster, NASA agreed to give ITA access to its payload within two hours of the shuttle's landing, according to the payload integration plan.
Due to the lack of temperature control in the hangar and the three-month delay, the urokinase crystals dissolved back into the protein solution, according to a 2004 report by the American Institute of Aeronautics and Astronautics, "STS-107 Mission after the Mission: Recovery of Data from the Debris of Columbia." Other experiments survived the crash, including an ITA effort to microencapsulate, or coat, tiny particles of cancer drugs.
"All microgravity teams growing protein crystals want to get to the samples as quick as possible because of the danger of the crystals going back into solution," Cassanto said.
A NASA contractor also expressed concern that science data was being lost due to improper storage. On March 4, 2003, Britt Manfredi, a contractor working at the Johnson Space Center, sent an e-mail to NASA headquarters, NASA centers and the STS-107 mission managers and scientists urging agency officials to "identify payload hardware with potentially recoverable science data" and move those items to Johnson where they could be kept "in an environmentally controlled room to help preserve the data." Instead, the ITA payload was stored in the Kennedy hangar until May.
Despite the loss of the Columbia experiment, Cassanto has not given up on his goal of growing urokinase crystals in space. To pay to continue its research, however, ITA must settle its claim against NASA. In addition to the $8 million claim related to STS-107, ITA claims NASA owes the company approximately $12 million because the space agency failed to honor a 1996 agreement to carry ITA payloads on multiple shuttle flights.
NASA attorney Andrew Falcon confirmed that ITA's claim against the agency is still pending. He declined to comment on when that claim might be settled on its merits. "I am not in a position to comment due to the likelihood of litigation," Falcon said.
ITA's attorney, Jack Young, said it was too soon to discuss litigation because ITA is waiting for NASA's response to its claim. "If NASA denies the claim or will not deal fairly with ITA, then ITA will have no choice but to sue in federal court under the Federal Tort Claims Act - something ITA would like to avoid in order to get back to space immediately with its cancer research," Young wrote in an e-mail to Space News.
Another company that lost equipment on the Columbia flight did file suit. In 2005, NASA paid Spacehab $8.2 million in compensation for the loss of a pressurized research module destroyed in the accident. At that time, the Houston-based company said the module's value was much higher and sued NASA for $87.7 million. In 2007, Spacehab withdrew that claim.
ITA's struggles with NASA did not begin with the Columbia disaster. The company has been striving to send biomedical experiments on shuttle flights for decades. During the 1980s and 1990s, ITA was a pioneer in the space business, providing customers with hardware for microgravity research and commercial access to space. ITA negotiated agreements with space agencies and commercial launch firms to carry its biomedical research equipment into microgravity, then leased out the excess room on its flight hardware to corporate and academic researchers.
On Feb. 6, 1996, ITA signed a Space Act Agreement with NASA. After reviewing ITA's plans to study urokinase, Edward Gabris, director of NASA's space processing division, signed a five-year memorandum of agreement to carry ITA's biomedical experiments on shuttle flights.
"You state that eight flight opportunities are required for urokinase product development and transition to the commercial sector," Gabris wrote Jan. 31, 1996, in a letter to ITA regarding the agreement. "This flight number is reasonable based on the plan's description, but it is also understood that the eventual number may vary if conditions change, such as product development acceleration due to flight opportunities for extended duration in microgravity."
Since that agreement was signed, however, ITA's urokinase experiments have been carried on only three shuttle flights. One of those experiments was sent into space as part of a previous agreement with the University of Alabama, Huntsville.
"NASA violated the Space Act Agreement by flying only one ITA payload during the five-year period [from 1996 to 2001]. There were some 25 shuttle flights during that period," said Cassanto, an aeronautical engineer and Air Force veteran who oversaw missile and re-entry vehicle programs at General Electric before starting his own company.
Nevertheless, Cassanto continues pressing the space agency for one last chance to grow urokinase crystals on the space shuttle. During a meeting with NASA officials last September, ITA offered to cut its $20 million claim in half in exchange for access to another shuttle flight. That offer was declined, Cassanto said.
As a result, ITA is exploring other ways to perform the urokinase experiment, including working with commercial launch providers and international space agencies. Unless the NASA claim is paid, however, ITA cannot afford the cost of hardware, testing and integration needed to send the experiment into space, Cassanto said.
Video - In Their Own Words...Remembering Columbia's Crew

Images - Photos From Columbia's Last Flight

Special Report: Space Shuttle Columbia Tragedy