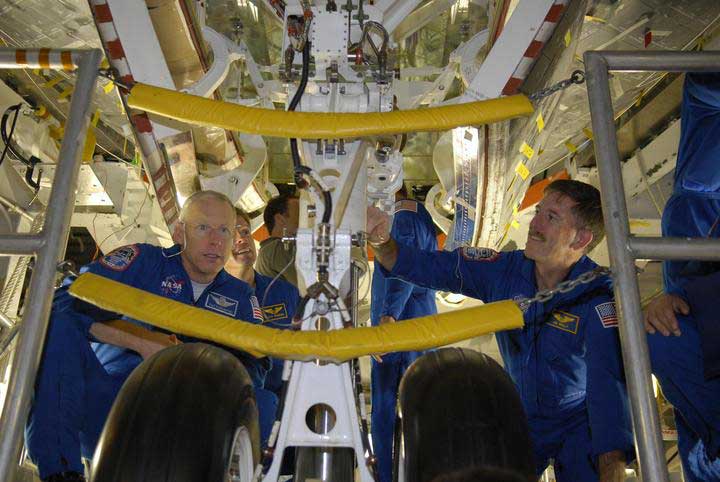 Six astronauts have two training-filled months ahead as they prepare to haul new solar arrays towards the International Space Station (ISS) aboard NASA Atlantis orbiter in March.
Commanded by veteran shuttle astronaut Rick Sturckow, Atlantis' six-member crew is drilling through simulations and spacewalk rehearsals for their STS-117 mission, NASA's first ISS construction flight of 2007.
"Training is going really well," Atlantis' STS-117 pilot Lee Archambault told SPACE.com Friday. "We're ramping up now and we're really into the mission-specific training."
Atlantis' STS-117 crew is slated to launch spaceward no earlier than 6:20 a.m. EDT (1020 GMT) on March 16 carrying the first starboard pair of U.S.-built solar arrays to the ISS [image]. Riding up to the orbital laboratory with Sturckow and Archambault are mission specialists James Reilly II, Patrick Forrester, Steven Swanson and John "Danny" Olivas [image].
The STS-117 crew has several long mission simulations over the next few weeks, NASA spokesperson Kylie Clem, of the agency's Johnson Space Center training site in Houston, told SPACE.com. Among them is a multi-day session to first rehearse orbital inspections of Atlantis' heat shield the day after launch, and then continue through ISS docking activities on Flight Day 3 to the first of several planned spacewalks during the mission, she added.
In additional to delivering the two starboard solar arrays, Atlantis' STS-117 astronauts will help fold away the last of two solar wings extending from the space station's mast-like Port 6 (P6) truss.
Archambault said he and his crewmates paid close attention to NASA's Discovery shuttle flight last month, in which the orbiter's STS-116 astronaut crew wrangled the first P6 solar array into its storage boxes [image].
"We can benefit their experience and make our solar array retraction go a little bit smoother," Archambault said, adding that he and his crewmates also studied NASA's STS-115 shuttle flight in September 2006, which delivered two portside solar arrays. "We watched them very closely...a lot of the things they did on that mission we're going to have to do mimic, but just on the opposite side of the space station."
The STS-117 solar arrays are the third of four U.S.-built power-generating wings to launch towards the ISS before the station's planned completion in 2010 [image].
"Before we can expand the space station any further, and that is add any more laboratories such the Columbus European laboratory and Japanese laboratory, we have to bring up the capability to provide that power," said Archambault.
NASA is aiming to launch up to five shuttle flights in 2007, all of which aimed at ISS construction. The STS-117 spaceflight will mark Archambault's first spaceflight since he joined NASA's Astronaut Corps in 1998.
"It's been a long wait," Archambault said. "But I'm sure the wait will have been worth it."
VIDEO: NASA Astronaut Rick Sturckow
IMAGES: NASA's STS-116 Spacewalks in Pictures
Mission Discovery: The ISS Rewiring Job of STS-116
The Great Space Quiz: Space Shuttle Countdown
Complete Shuttle Mission Coverage
All About the Space Shuttle