Airbus unveils future space habitat concept
Tuesday, April 18, 2023: European aerospace giant Airbus has unveiled a new concept space habitat that will be more spacious and comfortable than existing space stations.
The multi-purpose orbital module called LOOP features three customisable decks that are connected via a tunnel surrounded by a greenhouse. The habitat is designed for a four-person crew but could be adjusted to accommodate up to eight spacefarers, Airbus said in a statement.
At 26-foot-wide (8 meters), LOOP is designed to fit into the fairing of the upcoming generation of superheavy launchers, Airbus said, and thus could be deployed with one launch and habitable immediately after reaching orbit.
In its basic configuration, LOOP features a habitation deck, a science deck and a centrifuge deck, where inhabitants may receive a temporary relief from zero gravity conditions. The concept space station could be ready to fly in the early 2030s after the end of life of the International Space Station. – Tereza Pultarova
Space pair's waiting for Starship launch
Moday, April 17, 2023: A couple of space enthusiasts dressed in homemade space suits await the debut launch of SpaceX's Starship megarocket.
Trevor and Lindsey Wolfe from Houston arrived at South Padre Island in south Texas together with thousands of other space fans to witness the first-ever liftoff of SpaceX's new rocket. SpaceX originally planned the milestone launch for Monday, April 17, but was forced to scrub the attempt just 9 minutes before T-0 due to pressurization issues. The company will probably try again later this week. – Tereza Pultarova
Sloth status check: Go for launch!
Friday, April 13, 2023: The launch of the European Jupiter mission JUICE from Kourou, French Guiana, had an unexpected spectator on Friday, April 14: a rare pale-throated sloth that seemed to enjoy the sunshine near the Ariane 5 assembly building.
According to the website ThingsGuyana.com, pale-throated sloths only live on the northeastern coast of South America in countries such as Venezuela, Guiana, French Guiana, Surinam and northern Brazil. Notoriously difficult to find, pale-throated sloths seem to prefer quiet areas with little tourism, so it's surprising that one decided to move right into a spaceport. Although Europe's spaceport in Kourou, French Guiana, is considerably less busy than Cape Canaveral, with only three Ariane 5 and two Vega launches conducted in 2022.
In addition to being shy, pale-throated sloths also are one of the slowest mammal species on Earth. Let's hope this guy made it to safety before liftoff. – Tereza Pultarova
First ever black hole portrait gets an AI makeover
Wednesday, April 12, 2023: The first ever image of a black hole (on the left) appears much sharper after a machine learning makeover (on the right).
The image capturing the supermassive black hole at the center of the galaxy Messier 87 was originally released in 2019. Produced by the worldwide network of radio telescopes known as the Event Horizon Telescope, the image features a blurry ring of shining matter that is falling into the pitch-dark black hole. After processing with artificial intelligence algorithms, the ring of accreting matter appears much narrower and more defined.
The artificial intelligence algorithm called principal-component interferometric modeling, or "PRIMO," fills gaps in the measurements taken by the Event Horizon Telescope, creating a fuller image. Scientists hope that they will be able to use the technique to perfect the images of the Sagittarius A* black hole at the center of our own galaxy, the Milky Way, which were released last year. – Tereza Pultarova
Europe's Jupiter explorer JUICE ready for launch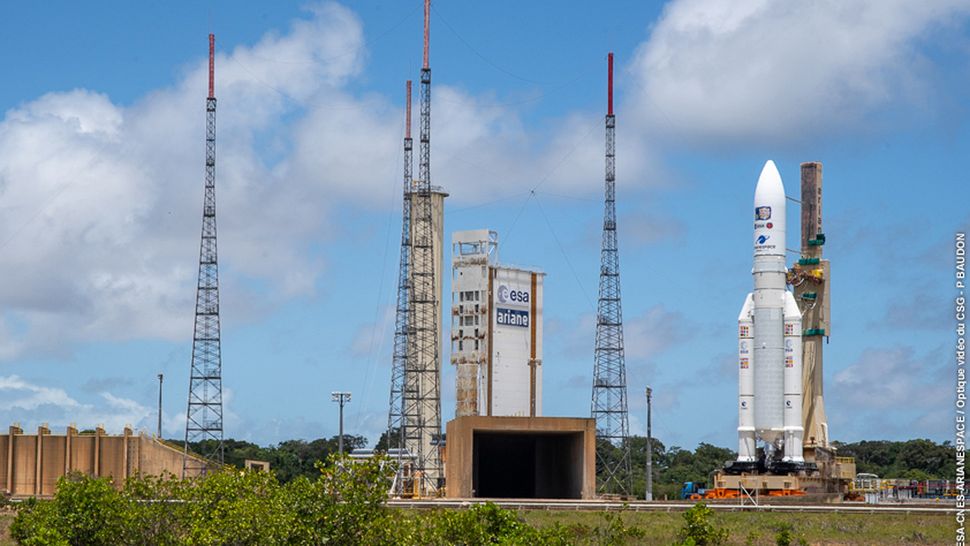 Wednesday, April 12, 2023: Europe's Jupiter explorer JUICE is encased in the nose cone of the Ariane 5 rocket during the rocket's launch pad rollout ahead of the mission's Thursday launch.
If all goes to plan, the rocket with JUICE atop, will blast off from Europe's spaceport in Kourou, French Guiana, on Thursday (April 13) at 8:15 a.m. EDT (1215 GMT). Due to the complex trajectory that JUICE will follow, which involves multiple gravity assist flybys at planets of the inner solar system, the mission will have to launch within a specific second in order for all its path's elements to be in alignment. Fortunately, that one second launch window will be available for several weeks, opening once every day.
JUICE is Europe's first attempt to reach Jupiter, the largest planet of the solar system. After arriving at its destination in the early 2030s, the spacecraft will study the gas giant, but mostly focus on three of its four main moons: Ganymede, Callisto and Europa. JUICE will even enter orbit around one of those moons, the solar system's largest moon Ganymede, and will thus become the first spacecraft in history to orbit a moon other than Earth's own. – Tereza Pultarova
Earth-observing satellite captures rare photo of Jupiter and its moon
Tuesday, April 11, 2023: This beautiful image of Jupiter and its largest moon Ganymede wasn't taken by an astronomical satellite or an Earth-based telescope, but by a European spacecraft built to observe planet Earth in detail.
European aerospace giant Airbus released the image together with another one capturing all four of Jupiter's main moons and a video sequence showing the moons' motions around the gas giant planet, on Tuesday, April 11.
The release of the images comes two days before the planned launch of Europe's Jupiter Icy Moon Explorer (JUICE), a scientific mission that will study Jupiter and its moon up close. Airbus, which built and operates the Pleiades Neo satellite that took this image, is also the main contractor behind the JUICE mission. – Tereza Pultarova
Soyuz spacecraft maneuvers above Caspian Sea
Monday, April 10, 2023: The International Space Station looks down on the Russian Soyuz spacecraft MS-23 during a relocation maneuver on Thursday, April 6.
The 37-minute procedure saw NASA astronaut Frank Rubio and Roscosmos cosmonauts Sergey Prokopyev and Dmitri Petelin riding aboard MS-23 as it relocated from the station's Poisk module to its Prichal docking module. Both the space station and Soyuz MS-23 were orbiting 263 miles above the Caspian Sea in Kazakhstan at the time.
MS-23 launched to the space station in February in order to replace MS-22, which sprung a leak in mid-December 2022 and lost all of its coolant, creating a temporary ride shortage aboard the orbital laboratory. - Brett Tingley
Uranus in blue
Friday, April 7, 2023: Uranus shines in a glorious blue hue in this stunning photo captured by the James Webb Space Telescope and released on by NASA and its partners April 6.
The image was actually taken by the Webb telescope on Feb. 6 using its Near-Infrared Camera (or NIRCam), which can reveal stunning details much clearer than the Hubble Space Telescope or Keck Observatory. This images shows clear details of Uranus' polar cap, as well as its stunning set of sideways rings. Eleven of the planet's 13 known rings can be seen here.
Six of Uranus' brightest moons are identified in the image (Uranus has 27 known moons in all). Scientists observed Uranus with Webb in a 12-minute exposure with two filters to create this image. -- Tariq Malik
Starship preparing for launch
Thursday, April 6, 2023: SpaceX has stacked its giant Starship rocket on Wednesday (April 5) ahead of its debut launch attempt that might come as early as next week.
SpaceX CEO Elon Musk shared a stunning video sequence of the imposing vehicle on his Twitter account on Thursday (April 6) morning with a simple comment: "Starship preparing for launch."
The 384-foot-tall (120 meters) rocket might attempt a lift off from its pad at SpaceX's Starbase in Texas as early as next Monday, although some commentators doubt that as SpaceX has not yet received a launch license from the U.S. Federal Aviation Administration.
Starship, which is taller than NASA's Space Launch System moon rocket, is set to become the world's most powerful rocket once fully operational. – Tereza Pultarova
Satellites observe catastrophic drought in the Horn of Africa
Wednesday, April 5, 2023: Countries of the east African region known as the Horn of Africa are struggling with a prolonged drought brought on by record-low rainfall. Satellites help assess the scope of the disaster from orbit.
The Horn of Africa, also known as the Somali Peninsula, is the easternmost region of Africa. A below average amount of rainfall for six consecutive years has pushed the Sub-Saharan region into a humanitarian catastrophe, the U.S. Earth-observing company Planet said in a blog post.
Planet's satellites have revealed that the amount of moisture held in the soil across the region is at a ten-year low. The peak of the dry spell coincides with La Niña, a weather pattern driven by the periodical oscillations of surface water temperature in the Pacific Ocean, which is the colder counterpart of El Niño.
According to estimates, the drought and its consequences killed 43,000 people in the region in 2022 and displaced 1.3 million in Somalia alone. – Tereza Pultarova
Astrophotographer captures plasma clouds rising above the sun's surface
Tuesday, April 4, 2023: Arizona-based astrophotographer captured this video of giant plasma clouds rising from the sun with his back-yard telescope.
The plasma clouds, or prominences, in this image are each many times as tall as Earth, and emerged above the sun's disk on Friday (March 31).
Scientists don't exactly understand what drives the formation of these spectacular features, but they think they must have something to do with the sun's magnetic field.
Astrophotographer Mark Johnston, also known as @azastroguy, filmed this sequence using his Lunt 100MT solar telescope from Scottsdale, Arizona.
The sequence shows over one hour of solar activity, with images taken every 20 seconds as the telescope tracks the sun. – Tereza Pultarova
Perseverance captures high-altitude clouds on Mars
Monday, April 3, 2023: NASA's Perseverance Mars rover sent home this beautiful postcard capturing rare high-altitude clouds above the Red Planet.
Perseverance took this image on its 738th Martian day, or sol, which was March 18 on Earth. A sol is 40 minutes longer than Earth's day, and Perseverance has to date spent 753 sols on Mars.
NASA first shared the images on March 22 but this new processing by NASA scientist Simeon Schmauß attempts to approximate how these clouds would appear to a human standing on the planet's surface. Schmauß shared the new image on Flicker on Sunday, Apr. 2.
High-altitude clouds in the atmosphere of Mars are likely made of frozen carbon dioxide and tend to be visible in the early morning hours just before sunrise when the sun's rays illuminate them at the best angle. The rover obtained the image using its left navigation camera. – Tereza Pultarova