Lying 30 to 50 times Earth's distance from the sun, Pluto is one of the coldest large bodies in the solar system. But despite the fact that it lies so far away, its temperature can shift enough over the course of its orbit to significantly impact the planet.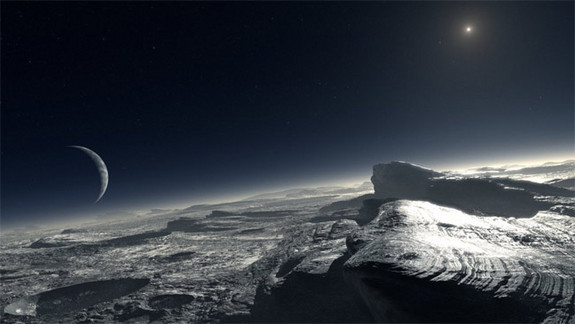 Changing over time
All planets have temperature changes related to their seasons; some changes are more extreme than others. At its warmest, when it is closest to the sun, Pluto can reach temperatures of minus 369 degrees Fahrenheit (minus 223 degrees Celsius). At its coolest, temperatures can fall to minus 387 degrees F (minus 233 C).
The variations in temperature are slight, but they can have significant effects. Pluto is made up of a rocky core surrounded by ices of various gases. When the distance to Pluto from the sun is at a minimum, temperatures are warm enough for the ices to sublimate directly into gas, creating a thin atmosphere. As Pluto moves away from the sun, the gases re-freeze and the planet's atmosphere disappears from view.
Pluto is made up of a rocky core surrounded by ices. If potassium beneath the surface undergoes radioactive decay, the temperature could increase enough to support an ocean under the icy shell.
Pluto lies in a region known as the Kuiper Belt, a collection of icy rocks left over from the formation of the solar system. When classified as a full-scale planet, Pluto was the coldest of the nine. But in 2006, Pluto was reclassified as a dwarf planet due to its mass and the fact that it had failed to sweep its orbit clear early in its formation. As a Kuiper Belt Object, Pluto is one among millions of rocks and ices, all bearing similar temperatures.
— Nola Taylor Redd, SPACE.com Contributor
Related: