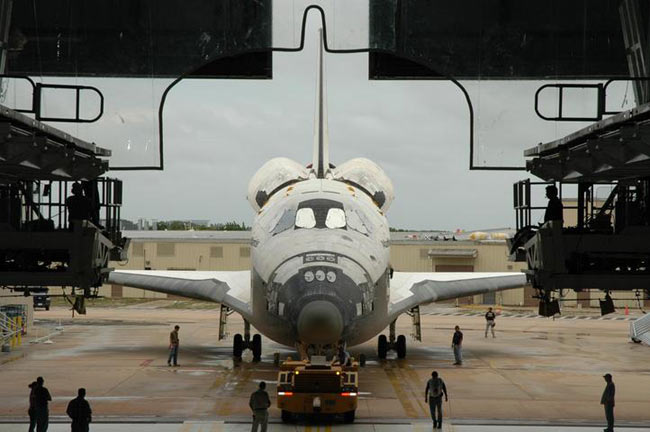 CAPE CANAVERAL - The orbiter Atlantis rolled from the Vehicle Assembly Building back into its hangar Tuesday as NASA prepared Kennedy Space Center for high winds and heavy rains from a storm brewing offshore.
And the external tank for the next shuttle mission is scheduled to be moved into the VAB today.
NASA meteorologists forecast sustained winds of 23 mph today with gusts up to 40 mph.
The storm -- which was expected to strengthen into Tropical Storm Ophelia -- threatened to dump as much as 15 inches of rain in some areas. Five to 10 inches were expected elsewhere.
"The big concern is that it's a slow-mover, and there's going to be a lot of rain, so there could be flooding in low-lying areas," KSC spokesman George Diller said.
More rain and winds topping 58 mph are expected at KSC on Thursday.
NASA plans to move the external tank for its next shuttle mission into the 52-story KSC Vehicle Assembly Building today.
Secured inside a covered barge, the 154-foot-long tank returned to KSC last week after Hurricane Katrina prompted NASA to cancel a trip back to Michoud Assembly Facility in New Orleans.
Damage from Katrina forced NASA to indefinitely close the factory, which remains reachable only via helicopter and boat.
The fuel tank could ride out the storm on the barge if necessary, KSC spokeswoman Jessica Rye said.
Engineers say it would be safe there even if the storm developed into a Category 1 hurricane with winds between 74 and 95 mph.
Published under license from FLORIDA TODAY. Copyright ? 2005 FLORIDA TODAY. No portion of this material may be reproduced in any way without the written consent of FLORIDA TODAY.