One of the best star projectors we've reviewed is now cheaper, only $79.99 with this Prime Day deal. If you're looking for a home planetarium to bring the cosmos inside, or simply searching for an ambient glow or night light for kids to fall asleep to, the Pococo Home Planetarium star projector is now 20% cheaper only for Amazon Prime Day 2023.
We tested and fully reviewed the Pococo Galaxy star projector giving is four out of five stars and were happily surprised to find it gave some of the very best star projectors you can buy (which are more than twice as expensive) a run for their money.
Simple and stylish in design, we think this star projector would suit any room and looks much more contemporary than many other more toyish-looking projectors we've tested. It comes with a host of interchangeable disks for different star visuals and gives accurate, reliable projections.
---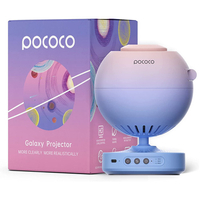 ---
The Pococo Home Planetarium star projector runs on mains power indefinitely but can also be placed anywhere in the home, or taken with you on trips and project using the in-built rechargeable battery.
Only three buttons on the device control the rotation, power and on-board timer (which can be set to turn off the projector after 15, 30 or 60 minutes. If you don't select one, the device will auto-power off after two hours).
We like plenty about this star projector because it produces realistic night sky projections and is substantially cheaper than the most premium-end projectors out there (like the Sega Homestar Flux).
But beware of the odd choice of marketing wording, which we don't like. The company also whiffs a bit of green-washing as the advertising seems to claim all the packaging is recyclable but is in fact just made of cardboard which will eventually biodegrade but there's nothing that accelerates the process. Furthermore, everything arrives wrapped in a non-recyclable plastic film and each individual disk is stored in an individual plastic case. However, this is the case for most star projectors.
Don't forget, if you want to make the most of Amazon Prime Day 2023, check out our Amazon Prime Day hub for a roundup of the best discounts and deals on telescopes, binoculars, cameras, star projectors, drones, lego and much more.
Key Specs: Elegant and stylish to look at, the projector itself is just 6.1 x 4.7 x 4.7-inches (157x 120x 120 mm) in size but produces a projection surface of 129 square feet (12 square meters) and rotates using the in-built motor. There is no in-built speaker but the LED-powered projector does have a sleep timer which can be set using one of the three on-board buttons.
Consensus: We believe the Pococo Galaxy projector is an ideal, good-value home planetarium. It projects high-quality imagery onto any surface for immersive cosmological experiences at home.
Buy if: You want a star projector that is realistic but also reasonably priced and looks good on the shelf.
Don't buy if: You're just looking for an ambient night light for kids and aren't fussed about realistic star projections. There are cheaper models available that do just as good a job at that.
Alternative models: The very best star projector we've ever tested is the Sega Homestar Flux which scored four and a half out of five stars in our full review. Super accurate and full of compatible disks that can project different skies based on your location and time. However, it's a premium product at a premium price.
Looking for a night light for kids? The Astronaut Starry Sky star projector is a much better option because it's ultimately more affordable and is designed as a fun, cute astronaut. What's more, it's usually heavily discounted during Prime Day.