Update for April 20 at 10:30 a.m. EDT (1430 GMT): SpaceX launched Starship on an epic test flight that ended in an explosive 'rapid unscheduled disassembly.' Read our post-flight coverage here.
---
All eyes are on SpaceX and its Starbase facility in Texas this week as the company prepares to launch its giant Starship rocket for its first flight into space.
SpaceX attempted to launch Starship atop its Super Heavy booster (a stack also referred to simply as Starship) on its first orbital test mission on Monday (April 17), but the flight was ultimately scrubbed due to a fueling issue. Prior to the scrub announcement while SpaceX was fueling the rocket, the company posted a video to Twitter that contains a montage of previous Starship tests that led up to Monday's scrubbed flight attempt.
In the video, the sun rises on SpaceX's Boca Chica, Texas facility. The camera pans over several test spacecraft standing on display at the Starbase facility before cutting to engine ignition shots and previous Starship "hop" test flights that emphasize the sheer power of the vehicle's thrust. The massive rocket is poised to overtake NASA's Space Launch System (SLS) rocket, which took the title of world's most powerful rocket after the successful launch of Artemis 1 last November. When Starship does eventually take off, that title will then pass to Starship.
Related: SpaceX scrubs 1st space launch of giant Starship rocket due to fueling issue
The video shows clips from Starship's high-altitude test flights, the first of which occurred on December 9, 2020. The spacecraft flew nearly 8 miles high (12.8 kilometers) during the test, but was unable to successfully land and exploded into a massive fireball 6 minutes and 42 seconds after liftoff.
The next prototype flew a similar test mission on February 2, 2021, but an engine ignition failure during its descent caused that vehicle to also crash in a fiery blaze at SpaceX's Texas facility.
The third attempt, roughly a month later, saw a little more success in landing, but came in hard enough to crush the vehicle's landing legs — and it exploded shortly after touchdown.
Finally, during its fourth and most recent hop test, which flew March 30, 2021, Starship exploded during its descent.
Read more: Every SpaceX Starship explosion and what Elon Musk and his team learned from them (video)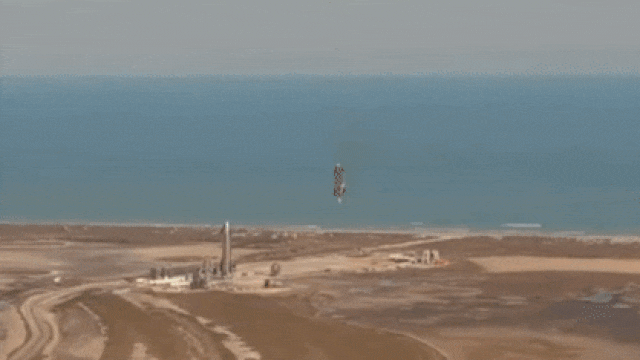 Thanks to the 33 Raptor engines powering Starship's Super Heavy launch vehicle, the rocket is capable of lifting over 100 tons (90 metric tonnes) to orbit, and is being promoted by company CEO Elon Musk as humanity's answer to interplanetary space travel. Indeed, if the spacecraft is able to deliver on those visions, it will change human spaceflight as we know it.
In anticipation of Starship's development and success, NASA awarded SpaceX the Artemis program's first Human Landing Services (HLS) contract, which will land astronauts on the moon as a part of NASA's Artemis 3 mission. Provided the Starship is operational in time — and NASA is banking on that being the case — Artemis 3 astronauts will be landing on the lunar surface aboard a SpaceX Starship by the end of 2025.
SpaceX also plans to utilize Starship to launch larger, upgraded versions of the company's Starlink satellites, the predecessors of which have dominated SpaceX's launch manifest the past few years as they are launched a few dozen at a time aboard Falcon 9 rockets. With Starship's planned increased capacity, that number will become exponentially larger as the company aims to place over 40,000 Starlink satellites in orbit. SpaceX has also announced deals with a number of private companies and individuals for future Starship flights as well.
Monday's initial launch attempt for Starship and Super Heavy, the first for the stacked vehicle, was scrubbed due to a pressure anomaly in the rocket's first stage. SpaceX announcers on the company's broadcast of the launch indicated the day's attempt would be viewed as a wet dress rehearsal, and that they would wait no less than 48 hours for the next launch attempt.
Follow us @Spacedotcom, or on Facebook and Instagram.