The Samyang Auto Focus f/2.8 14mm lens which we reviewed (also sometimes called Rokinon) is a highly versatile and compact lens for photographers who want to capture wide-angle shots. It is a great choice for landscape, architecture and astrophotography.
With an aperture of f/2.8, the lens delivers excellent low-light performance and provides great depth of field control. Even without the $200 price reduction this serves as a great alternative to the Canon RF 15-35mm f/2.8 which comes in at a whopping $2400.
Although made by a third-party manufacturer they have not skimped on quality. One of the standout features of this lens is the smooth and fast autofocus system, which is a rare feature in a third-party lens at this price point. The autofocus is accurate and reliable, making it easy to capture fast-moving subjects without losing focus. The manual focus ring is smooth and precise, and the lens provides a comfortable grip for easy handling.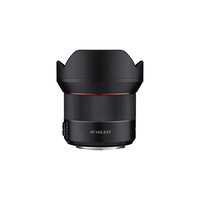 Samyang AF f/2.8 14mm lens: was $799, now $599.95 at B&H
Save $200 on a brilliant camera lens that's more affordable than other recommended lenses — that's a whopping 24%. It weighs 500g and is only 97.5mm long. As well as being small and lightweight it has a wide aperture of f/2.8 ideal for astro and now it's discounted.
The build quality of the lens is excellent, with a sturdy and well-made construction that feels solid in your hand. The lens mount is made of metal, which adds to its durability. The lens is also weather-sealed, making it an excellent option for photographers who shoot in challenging conditions.
In terms of image quality, the Samyang Auto Focus f/2.8 14 mm lens produces sharp and clear images with minimal chromatic aberrations. This is due to the high-quality optical elements which consist of two aspherical glass elements and four separate high-refractive elements. The lens has minimal distortion, making it ideal for capturing straight lines in architectural and landscape shots. The bokeh produced by the lens is smooth and creamy, making it ideal for portraits and other shallow depth-of-field shots.
More Great Lenses and Deals
The Samyang is relatively light, weighing in at 500g and has a length of 97.5mm. This is far more compact than the Canon alternative and is lightweight compared to other wide-angle lenses on the market.
In conclusion, the Samyang AutoFocus f/2.8 14 mm lens is an excellent option for photographers who want a wide-angle lens with great image quality, autofocus capabilities, and a compact form factor. It is an affordable alternative to more expensive lenses from well-known brands.
With the extra $200 off you'll be glad to know that you're getting a great product at an even better price point. If you're looking for a high-quality, fast and versatile wide-angle lens, the Samyang Auto Focus f/2.8 14 mm lens is definitely worth considering.
Join our Space Forums to keep talking space on the latest missions, night sky and more! And if you have a news tip, correction or comment, let us know at: community@space.com.