The International Space Station is about to launch into the Lego universe.
The orbiting laboratory, which for almost 20 years has hosted a continuous human presence in Earth orbit, is being released by Lego as a toy model (opens in new tab). The 864-piece set shrinks the football-field-long space station to the size of desktop display, while still preserving details such as its rotating solar arrays and robotic arm.
"Build and display this spectacular Lego Ideas International Space Station (ISS). Packed with authentic ISS details, including a posable Canadarm2 and two rotating joints that coincide with eight adjustable 'solar panels,' this 864-piece set is a wonderful gift idea for space enthusiasts, adult Lego fans or any experienced builder," wrote Lego in its announcement of the set on Tuesday (Jan. 21).
Video: Watch us build Lego's Apollo 11 lunar lander (time-lapse) (opens in new tab)
Related: Awesome Lego Space Sets Take Kids to Mars, Brick by Brick
Available beginning Feb. 1 from Lego Stores and the Lego website, the ISS will retail for $69.99. The set is recommended for builders 16 years of age or older.
"This International Space Station toy building kit for adults, measuring over 7 inches high (20 centimeters), 12 inches long (31 cm) and 19 inches wide (49 cm), makes a beautiful display model that will catch the eye of every passerby," Lego described.
In addition to the space station itself, the set comes with the toy bricks to build a to-scale space shuttle orbiter and three cargo vehicles (one appears to resemble SpaceX's Dragon capsule, while the others are closer to Russia's Progress craft), as well as a display stand. The set also includes two microfigure-size astronauts (these figures, though, appear to be "wearing" moon landing-style spacesuits, a carryover from the NASA Apollo Saturn V set released in 2017 (opens in new tab) and discontinued at the end of 2019).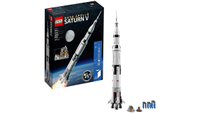 (opens in new tab)
Lego first announced that it was producing the International Space Station (opens in new tab) as a toy set in June 2019, after it won a fan poll in celebration of the 10th anniversary of the Lego Ideas website. The space station received 45 percent of the more than 22,000 votes cast in a competition against three other possible sets.
The Lego ISS got its start five years earlier, when Christoph Ruge, a Lego and space enthusiast from Germany, first submitted his design for the space station brick-built model to the Lego Ideas website. It qualified for a review by the Lego team, but was rejected in 2015 (opens in new tab).
In 2018, Ruge re-entered his space station after scaling it down to match the size of the shuttle included in a winning Lego Ideas project, the "Women of NASA" set released in 2017 (opens in new tab). (The orbiter included in the ISS set coming out Feb. 1 is similar to, but not identical to the "Women of NASA" model.) Again, Lego's design team did not select Ruge's ISS to go forward, but then the anniversary vote came about.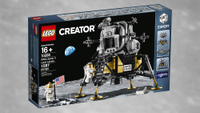 (opens in new tab)
Lego NASA Lunar Lander | $99.95 on Amazon (opens in new tab)
Lego celebrates the historic Apollo 11 moon landing with this Creator Expert set of the mission's lunar lander. With 1,087 pieces, build an incredibly detailed model of the Apollo lunar lander, with two astronaut minigures, a moonscape and a galaxy of details inside the module itself!
The real International Space Station was first established with the launch and berthing of the first Russian and U.S. components in orbit in December 1988. The first expedition crew moved in and took up residency in 2000. Since then, there have been 60 more resident crews and components have been added by Japan, Canada and the European Space Agency (ESA).
The release of the Lego ISS comes in time to celebrate the past two decades of continuous astronaut occupancy, as Lego recognized by adding NASA's "ISS 20 Years" logo to the back of the set's box.
This is the third time that Lego has produced the International Space Station as a toy model, but only the second set to be sold to the public. The first time, in 2003, was in the form of a Discovery Channel-branded 162 brick set that reproduced the space station in its still-under-construction configuration.
Eight years later, under an educational partnership between Lego and NASA, Japanese astronaut Satoshi Furukawa assembled a Lego-designed model of the complete space station on board the real orbiting complex (opens in new tab). But that model had a major limitation: it could only be built in the weightless environment of space. On Earth, the model would have collapsed under the normal pull of gravity.
Click through to collectSPACE (opens in new tab) to see a 360-degree video of the Lego International Space Station toy model set.
Follow collectSPACE.com on Facebook and on Twitter at @collectSPACE. Copyright 2020 collectSPACE.com. All rights reserved.