There will be a new Lego DreamZzz set available from early August that will allow builders age nine and above to explore the dream world with Mr. Oz and his spacebus.
This set is based on the Lego DreamZzz TV show and has plenty of features that will inspire the imagination of kids, just like the show. Crucially, it has numerous playable features that include customization, numerous ways to build the ship, movable parts and minifigures of important characters. As it comes with 878 pieces, it's not ideal for younger children although it will offer hours of fun.
Naturally, this caught our attention with it being a space ship and if that sort of thing is something that interests you, then you might want to check out the best Lego space deals, Lego Star Wars deals and the best Lego deals on the market.
This set is already available for pre-order, and you can check out more of the specs below, but will be on sale and officially launch from August 1.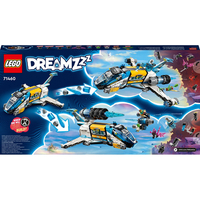 Lego DreamZzz Mr. Oz's Spacebus set Pre-Order $99.99 from Lego.
Pre-Order and secure this 878-piece Lego DreamZzz set before it's official launch date for $99.99. Once the school bus is built, kids can customize it with rockets and blasters or a huge canon. It also comes with minifigures of Mateo, Mr. Oz and the figures of Albert the monkey sidekick and more.
Of course we're interested in this, it's Lego, has a space theme and looks cool after all, but we think kids will no doubt love this set. With 878 pieces, it offers hours of building fun while not offering too much to allow kids to get bogged down and frustrated.
The fun doesn't stop when the building does though as this set features numerous movable and playable parts which include an opening cockpit, rear cargo ramps, rotating thrusters and blasters. The customization is pretty impressive too as once the basic school bus design is built, it's down to the builder to choose whether they fight off nightmares with blasters and rockets or build a huge canon.
All of this fun wouldn't be complete without its heroes and someone to pilot the ship and fight off enemies. This set comes with minifigures of Mr. Oz and Mateo as well as figures of the monkey Albert, Z-Blob and Susan.
All of this in one set means kids will have hours and hours of fun using their imagination to fight off the nightmare characters with their favorite characters from the Lego DreamZzz TV show. The Playability of this set once it's complete gives it far more value for money and given it has a size of 4.5 x 16 x 13 inches (height, length, width) it can look pretty impressive without being played with too.
Follow Alexander Cox on Twitter @Coxy_97Official. Follow us on Twitter @Spacedotcom and on Facebook.