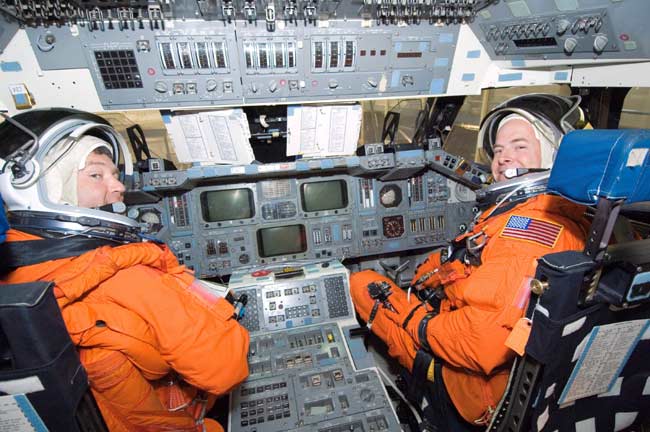 NASA's shuttle Atlantis will launch toward the International Space Station (ISS) this week with mix of experience at the helm to deliver a European addition to the high-flying laboratory.
Leading the orbital charge is shuttle commander Stephen Frick, a veteran NASA astronaut, with first-time spaceflyer Alan Poindexter serving as mission pilot. They are eagerly awaiting their planned Thursday launch to haul the European Space Agency?s (ESA) Columbus lab to the ISS with the help of five crewmates.
"Attitude is everything up on orbit," said Frick, adding that his crewmates are dedicated not only to their STS-122 mission, but also one another. ?I got very lucky with my crew.?
Frick, Poindexter and their crewmates plan to launch toward the ISS on Dec. 6 at 4:31 p.m. EST (2131 GMT) to deliver Columbus, swap out one ISS crewmember and stage three spacewalks during their planned 11-day mission.
?[H]aving the opportunity to work on the space station really is the leading edge,? Frick said in a NASA interview. ?We?ve never done anything like this in space before and we?re learning a tremendous amount.?
Atlantis redux
Frick, 43, is a commander in the U.S. Navy and a native of Gibsonia, Pa., where he grew up watching NASA?s Apollo moon missions and Skylab space station flights.
?Flying, itself, was something I always wanted to do from my earliest memories, and what could be more interesting than flying outside of the atmosphere and getting to see basically all of the Earth in one 90-minute pass?? said Frick. ?Just the idea of that was mesmerizing.?
Frick joined NASA?s astronaut ranks in 1996 after a decade flying with the U.S. Navy, where he made 370 aircraft carrier landings and flew 26 combat missions during Operation Desert Shield and Desert Storm. He first reached orbit in April 2002, when he launched aboard Atlantis as STS-110 mission pilot to help install the space station?s S0 truss during a 10-day spaceflight. But now, Frick is ready to command that same spaceship.
?I have to admit, I?m a little partial to Atlantis,? Frick told reporters in a mission briefing. ?There is something special about flying on the same vehicle twice.?
Frick likens the risks of launching spaceward today to those facing explorers on the ocean hundreds of years ago as they crossed between continents and sailed through arctic and Antarctic waters.
?I think it?s the same in space,? said Frick, who is married and holds degrees in aerospace and aeronautical engineering. ?It?s a place we have to go.?
In addition to successfully delivering Columbus to the ISS, Frick hopes to take some personal time to hunt for his hometown from orbit. During STS-110, his attempts to spot the Gibsonia from orbit were thwarted three separate occasions.
?All three times it was overcast,? said Frick, adding that a wintry December is probably not the best time to try to spot Pittsburgh from space. ?[B]ut I really do want to see it with my own eyes.?
Orbital debut
Like Frick, Poindexter is a U.S. Navy commander and veteran test pilot, though STS-122 will mark his first foray into space.
?I?m looking very much forward to flying and getting Columbus on orbit,? Poindexter told reporters in a mission briefing.
Hailing from Rockville, Md., Poindexter holds degrees in aerospace aeronautical engineering and credits a chance meeting with former astronaut Richard Truly, a retired U.S. Navy vice admiral, for pointing him toward orbit.
?Admiral Truly spoke about his first night launch and night landing on STS-8, and I was very intrigued with it and got to talk to him afterwards,? said Poindexter, who was attending Georgia Tech University at the time. ?Ever since then, I?ve sort of aspired to come here and be an astronaut.?
Poindexter, 46, joined the Navy in 1986 and served in Arabian Gulf during Operations Desert Storm and Southern Watch before joining the branch?s test pilot ranks. NASA selected him to join the astronaut corps in 1998. In addition to his role as shuttle pilot, Poindexter will also serve as an orbital choreographer during the STS-122 mission?s three planned spacewalks.
?My challenge is to keep an eye out for their well being, to try to make their timeline as optimum as possible and look out for potential pitfalls,? Poindexter said of his spacewalking crewmates.
But the payoff, he added, will come once Columbus is installed, giving Europe its first permanent orbital laboratory space at the ISS.
?We?re really looking forward to it,? said Poindexter. ?Working with people from different backgrounds and different cultures is one of the big benefits of working here.?
Poindexter and his wife Lisa have two grown sons, ages 22 and 18, but the family is proud of his upcoming launch despite the risk of human spaceflight because of the lengths NASA has gone increase shuttle flight safety.
?They know, as well as I do, that NASA does a really good job of minimizing the risks,? the shuttle pilot said.
But while human spaceflight will never be risk-free, it is an endeavor that continues to be vital to push science, and civilization forward, Poindexter said.
?You know, we need to go off and find out what?s around the next corner, and what?s just beyond what we already know,? he added. ?It?s part of our moral fiber to go off and explore.?
VIDEO: Stephen Frick: STS-110 Pilot

NEW IMAGES: Discovery's STS-120 Mission in Pictures

The Orbital Chef: The Top 10 Space Foods