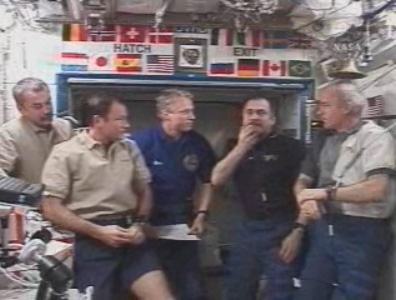 Command of the International Space Station (ISS) changed hands between two astronaut crews Wednesday while Anousheh Ansari, the outpost's paying visitor, made the most of her last full day in space.
ISS Expedition 14 commander Michael Lopez-Alegria took charge of the space station from his Expedition 13 counterpart during a bell-ringing ceremony that has become tradition aboard the orbital laboratory.
"It's a great honor to take command of the good ship Alpha," Lopez-Alegria said of the ISS as he relieved Expedition 13 commander Pavel Vinogradov.
Lopez-Alegria and Expedition 14 flight engineer Mikhail Tyurin arrived at the ISS aboard their Soyuz TMA-9 spacecraft on Sept. 20 with Ansari - a U.S. entrepreneur and the world's first female space tourist.
The Expedition 14 astronauts are relieving Vinogradov and Expedition 13 flight engineer Jeffrey Williams, and join a third crewmember - European Space Agency astronaut Thomas Reiter - already aboard the ISS. Vinogradov, Williams and Ansari are set to cast off from the ISS on Thursday and land on the Central Asian steppes of Kazakhstan at about 9:10 p.m. EDT (0110 Sept. 29 GMT).
"The bottom line is yes, I am ready to return to Earth," Williams, who is completing a six-month tour aboard the ISS, told the Houston Chronicle Tuesday.
During the week-long ISS crew swap, Ansari has performed a series of biomedical experiments for the ESA and enjoyed her trip in space, which was brokered with Russia's Federal Space Agency by the Virginia-based firm Space Adventures.
"It's time for me to go savor the last few days onboard," Ansari wrote in her blog today, where she detailed the wonder of floating in weightlessness. "I truly enjoy weightlessness...you feel like a free spirit."
In her blog, Ansari has documented her initial difficulties to adapting to her new weightless environment, adding that her headache, back pains and nausea were later solved by an injection of motion sickness medication. She learned through trial and error how to navigate her way through the ISS without causing much of a ruckus.
"I fly around hitting walls and dislodging things. The first few days I would push against a wall too hard and end up flying too fast to the other wall, not being able to stop and BANG! I would hit the other wall and bounce back toward where I started from," Ansari wrote. "Recently, however, I was complimented on how professionally I fly! It was very flattering."
Lopez-Alegria told CNN Espanol this week that more than 10 million people have visited Ansari's website to follow her spaceflight.
"She is having a lot of success with her mission," he said.
In addition to accepting command of the ISS today, Lopez-Alegria presented Williams - a U.S. Army colonel - with the Army Aviation Association of America's (Quad-A) Order of St. Michael's Silver Award to recognize commitment to the nation's armed forces.
"This isn't just a change of command for the crew, but also for the ground teams," Lopez-Alegria said, adding that new flight directors and other controllers are taking their positions for Expedition 14. "They join the three of us in taking the good ship Alpha into uncharted territory as we complete the International Space Station."
IMAGE GALLERY: Launch Day for Expedition 14 Crew, Anousheh Ansari
IMAGE GALLERY: Anousheh Ansari Prepares for Launch
Anousheh Ansari: First Female Private Space 'Explorer' Visits ISS
Complete Coverage: ISS Expedition 14