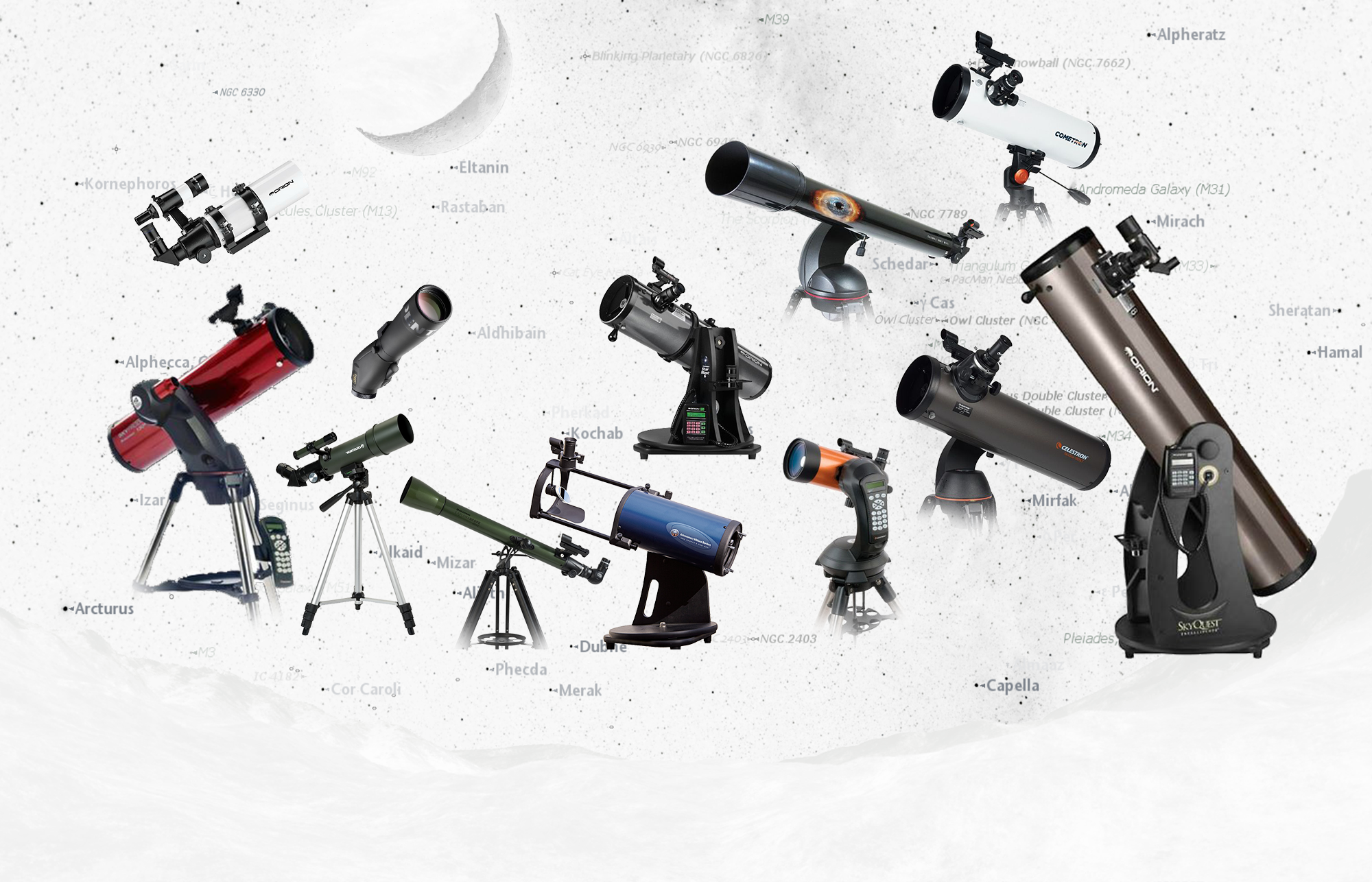 A photon leaps off the sun and, about 500 seconds later, bounces off our Earth. Light has been dancing and rebounding from faraway and nearby celestial objects for more than 13 billion years. It's time you caught some of it for your very own.
That's what telescopes do; they gather light. But which telescope you choose to collect that radiance will vary according to your needs and budget. Our editors have selected a few of the best options in four categories. Click on each to read a review of the telescopes in these groups:
Or see our Best Telescopes for Kids – Preschool and Up pages.
Now, let's see which type of telescope is the best fit for your needs: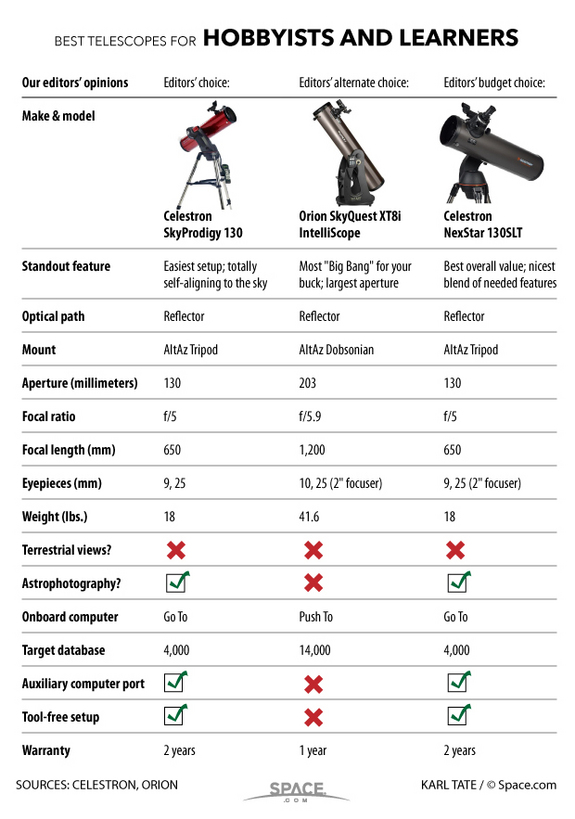 After looking carefully at a variety of telescopes, we selected the ones that have enough horsepower to drive many years of satisfying observation but that don't break the bank. You can read our in-depth review of the best hobbyist telescopes here. See our top choices below:
Editors' Choice: Celestron SkyProdigy 130
Reflector / AltAz / Tripod / Go-To
Easiest setup; totally self-aligning on the sky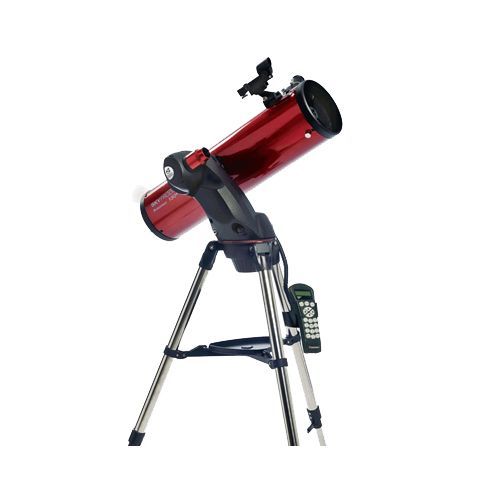 The Celestron SkyProdigy 130 is the first consumer telescope to offer fully automatic alignment. Once set up, it takes just 3 minutes under the night sky for the scope to find itself. Then you can drive this high-quality Newtonian reflector using the wired remote keypad. The SkyProdigy comes with two 1.25-inch Kellner eyepieces (25mm and 9mm). The nicely machined focuser can also accept 2-inch eyepieces.
***
Alternate Editors' Choice: Orion SkyQuest XT8i IntelliScope
Reflector / AltAz / Dobsonian
Most "Big Bang" for your buck; largest aperture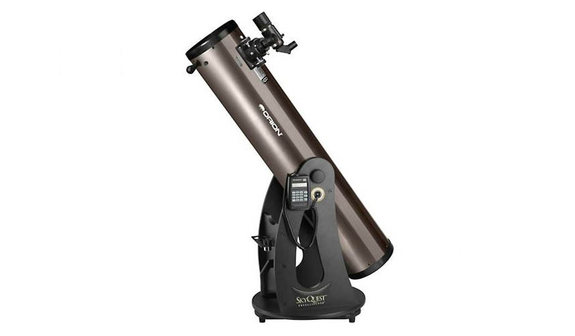 Orion's SkyQuest is an 8-inch (203mm) Dobsonian telescope. It's a big light-bucket with an excellent-quality primary mirror that's great for hauling in the old tired photons of distant galaxies and nebulae. As long as you don't intend to take long-exposure astro-photos, the SkyQuest is a fabulous tool. Also, be aware that it's a bit of a kit: You must screw together the altitude-azimuth mount, fit-up the tilting optical tube and do a few more bits of assembly. But it's fun to do and the result is a wonderful scope you can use for decades.
***
Editors' Budget Choice: Celestron NexStar 130SLT
Reflector / AltAz / Tripod / Go-To
Best overall value; nicest blend of needed features
In our opinion, Celestron's NexStar 130SLT gives best views of celestial objects of any telescope in its price range. It does not automatically align itself (as its close cousin the SkyProdigy 130 does) but it sets up quickly enough. It's wired NexRemote keypad lets you fly precisely around the sky, or will autopilot you to any of 4,000 objects in its database. Given its low price, you may have budget left over to buy at least one good 2-inch wide-field eyepiece, for an astonishing "space-walking" visual experience. And, if you want to take portraits of planets and other denizens of deep space, this telescope will accept small cameras.
Read our deep review and comparison of these three hobbyist scopes.
---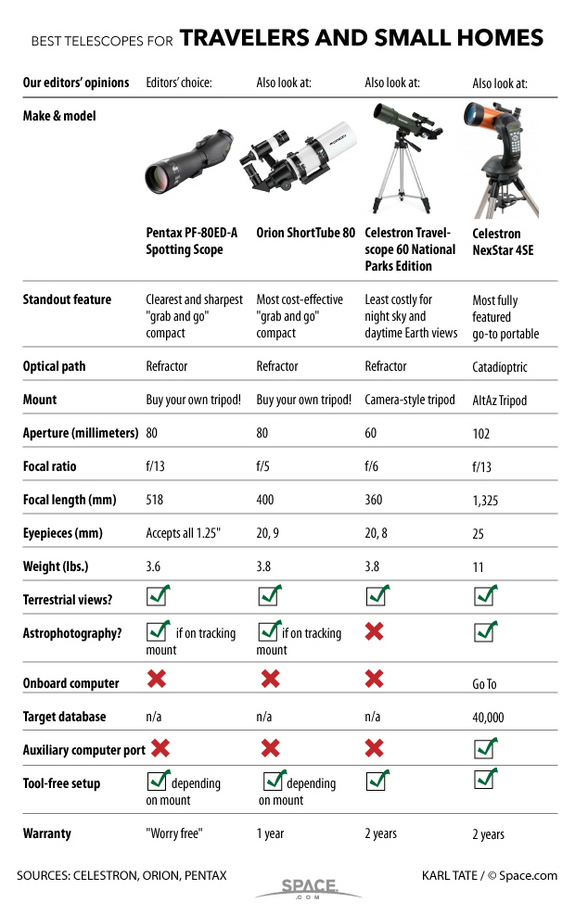 When it comes to skywatching on the go or from urban areas, a smaller, portable telescope might be more your speed to make observing the night sky a bit easier. You can read our in-depth review of the best portable telescopes. See our top choices below:
Editors' Choice: Pentax PF-80ED-A (Angled View) – "Spotting Scope"
[For photography, pick the Or PF80ED-A Straight-Through]
Refractor (mount, tripod and eyepieces sold separately)
Clearest and sharpest"grab and go" compact telescope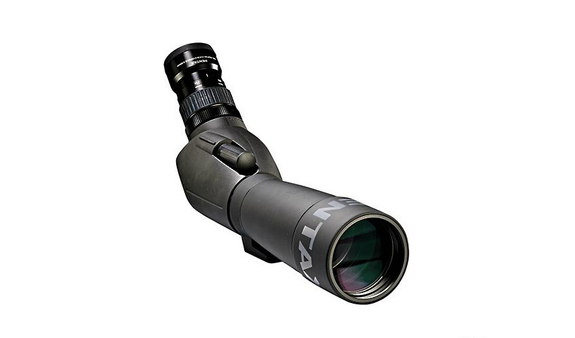 There is not a better quality, rugged, portable telescope made than the Pentax PF-80ED. Use it at night for astronomy and during the day for birding, sports-watching or other activities requiring a close-up view. At 16.3-inches (41.5 centimeters) and 3.6 lbs. (1.6 kg), it hides in your suitcase or carry-on bag, ready for adventures everywhere. It won't fog up. Rain and spray can't hurt it. And Pentax gives you the industry's best warranty. You'll need to buy a tripod separately, and possibly a 1.25-inch astronomy eyepiece or two for skywatching.
***
Also Consider: Orion ShortTube 80-A
Refractor (mount and tripod sold separately)
Most cost-effective "grab and go" compact telescope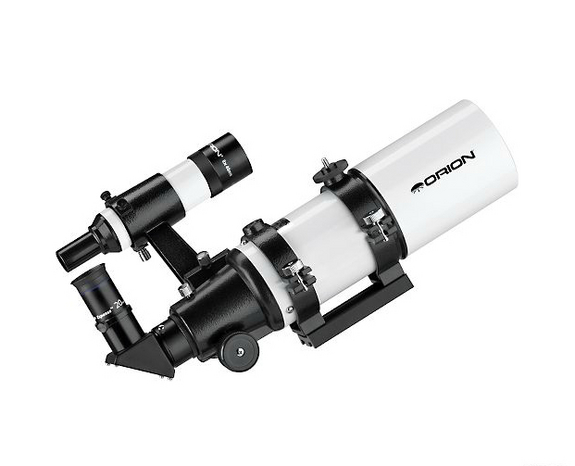 The Orion ShortTube 80-A is many an eclipse-chaser's favorite telescope; 3.1inches (8 cm) of aperture executed in extra-low-dispersion "ED" glass. Try pairing it with Orion's heavy-duty model tripod and head for no-wiggle skywatching. For daytime terrestrial observing, add Orion's "correct image diagonal" to keep your view right side up.
***
Editors' Budget Choice: Celestron TravelScope 60 – National Park Edition
Refractor / AltAz Tripod
Least costly for night-sky and daytime Earth views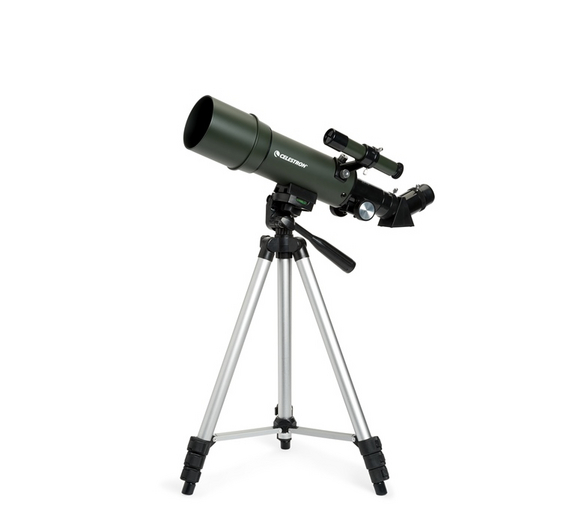 No room? No money? No problem! Celestron's TravelScope 60 National Park Foundation telescope does a lot with (and for) a little. But this scope's 2.36-inch (6 cm) aperture is large enough to yield 140x magnification with its included Barlow lens. And it comes, ready to travel, with its own tripod, moon filter, mirror diagonal (for upright views), compass, and clip-on flashlight; all in its own backpack. Grab and go.
***
A Computerized Compact: Celestron NexStar 4SE
Catadioptric / AltAz / Tripod / Go-To
Most fully featured Go-To portable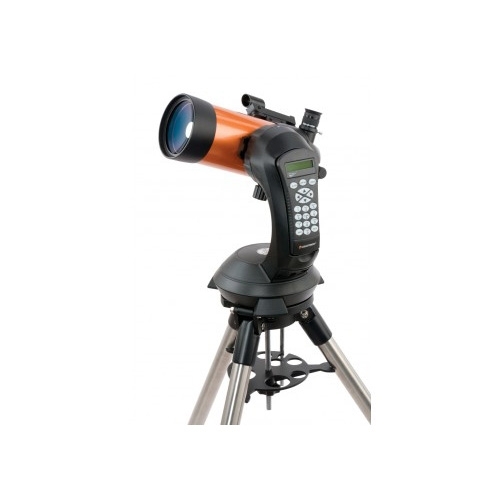 Celestron's NexStar 4SE is a Maksutov-Cassegrain catadioptric telescope; a folded light-path which keeps the dimensions small and your view large. It can even function as a telephoto camera lens. Small enough to take to distant dark-sky observing sites, this 4-inch (10-cm) aperture scope uses Celestron's SkyAlign system to setup quickly and navigate to any of 40,000-listed targets. Most of them are stars, but there are still a lifetime of more fascinating phenomena to see. [Read our Full Review of the Hybrid Celestron NexStar 4SE]
Read our deep comparison of these four portable compact scopes.
---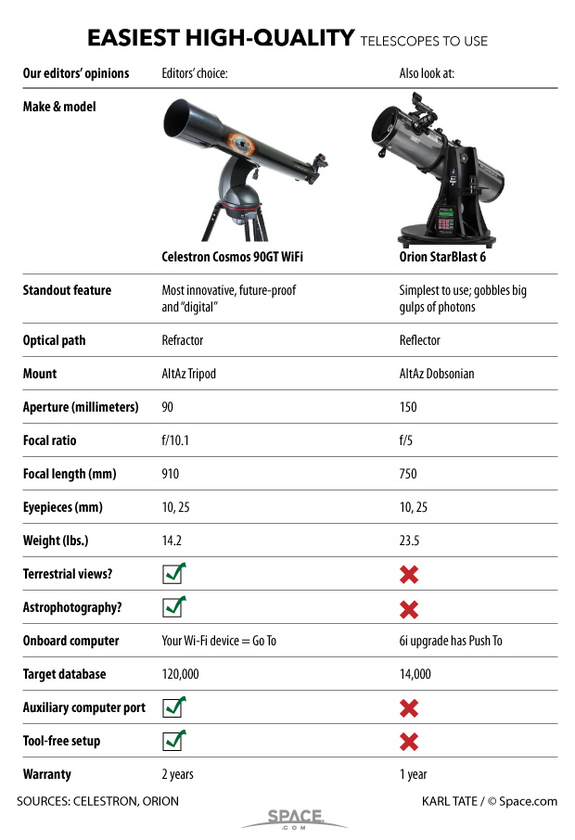 For some skywatchers starting out, how easy a telescope is to operate may be a key factor when deciding what to buy. You can read our in-depth review of the best telescopes for beginners here. See our top choices below:
Editors' Choice: Celestron COSMOS 90GT Wi-Fi
Refractor / AltAz Tripod / Go-To
Most innovative, future-proof and "digital"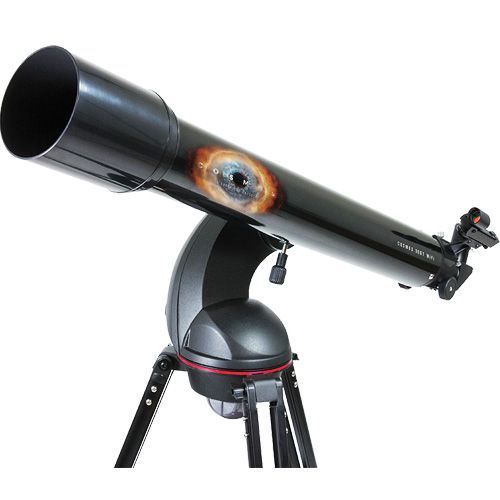 The Celestron COSMOS90GT Wi-Fi takes its observing orders your Apple or Android smartphone or tablet via the free COSMOSNavigator app [App Store or Google Play]. This 3.5-inch (90 mm) refractor is our choice for planet watching. Just be a little careful not to bend the lightweight aluminum tripod.
***
Also Consider: Orion StarBlast 6 or StarBlast 6i "IntelliScope"
Reflector/ AltAz Rocket-Box
Simplest to use; gobbles big gulps of photons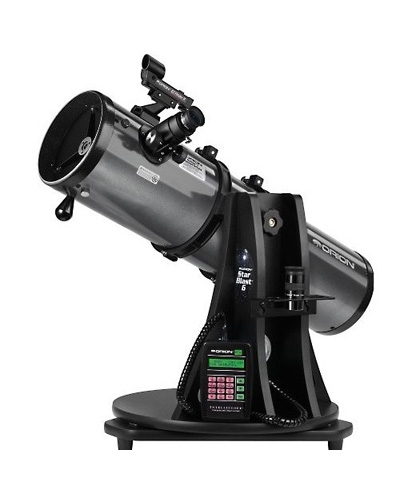 Read our deep comparison of these two easy-to-work telescopes.
---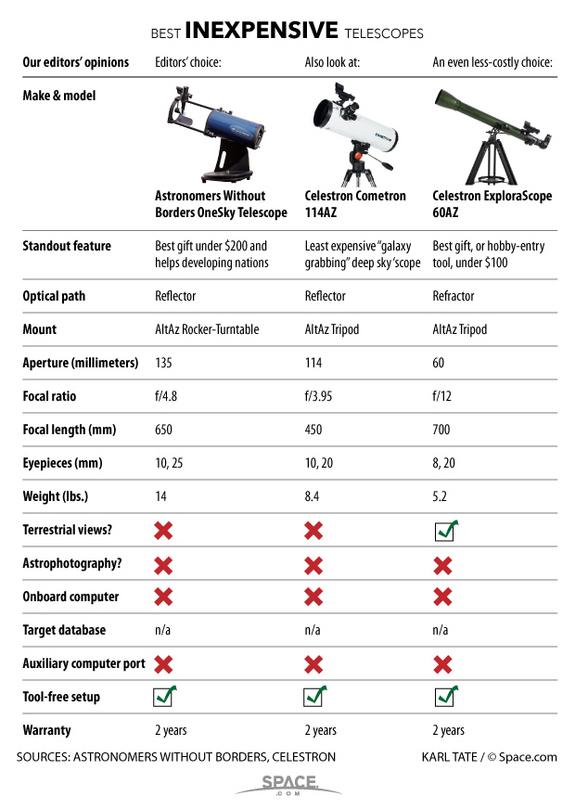 Price will always be an important part of any telescope buying decision, and there are some great options to get the most out of an inexpensive instrument. You can read our in-depth review of the best inexpensive telescopes here. See our top choices below:
Editors' Choice: Astronomers Without Borders OneSky 130
Reflector / AltAz "Rock and Roll" Turntable
Best gift under $200 and helps developing nations
BUY the Astronomers Without Borders OneSky 130: Average price: $199.99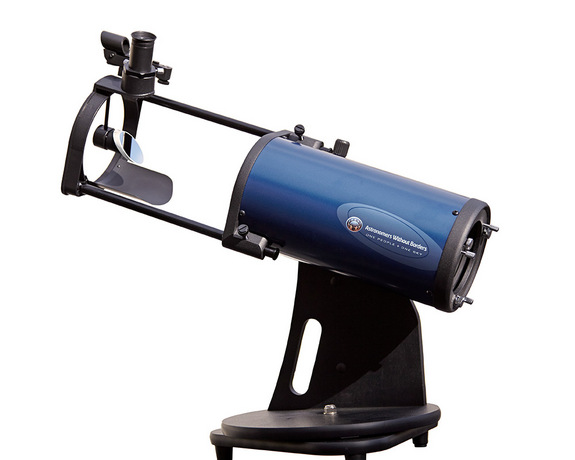 Give this OneSky telescope as a gift (even to yourself!) and you automatically make a donation to the nonprofit Astronomers Without Borders (AWB). Young science students a world away will benefit from enhanced education programs as you enjoy your astronomy hobby. We are all under one sky.
And you'll be getting an extraordinarily good telescope; 5.1 inches (130 mm) of aperture, good quality glass, two "Modified Achromat" (Kellner) eyepieces and an innovative compact-expanding design. It's a truss-tube Newtonian reflector on a simple-to-work altitude-azimuth mount, with a built-in handle. We truly love this telescope.
***
Also Consider: Celestron Cometron 114
Reflector / AltAz Panhandle Tripod
Least expensive "galaxy grabbing" deep-sky scope
BUY the Celestron Cometron 114 from Amazon.com: Average price: $179.95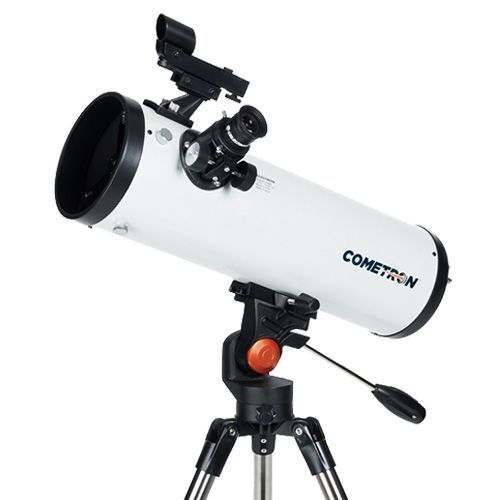 If you prefer a tripod-mounted scope (you can't always count on a having a stable table at a remote observing site) you will like Celestron's Cometron 114AZ. Massing 8.4-lb. (3.8 kg), this nicely made reflector does a lot of things well. At 4.5 inches (114 mm) the aperture isn't huge, but the Cometron benefits from its more expensive, larger siblings in the Celestron line and is a great first telescope.
***
Also Consider: Celestron ExploraScope 60AZ NPF Edition
Long Tube Refractor / AltAz Tripod
Best gift, or hobby-entry tool, under $100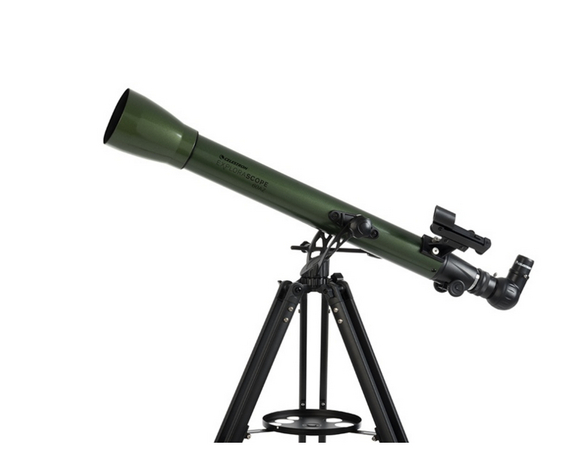 When money is tight, but you want to give the meaningful gift of the universe, we suggest the ExploraScope 60AZ from Celestron. It's long refracting tube calls to mind Galileo's own original telescope, which essentially founded what we now call "science." The AltAz mount lets you intuitively use it for daytime as well as night. Just point and look. Like the short-tube TravelScope 60 reviewed above, this ExploraScope NPF Editions comes with two included eyepieces, a 3x Barlow lens, a compass and a useful LED flashlight on a carabiner clip.
Read Our Full Review of these three budget-minded telescopes.
Look, here's the deep truth of telescopes: It does not matter at what price point you get into amateur astronomy. Telescopes gather light. And, yes, more light — or purer light — is better. But once you tune in to the reality that the universe is coming directly to you — to meet you wherever you are as long as you look up — you will never be the same. Once you start observing with a telescope, you will likely never stop.
May the photons be with you.
Stunning Celestial Sights, Winter 2016
Here's a list of night sky features you can observe throughout the winter season, put together by our resident skywatching expert, Joe Rao.
The Great Nebula in Orion –This star nursery is probably the most-observed deep-sky object, one of the most wonderful and finest objects in the heavens. It's easily visible to the naked eye as the fuzzy middle star in the line of three that make up the sword of the constellation Orion, the Hunter. The nebula is best seen with low power, appearing as an irregular, pale-green, fan-shaped mass. A sort of auroral glow is induced within the nebula, from its core of four hot stars, popularly known as the Trapezium. Higher powers provide considerable detail, complete with branches, rifts and bays, while overall the nebula has a somewhat mottled appearance. In the late 18th century, Sir John Herschel described the nebula as resembling a "surface strewn with flecks of wool." The late Walter Scott Houston, who spent a lifetime exploring the dim denizens of the deep sky for Sky & Telescope magazine probably said it best, describing the nebula as "an object compelling enough to draw exclamations of delight from even the most disinterested bystander." [The Brightest Stars in the Sky: A Starry Countdown]
Open cluster M35 in Gemini – This cluster of stars is located just off of the left foot of the star Castor, part of the constellation Gemini, the Twins, and located about 2.5 degrees northwest of the star Eta Geminorum. It can be seen, albeit dimly, with the naked eye under favorable conditions. Beautiful in binoculars and spectacular in a small telescope, it becomes a cluster of bright stars with curves, streams and festoons interspersed with a profusion of many fainter stars. The 19th century, British astronomer William Lassell wrote, "No one can see it for the first time without an exclamation." Also on the southwest edge of M35 is the lesser-known NGC 2158, a much smaller, fainter open cluster. In small telescopes, it appears as a circular smudge of light. It's 16,000 light-years away, five times the distance to M35. While searching for Halley's comet in September 1986, I accidentally ran across NGC 2158 and for a few moments thought I might have discovered a new comet! Indeed, many stargazers have been similarly fooled, as the cluster resembles a distant comet approaching the sun from deep space.
Double cluster in Perseus – If you look at the "W" of the constellation Cassiopeia, the second and third stars going from the left (Delta and Gamma Cassiopeiae) point toward this object. Start at Gamma, stretch a line to Delta, and twice that distance in the same direction brings you to these two magnificent clusters, visible to the unaided eye. They are NGC 869 and 884 (H Persei and Chi Persei, respectively). Both clusters are splendid to observe on their own, and under good viewing conditions, the pair forms one of the most brilliant and spectacular objects of its kind. Magnificent to behold in a small telescope, each cluster appears larger in the sky than the full moon. Near the center of 884 is a fine ruby star. In 1888, the astronomer and science fiction writer Garrett Serviss wrote, "With a telescope of medium power, it is one of the most marvelously beautiful objects in the sky — a double swarm of stars, bright enough to be clearly distinguished from one another, and yet so numerous as to dazzle the eye with their lively beams." [Spectacular Nebulas Shines in Cassiopeia (Photo)]
The Crab Nebula –This object is the "smoking gun," so to speak, of a titanic stellar explosion: a supernova that burst forth on July 4, 1054. The result was a dazzling star, so bright it was visible even during the daytime for weeks and easily found at night for over a year. It's located not far from Zeta Tauri, where we can see the remnants of that explosion as a large, faint, oval-shaped, pearly white, gaseous nebula. It's clearly visible through a 4-inch (100 millimeters) telescope on a dark night, but its serrated outline can be glimpsed only in much larger (12- to 18-inch, or 305- to 457-mm) telescopes. Unfortunately, the rapid spread of light pollution in recent years has made this 9th-magnitude object more difficult to spot (magnitude refers to how bright an object appears in the sky). The nebula was first seen in 1731, and then forgotten; its re-discovery, by Charles Messier in 1758, led the astronomer to draw up his famous catalogue of 103 "comet masqueraders." Hence the Crab is catalogued as M1.
NGC 2244 and the Rosette Nebula – In the region between the two Dog Stars, Sirius and Procyon, and Orion, the Hunter, is the faint constellation of Monoceros, the Unicorn. For all intents and purposes, it's a star pattern that bears no resemblance to the mythical figure it portrays. But if you mentally stretch a line from the bright red star Betelgeuse, roughly one-third of the way east toward the bright yellow-white star Procyon, you'll come to this noteworthy star cluster and nebula. NGC 2244 is a very pretty star cluster consisting of stars ranging in brightness from magnitude 7 to 14 and is visible to the unaided eye. The cluster also seems to include the 6th-magnitude "giant" yellow star 12 Monocerotis, though this is an illusion based on perspective, as the star is actually nearer to Earth than is the cluster. The well-known comet hunter David Levy writes about the Rosette Nebula, which surrounds 2244: "Through a 10-inch (250 mm) telescope … this ring-shaped nebula offers a scene of delicate beauty." Small telescopes and binoculars will reveal the nebula, but you're going to need a very clear, dark night.
Joe Rao serves as an instructor and guest lecturer at New York's Hayden Planetarium. He writes about astronomy for Natural History magazine, the Farmer's Almanac and other publications, and he is also an on-camera meteorologist for News 12 Westchester, N.Y.
Follow us @Spacedotcom, Facebook and Google+.