SpaceX's Crew Dragon has space for several astronauts, but how many people can squeeze inside safely?
SpaceX's Crew Dragon spacecraft has become a new workhorse for flying NASA astronauts and space tourists to orbit, but the number of people it has carried per flight has varied over it's lifetime. We thought it would be interesting to see how many people can fly on different kinds of trips.
Crew Dragon was developed with NASA support for the agency's commercial crew program and made its first flight in May 2020. Normally it carries a crew of four. Crew Dragon is partially based on its Dragon cargo spacecraft that has been delivering supplies to the International Space Station since May 2012, but includes human-friendly features like touchscreens, seating, life support systems and a space toilet.
Related: 8 ways that SpaceX has transformed spaceflight
SpaceX's Dragon originally built to carry 7 people
When it was first unveiled in May 2014, Crew Dragon was originally designed to carry seven people. Then called Dragon V2, features of the new spacecraft included reusability and a planned ability to land with the precision of a helicopter, founder Elon Musk said at the time.
"That is how a 21st-century spaceship should land," he added after unveiling the capsule's interior, complete with seven seats arranged in two rows, with four on top and three below.
At the time, NASA was seeking a full seven-person capability from SpaceX to allow for full complements of International Space Station crews. Between 2011 and 2020, after the retirement of the space shuttle, the station was reduced to six individuals (or the capacity of two Russian Soyuz vehicles.)
Having seven people on board instead of six means more hands on deck for science, since maintenance takes a share of astronaut time. Once SpaceX actually began flying crewed missions to the station, the orbital laboratory's crew size was indeed upgraded to seven, but with four riding on a Dragon and three on Russian Soyuz capsules. SpaceX's Crew Dragon also splashes down off in the ocean off the coast of Florida instead of making a land landing.
The interior square footage of the Crew Dragon is modest, at 328 square feet (9.3 square meters), according to NASA. But the astronauts can move around in three dimensions, meaning they can use walls and ceilings in microgravity to make the best use of the available space.
SpaceX's Dragon Demo-2 flight with 2 astronauts
SpaceX's Demo-2 test flight for NASA was the first crewed flight of Crew Dragon in May 2020 and it only carried two astronauts, although four seats were flown. It was a test flight to the ISS and lasted 63 days, 23 hours and 25 minutes.
SpaceX says a minimum of two people are needed in its spacecraft, which would be a commander and a pilot. The crew was commander Douglas Hurley and pilot Robert Behnken, both NASA astronauts on their third and final spaceflights. The mission accomplished a safe launch, docking, undocking, landing and splashdown with the pair on board.

During the Demo-2 mission, SpaceX launched the Crew Dragon capsule with four seats installed, even though the test flight only carried a crew of two. From launch to splashdown, Demo-2 lasted about two months and showed Crew Dragon was ready to carry a larger crew.
Crew Dragon's 4-person configuration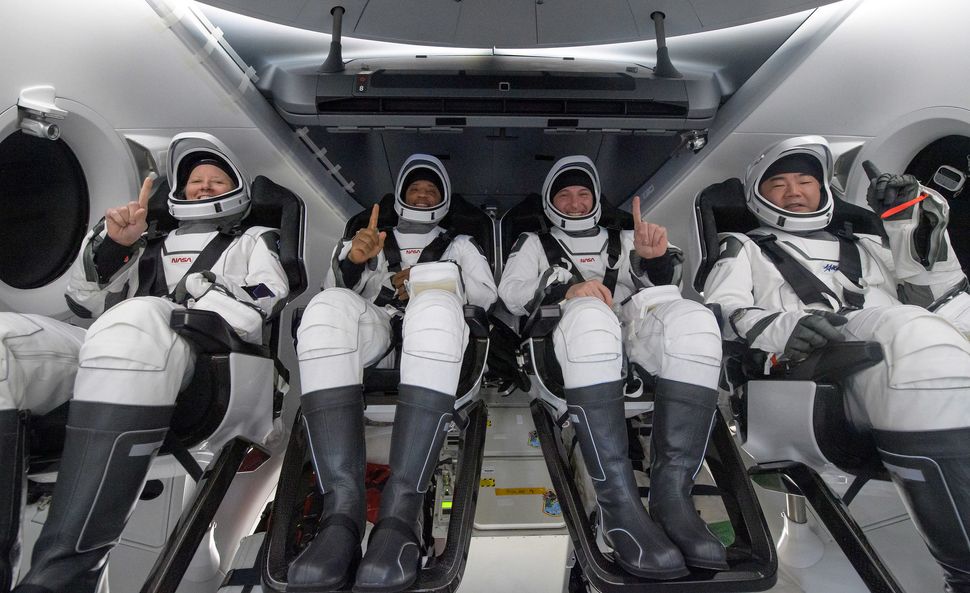 Starting with Crew-1, the first operational flight in November 2020, SpaceX has settled on a four-person configuration for NASA flights and private crew flights.
The billionaire-funded Inspiration4 mission flew on a five-day space mission in September 2021 with four people on board. Its commander and funder, Jared Isaacman, later created a successor series called the Polaris Program of private flights on Dragons that will see debut mission Polaris Dawn fly in 2023 or so, carrying another four-person crew.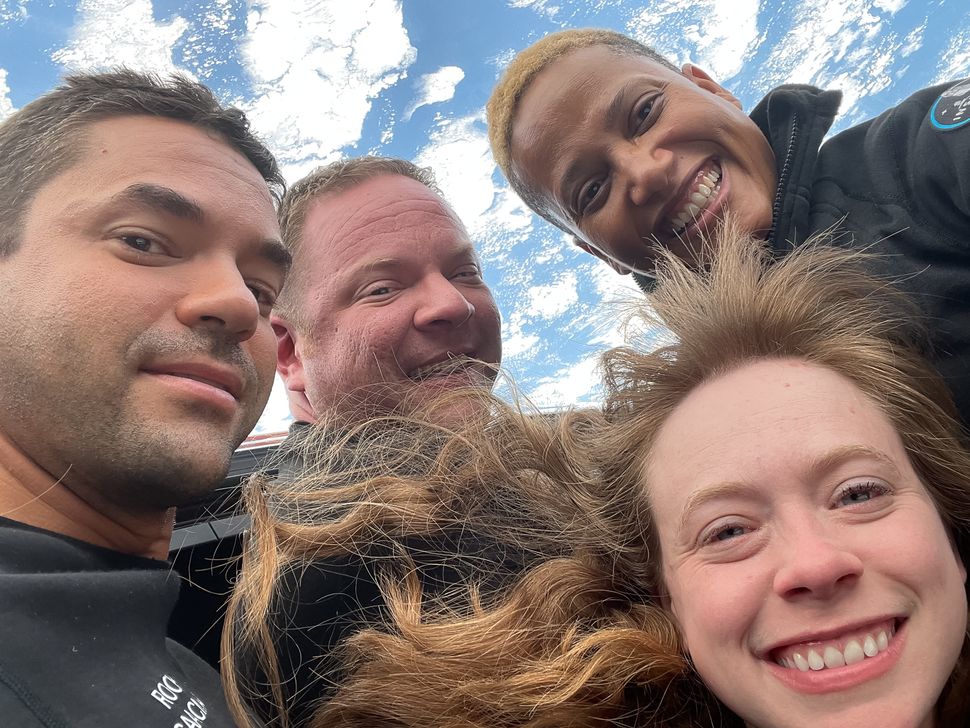 Inspiration4 featured a variant on Crew Dragon: a wraparound cupola window for the crew to enjoy high-altitude views of Earth. That's because Resilience didn't need to carry a docking port for ISS activities, allowing room for the window to be installed.
Crew capability has been up to four people for a week without a docking, or six months with a docking.
Related: Inspiration4: SpaceX's historic private spaceflight in photos
Possible 5-person Dragon for Soyuz emergency
We also saw an unusual situation early in 2023 that showed a fifth seat can even be added during an ongoing space mission that was supposed to carry home four people only.
An ISS crew on Dec. 14, 2022 lost its ride home when a Russian Soyuz spacecraft, called MS-22, lost all its coolant due to a micrometeoroid strike. Russian space agency Roscosmos sent up a second Soyuz, MS-23, as a replacement ride; it successfully docked with the space station on Feb. 25, 2023. But something was needed to tide the crew over during a two-month gap before the fresh spacecraft arrived.
Roscosmos determined two of the MS-22 crew, cosmonauts Sergey Prokopyev and Dmitry Petelin, could come home inside of it in case of ISS evacuation. Two people would heat up the spacecraft less than three. But Frank Rubio, a NASA astronaut, would still need to leave in some other way during an emergency.
The solution was to put in a seat for Rubio inside of a Crew Dragon docked with ISS at the same time as MS-22, NASA officials said on Jan. 18. The agency asked its Crew-5 astronauts using Endurance to move Rubio's seat liner over from the Soyuz. Then it took some cargo straps from a cargo Dragon vehicle, whose mission was known as CRS-26, for some clever repurposing.
"We were able to put the straps over Frank and then the seat liner, if we needed to, and then secure him to the floor of the Dragon," Steve Stich, program manager for NASA's Commercial Crew Program, said during a press update on Jan. 25, 2023.
Crew Dragon thus can fly up to seven people. We've also learned spacecraft mods can be made on the fly if necessary, allowing a large variety of space crews to use it for orbital activities.
Elizabeth Howell is the co-author of "Why Am I Taller?" (ECW Press, 2022; with Canadian astronaut Dave Williams), a book about space medicine. Follow her on Twitter @howellspace. Follow us on Twitter @Spacedotcom or Facebook.