Terence Dickinson's seminal stargazing guide, "NightWatch: A Practical Guide To Viewing The Universe," is enjoying its historic 40th anniversary this year and to celebrate the occasion for astronomers both amateur and professional, Firefly Books is releasing a freshly updated Fifth Edition of the essential spiral-bound tool on Sept. 7, 2023.
It's been 17 long years since "NightWatch's" Fourth Edition was published and since then there have been some astonishing technological leaps and discoveries in the field of astronomy thanks in part to multi-billion-dollar projects like the James Webb Space Telescope, which is marking its one-year anniversary of the observatory's first startling images this summer.
In preparation for the reworked volume, Dickinson teamed up with respected colleagues to conduct a thorough overhaul of this trusted reference that should keep it relevant deep into the 21st century.
Related: Night sky, September 2023: What you can see tonight [maps]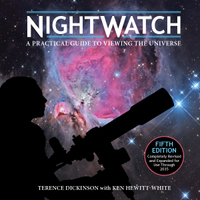 NightWatch Fifth Edition: $39.95 at Amazon
The latest edition of NightWatch has been updated for 2023 with all new 360-degree simulations of the night sky and quick-reference identification charts of the stars and constellations.
With a makeover helmed by veteran astronomy scribe and sky observer Ken Hewitt-White, one major addition to this revamped edition is the improvement to the unique seasonal star charts that offer a 360-degree simulation of the night sky on one page and quick-reference identification charts of the stars and constellations on the opposite page.
Here's the official synopsis:
"Much has happened in this popular hobby since the revised Fourth Edition of 'NightWatch' was published in 2006. In response, the text has been substantially revised and updated throughout all 13 chapters. Moreover, the book has been completely redesigned and most of its many photographs have been replaced. A noted feature is the variety of superb astrophotos of star clusters, nebulas, galaxies and other celestial phenomena taken by accomplished amateur astronomers. Lavishly illustrated sections on the Moon and planets will inspire novice observers of the solar system.
"To accommodate the extensive revisions, 'NightWatch' has grown from 192 pages to 208 pages With the release of the Fifth Edition, we are also launching a new website, NightWatchBook com, that will offer links to additional resources and will be regularly updated with information on new celestial events and equipment. Dickinson's clear, jargon-free language continues to inspire hundreds of thousands of people around the world to take up recreational astronomy."
This Fifth Edition from the folks at Firefly Books comes complete with a comprehensive, all-season guide to the night sky; constellation charts covering both northern and southern hemisphere skies; tips on choosing binoculars and telescopes and taking astrophotos; highlights of major features on the moon to guide the budding lunar explorer; exacting lists of solar and lunar eclipses, planet locations and the best lunar and planetary conjunctions to 2035.
"NightWatch: A Practical Guide To Viewing The Universe" arrives on Sept. 7.